Hi all! I'm super excited to be guest designing for Concord & 9th this month along with Sue and Becky. We're featuring a different set from the June release each Friday, and this week it's the Rooting for You set — this set is right up my alley because I'm one of those crazy plant ladies lol! You should see our house — J says it's like a jungle in here — maybe someday I'll give you all a tour. Until then, check out these cards!
Solid Stamping and Ink Shading
I've got two cards to share with you, starting with this little number. This card may look simple at first glance but there's actually a whole lot going on! I'll walk you through it.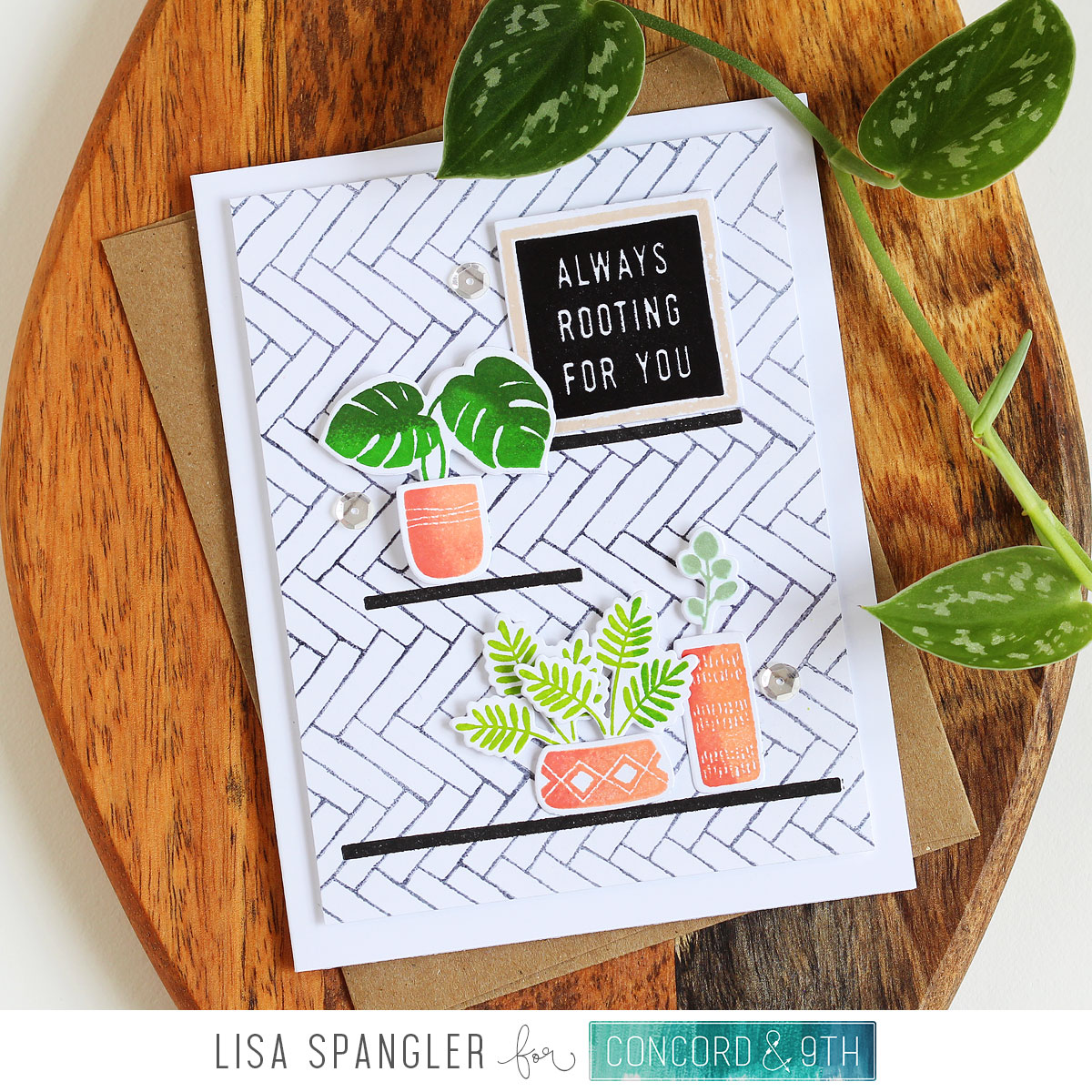 The Rooting for You stamp set comes with both the solid and outline stamps and I wanted to play around with this — love having this option so you can get more from your supplies!
For this card I used a two step ink shading technique with just the solid stamps. This is where you stamp the image with a lighter shade first and then inked part a portion of it and stamp it again. A MISTI is key for this to work. Here are the colors that I used:
Oh and before I forget, the Herringbone Background was stamped in soft granite — I've found this color to be useful for so many things — here it worked great so that it looks like grout on subway tile but doesn't compete with the rest of the card.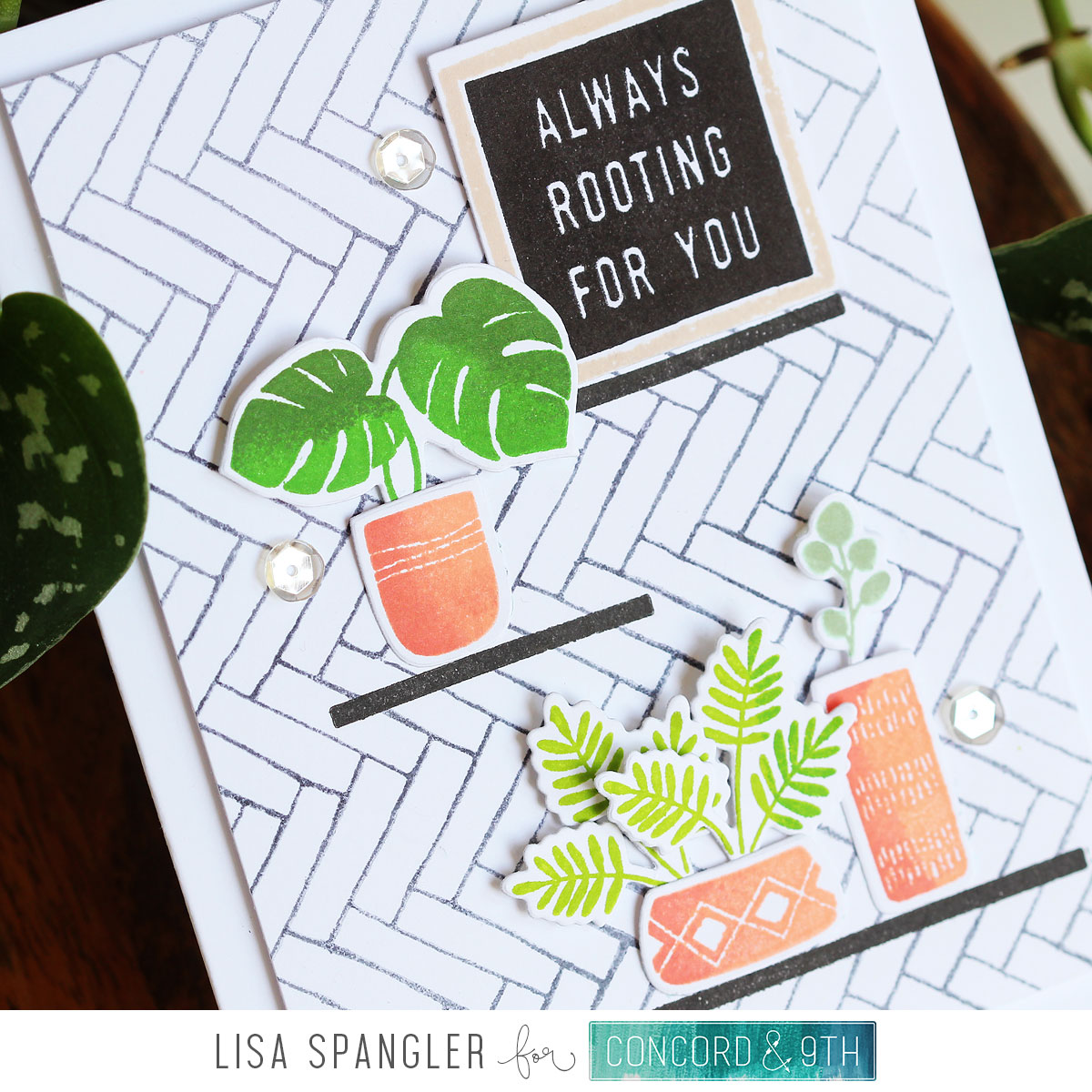 Now for my other little trick! I tried making everything look a little more dimensional by only putting foam tape on the TOPS of the plants and the letterboard, then using regular dot roll adhesive for the rest!
I love how this turned out, gotta try this technique again!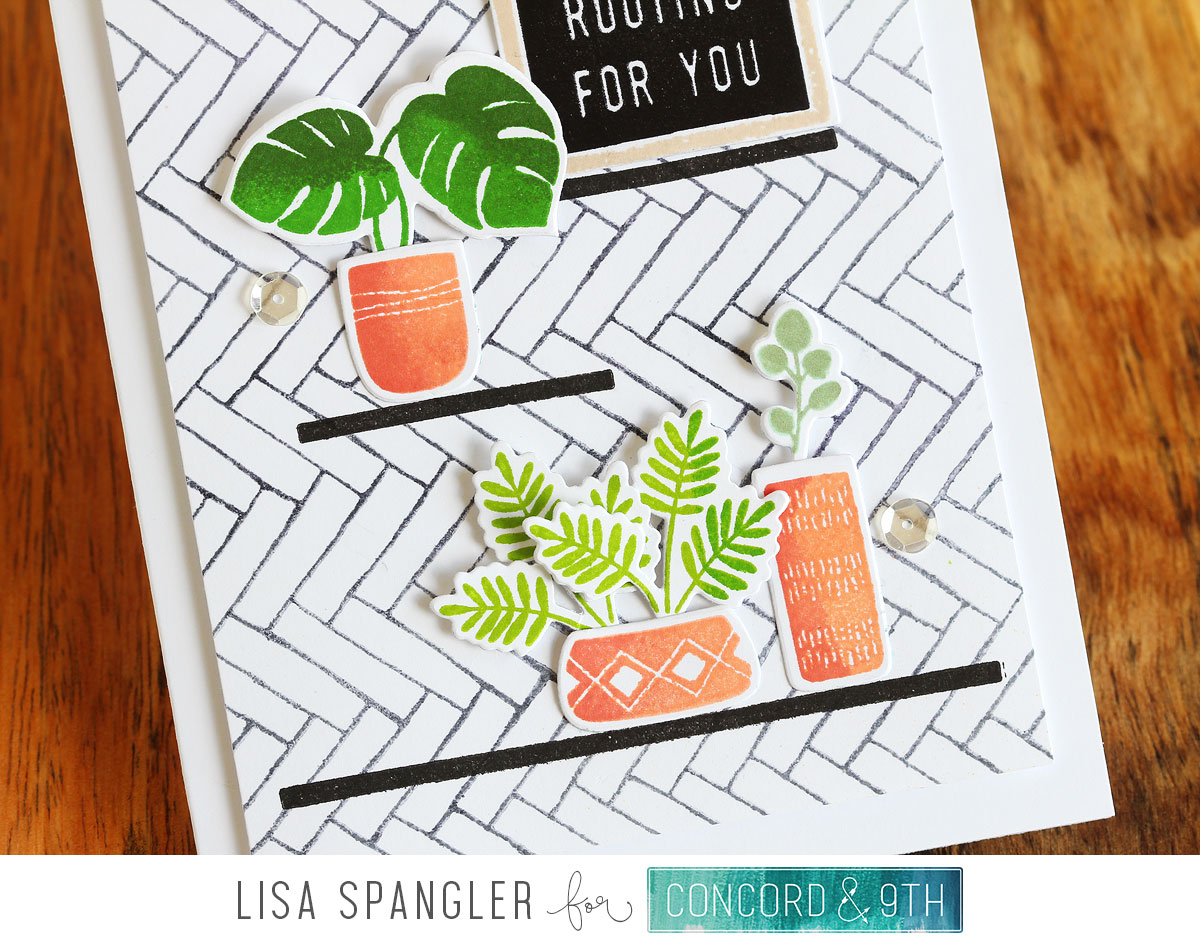 Solid + Outline Shelfie
Now for my next card — I made this one for a friend who loves pink + orange + hearts — I think it'll be perfect for her! This time I used both the solid and the outline stamps: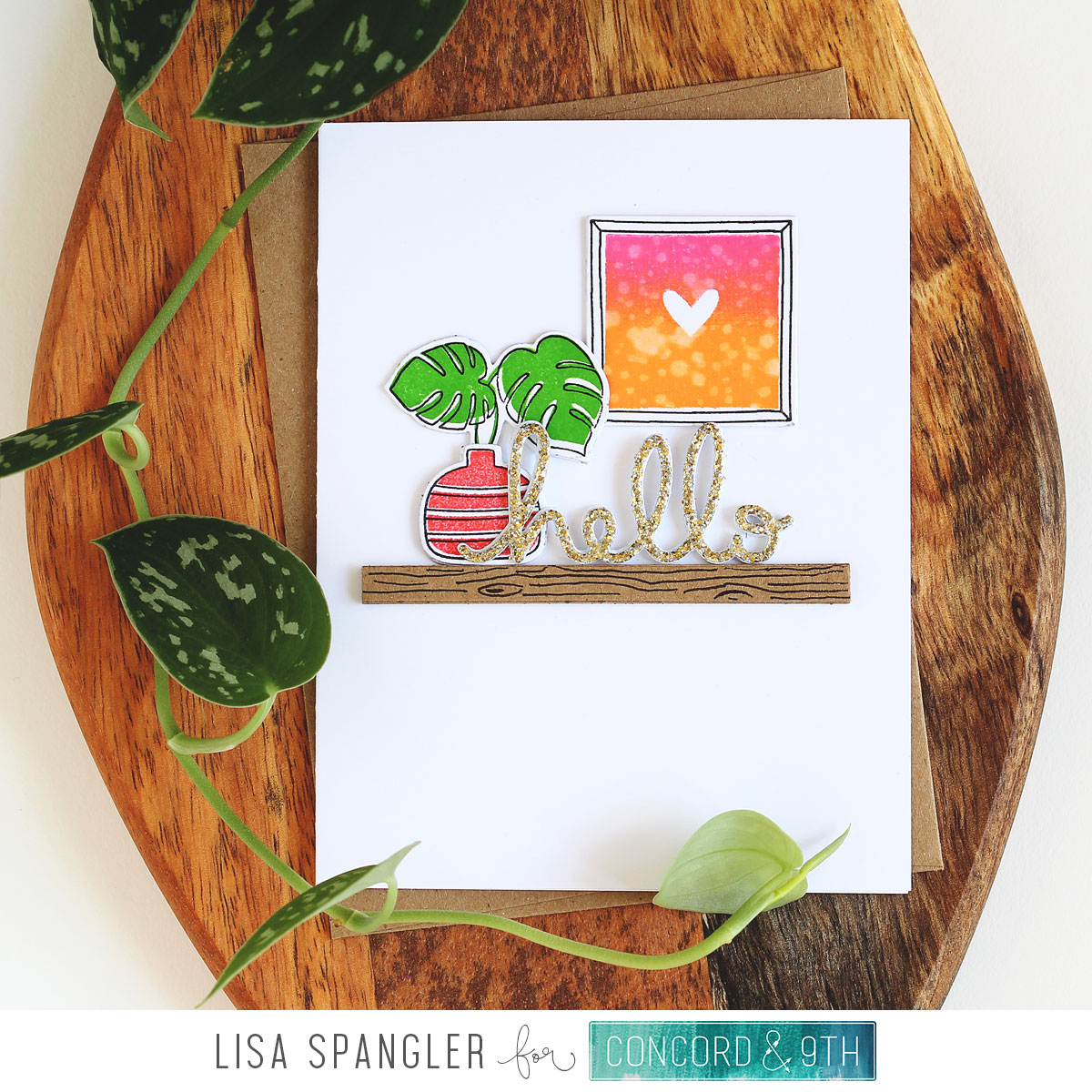 I wanted to make the framed heart look like a mini piece of art, so I inked it up with pink taffy and creamsicle inks and then splattered it with water — love the look this gives!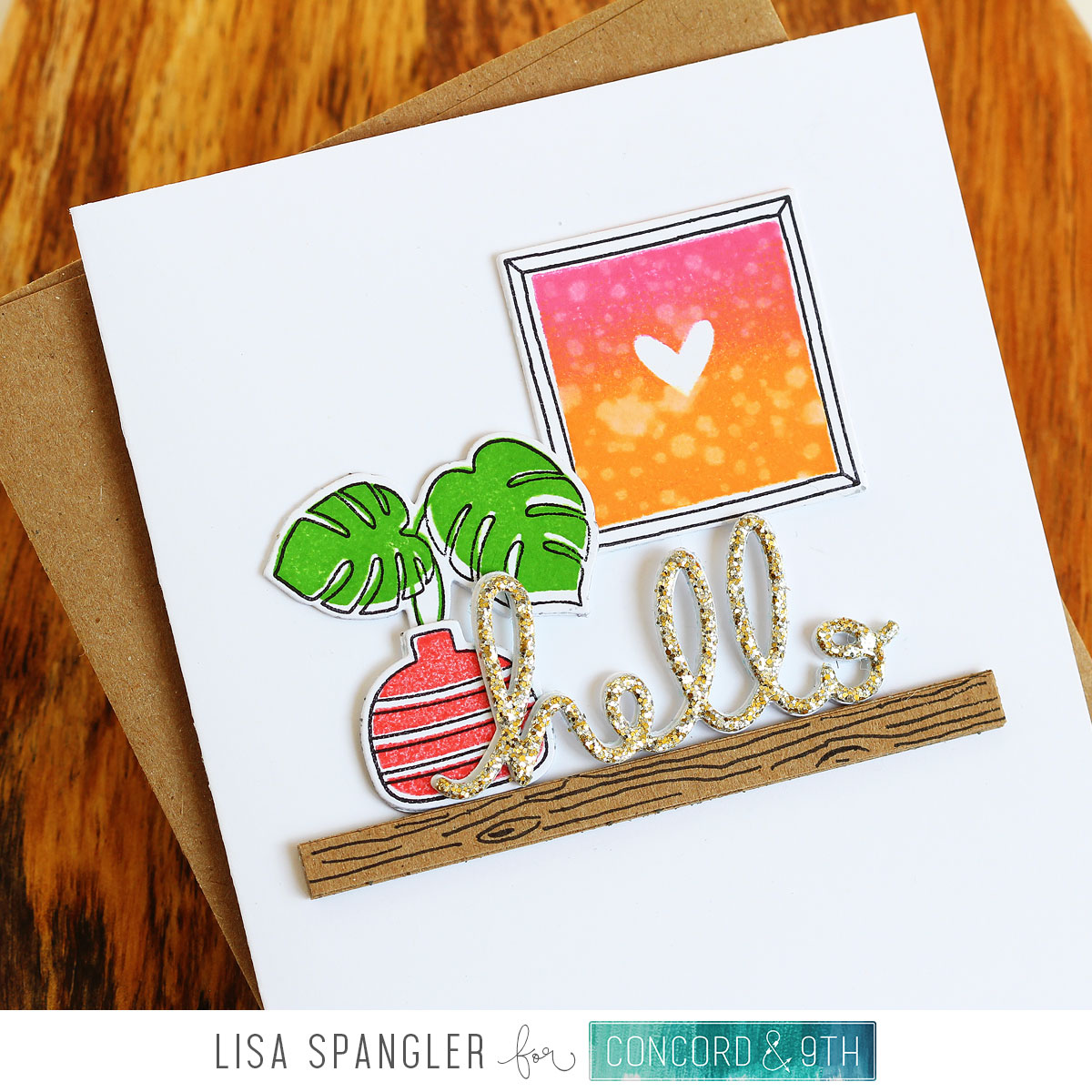 As you saw in the card above, the Rooting for You stamp set comes with shelf stamps and dies, but I wanted to make mine BIGGER lol! So I just cut some strips of kraft cardstock and adhered them together. It was looking a little plain so I grabbed a sharpie and doodled a woodgrain pattern on there. :)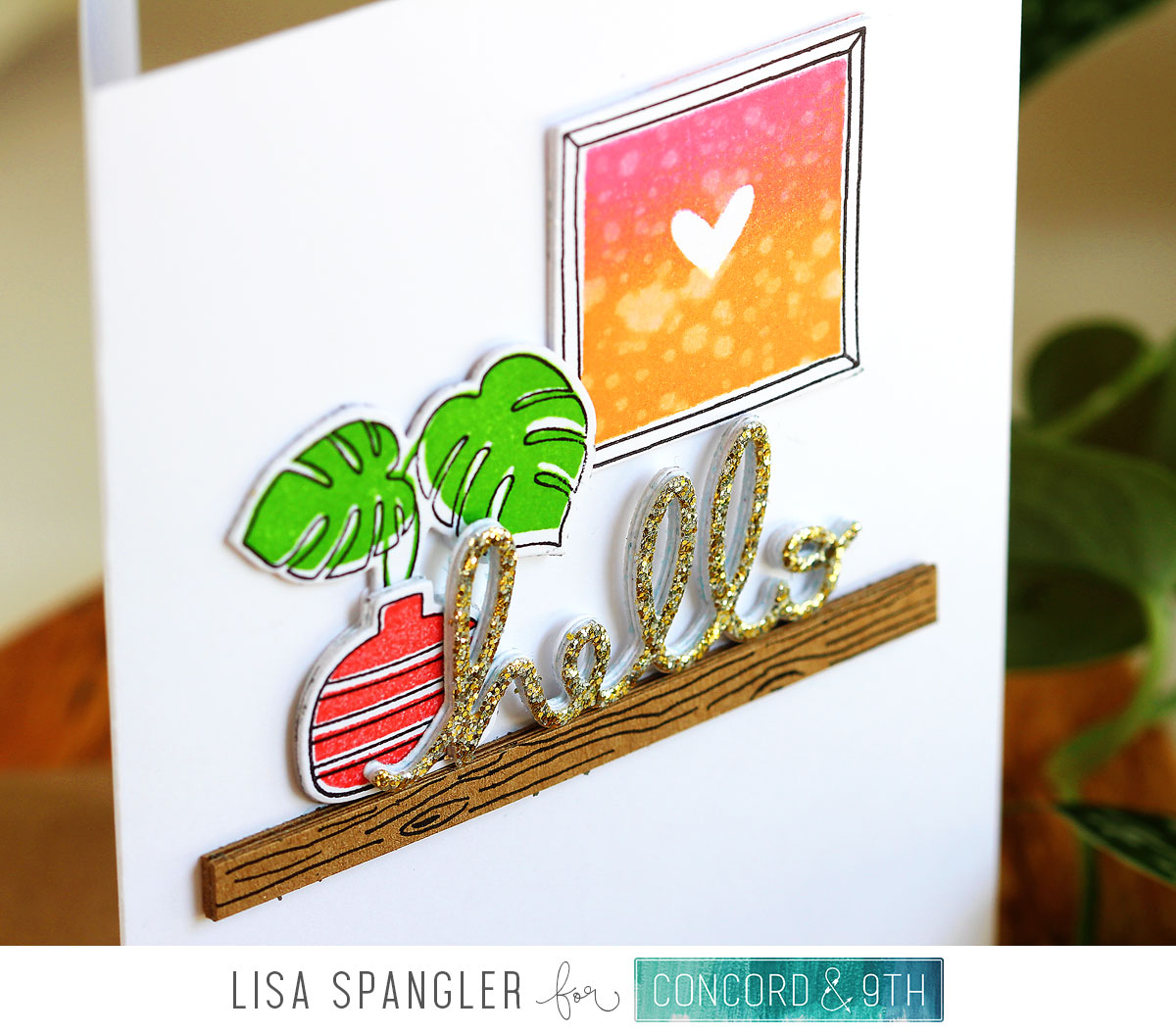 Then I played around with the dimension on this one — only this time instead of foam tape I used the Rooting for You dies to cut multiples. I cut 3 layers for the letterboard heart and the monstera, and I kinda lost track of the rest lol! I just kept adding layers until it worked. For the "hello" I added extra layers to just the "llo" portion to balance it out with the vase.
Pro tip: you can insert the monstera plant die cut between layers of the vase! Yeah!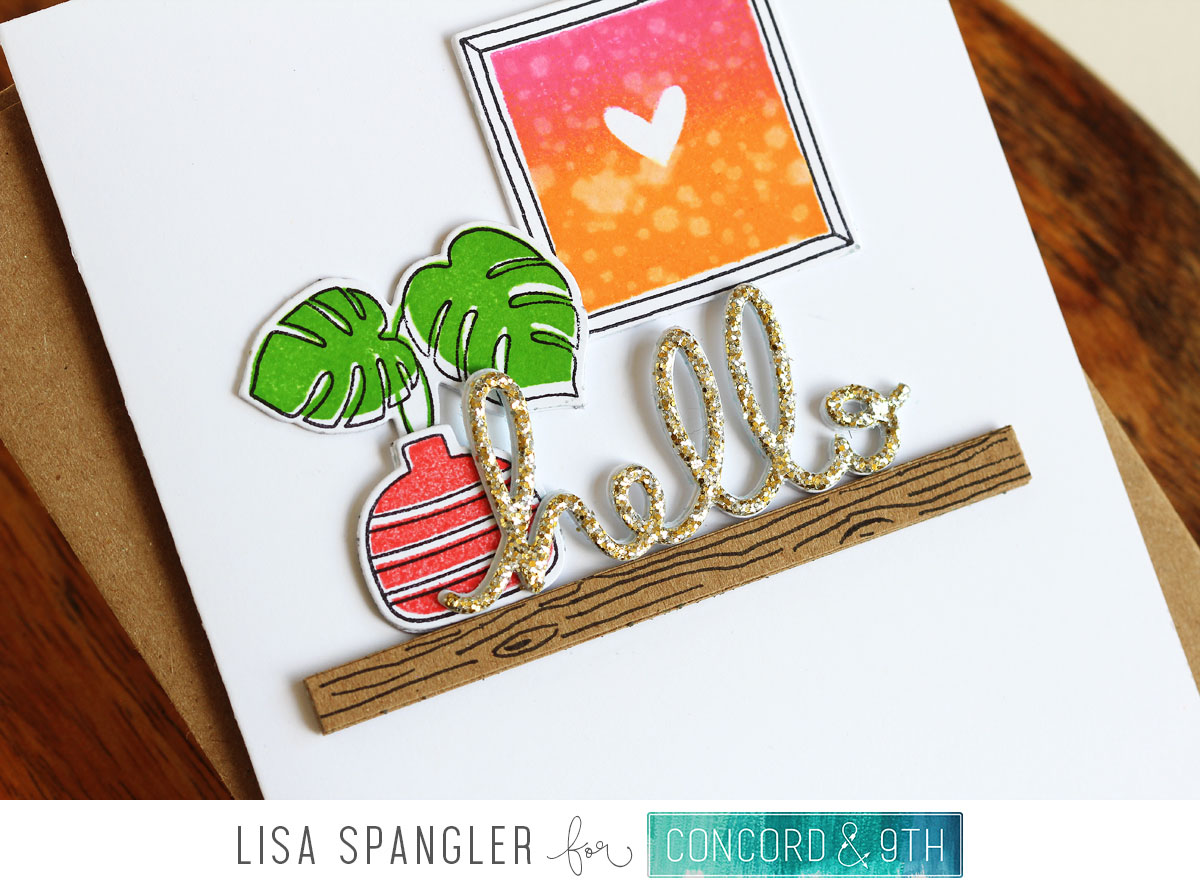 Last but not least, I just had to cut the "hello" out of gold glitter paper — just had to be done! Love how you can use this die on it's own or as a freestanding element on the shelfie!
Supplies
Note that these are my affiliate links so if you make a purchase by clicking the link below I'll receive a small commission at no charge to you — thank you!
First up, the NEW Concord & 9th supplies!
Here are the rest of the supplies at Ellen Hutson:
Thanks so much for joining me and hope you have a great weekend! xo