Hi all! I'm super excited to be guest designing for Concord & 9th this month along with Sue and Becky. We're featuring a different set from the June release each Friday, and this week it's the Sweet Strawberries! (Check out my Rooting for You and Butterfly Pop-up features if ya missed them.)
I've got THREE cards to share with you today — including one with a lil twist! — so let's get right to them!
I'd Pick YOU!
For my first two cards I couldn't resist using felt for the leaf toppers — just love how they turned out, I think it adds such a fun detail!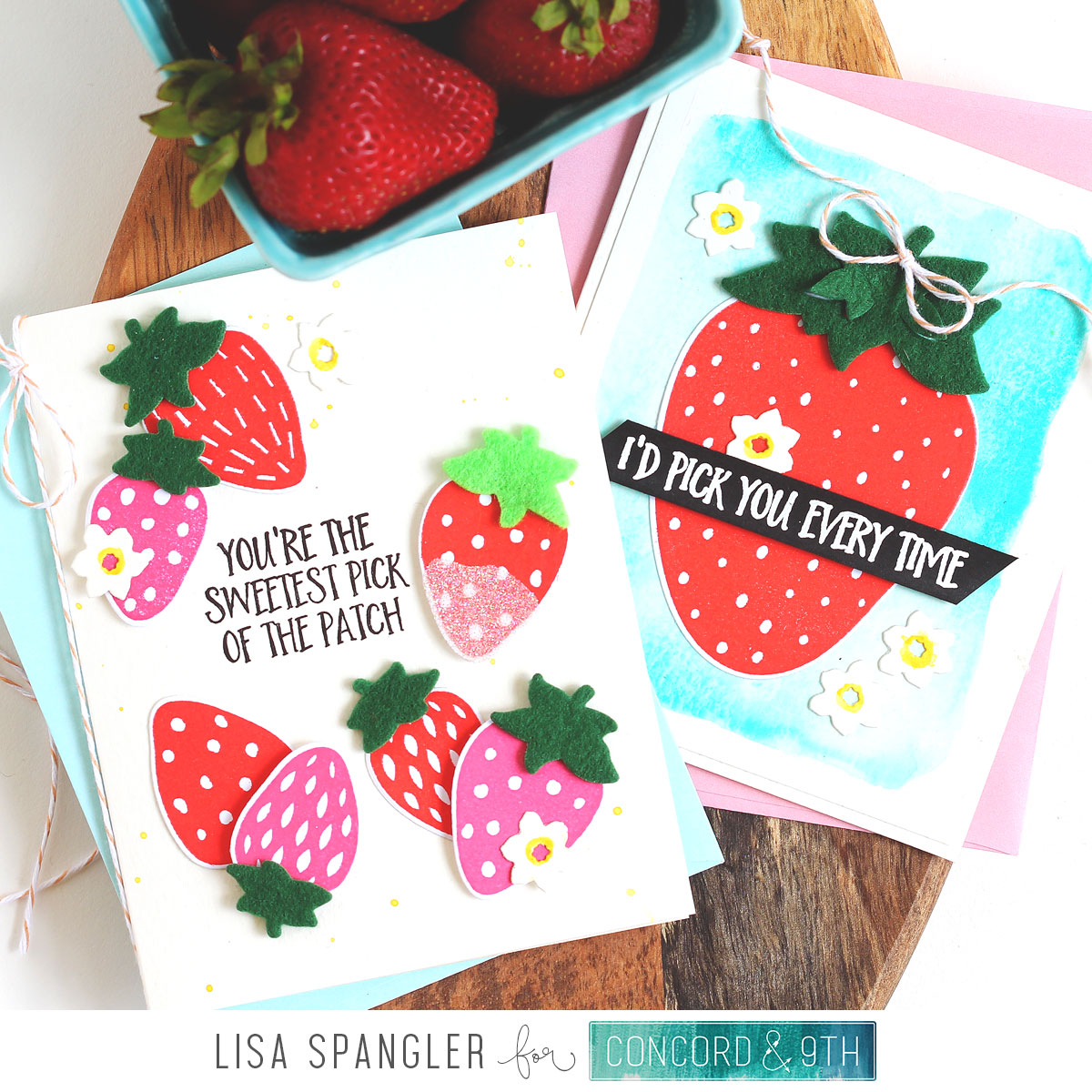 I just used some scraps of felt that I had in my stash, but I listed some options for you below.
For this first card I just made a quick watercolor background and then added that big juicy strawberry right in the middle like so: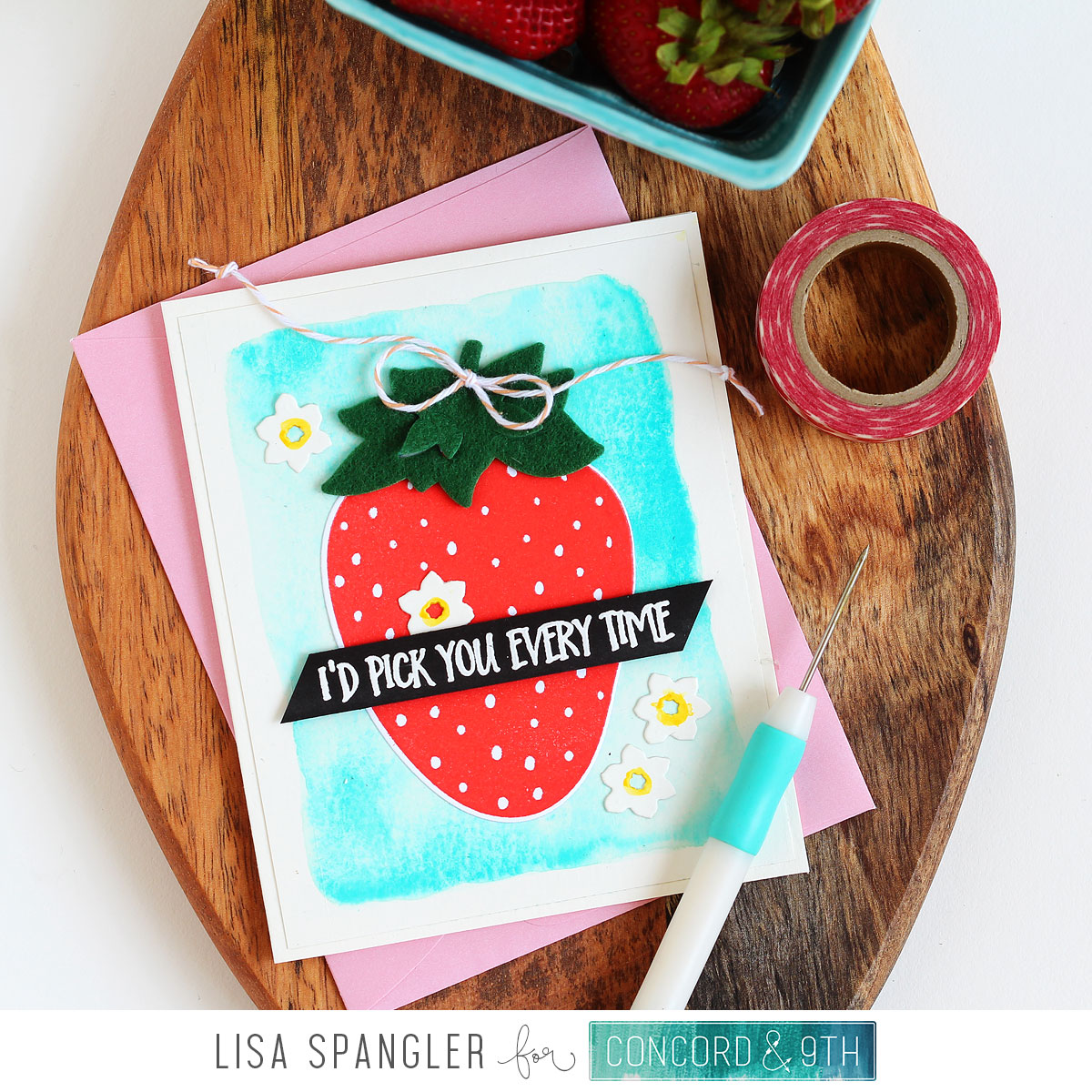 I love how the big leaves have that little cut out insert to add dimension!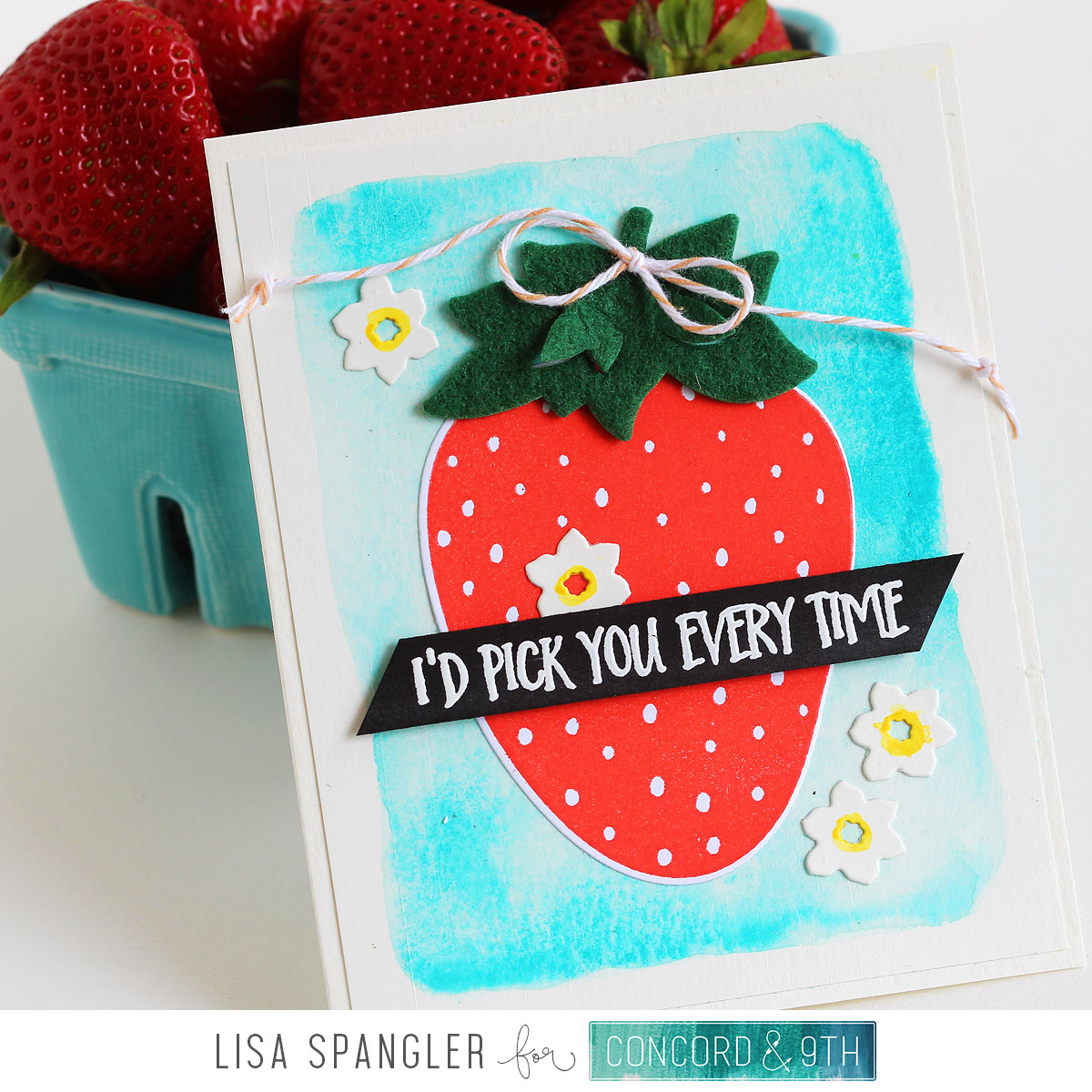 Pro tip: I tried a bunch of different red inks that I had on hand and I found that the new Hero Arts fruit punch reactive ink just seemed to have the best strawberry color.
Then for this next one I had the idea to add a little glitter to look like sugar! My husband J can't eat strawberries plain — he always has to dip them in sugar first — so I made this card for him! :)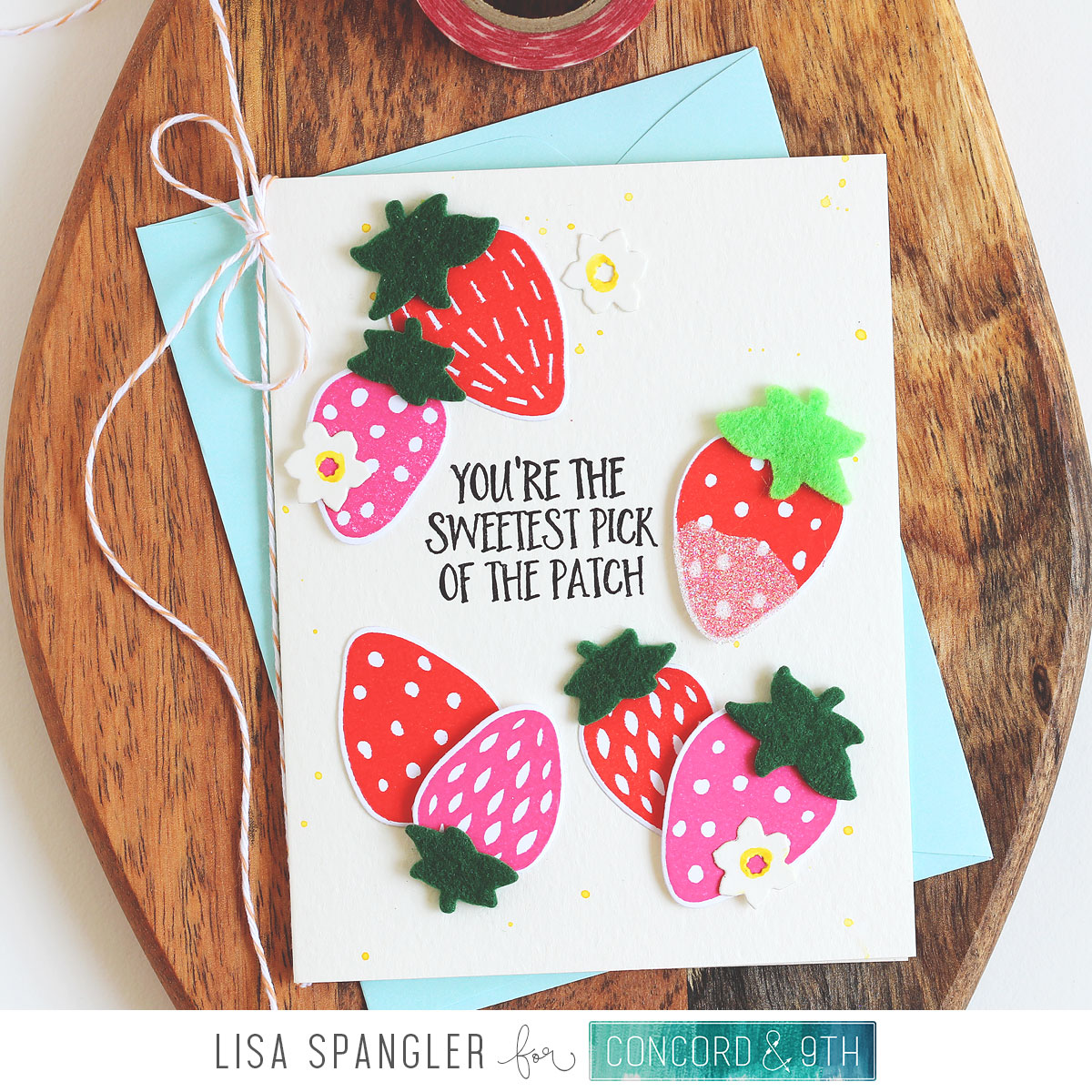 I mixed in a few pink strawberries just for fun. Oh and those little flowers are included in the Sweet Strawberries die set — I just added a little yellow watercolor to the centers.
Here's a closeup of that sugary glitter: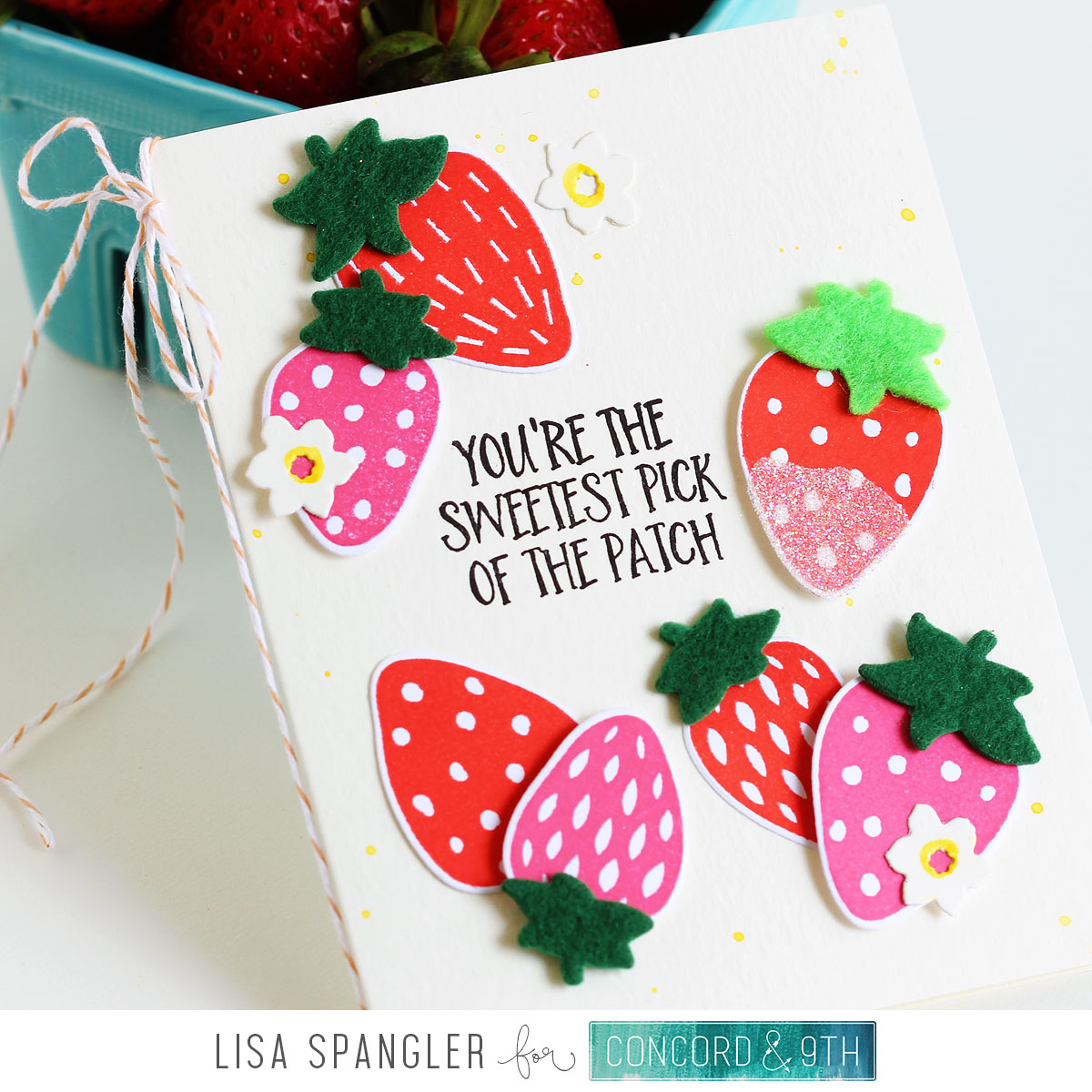 This uses a new-to-me technique that I just heard about and had to try! You use a double sided adhesive sheet to add the glitter — it makes it as easy as strawberry rhubarb pie!
Here are the steps in case you'd like to try it:
Die cut a strawberry from the double sided adhesive sheet and also die cut your stamped image (I listed several options for the adhesive sheets below)
Grab a pair of scissor and trim the die cut in kind of a wavy line
Peel off the backing and stick it to your stamped and cut image
Get a piece of copy paper to use as a work surface. I like to fold it in half so that I can easily put the glitter back in the jar.
Peel off the other side of the backing from the adhesive sheet and place your piece on the scrap paper sticky side up, then dump a big ole pile of glitter on top. I used prisma glitter but I imagine any clear glitter should work for this as long as it's not the chunky kind.
Fold your paper over and really press that glitter on there. I like to use a bone folder for this too.
Dump your glitter back in the jar and put the lid on — I do that right away so I don't forget about it and knock it over later LOL! :)
That's all there is to it — you now have glittery sugary goodness!
Pick of the Cactus Patch!
So for my next card I just had to turn those strawberries into CACTUS pads, and the leaves into flowers! I was giggling the whole time I made this! :)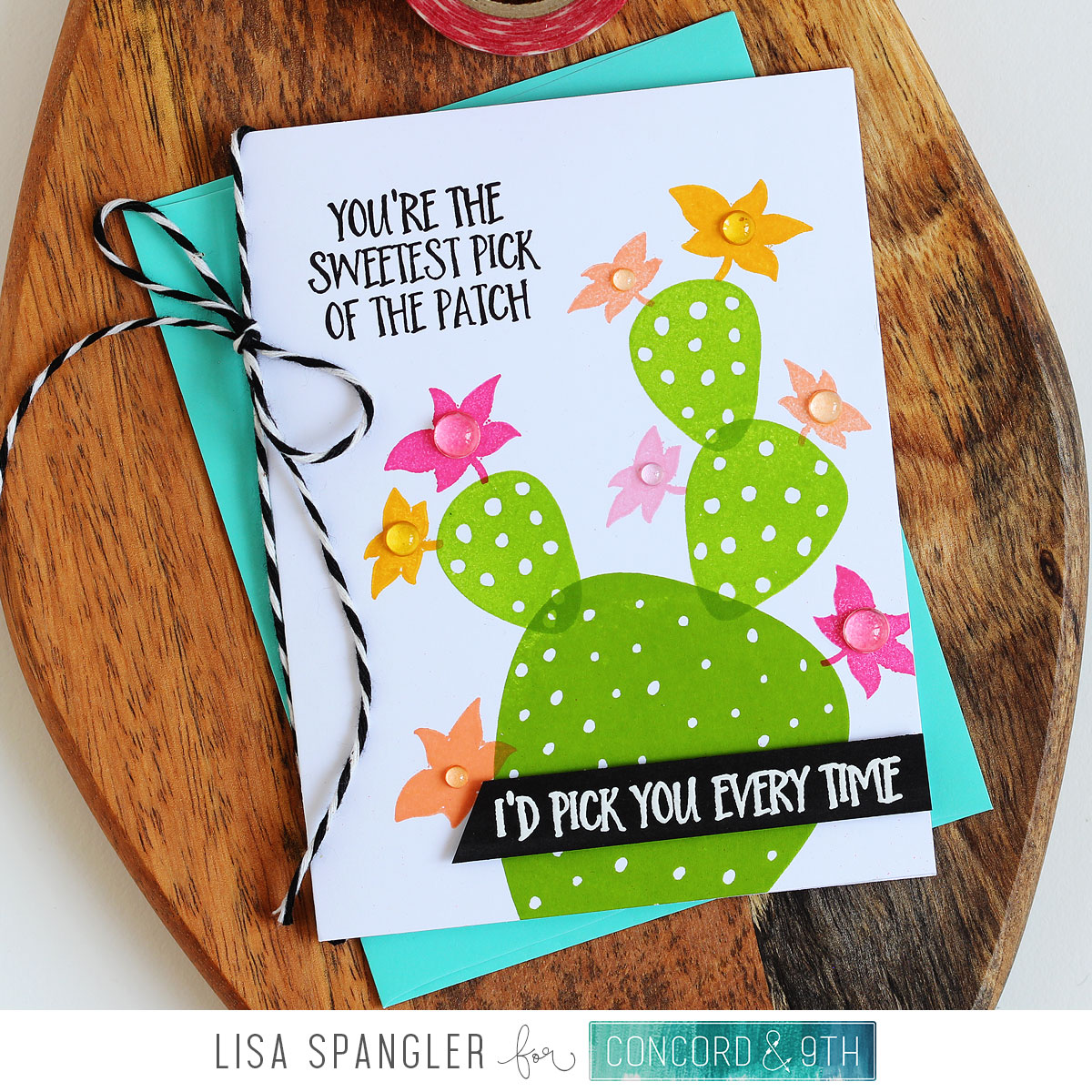 Here's the story behind it: our prickly pear cactus was blooming her head off and I was admiring it when I walked down to get the mail. Then when I opened up the package it hit me that the strawberries could totally look like cactus pads! Oh yes! I got so excited and couldn't wait to try it out!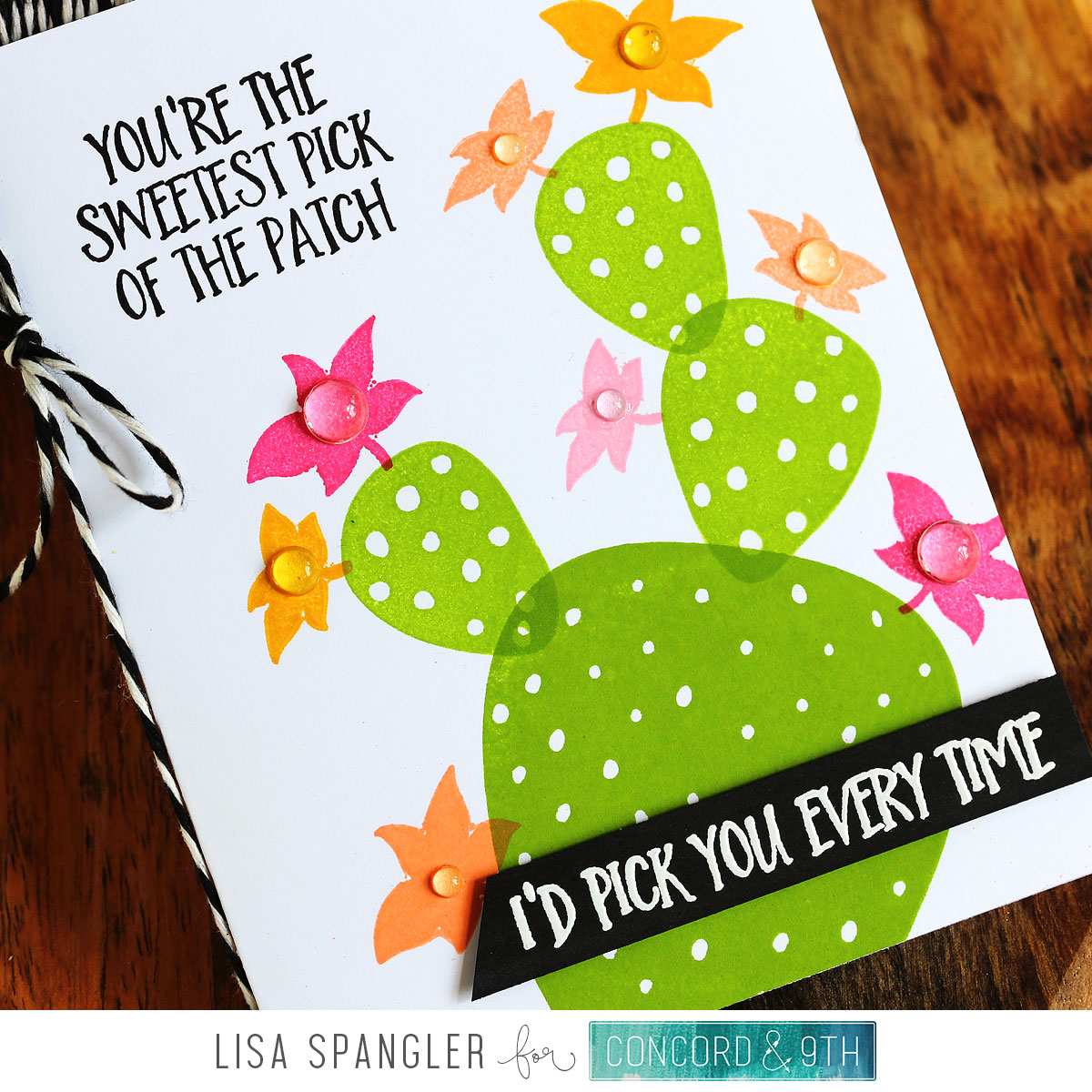 This card came together super quick — it's just simple stamping plus some clear droplets for the flower centers :)
Supplies
Note that these are my affiliate links so if you make a purchase by clicking the link below I'll receive a small commission at no charge to you — thank you!
First up, the NEW Concord & 9th supplies in the C9 shop:
Now for the rest of the supplies over at Ellen Hutson:
Thanks so much for joining me, and hope you have a sweet day! xo