Hello there! Welcome to my stop on the Ellen Hutson and Hero Arts Blog Hop — I'm so glad you're here!
I've got two clean and simple cards to share with you today, both featuring the Essentials by Ellen Painted stripes set — I use the heck outta this set, it's so handy. I thought it would be the perfect thing to put the new Hero Arts reactive inks through their paces. Let's hop to it!
Happy Happy Happy Birthday!
First up, this happy little number! I think this would be a great card for teen aged boy — I plan on giving this one to my 14 year old nephew. :)
The idea for this just popped in my head one day and I HAD to try it — just had to be done. I LOVE how it turned out! I thought about adding a little bling or something and then decided nope, just gonna leave it as-is.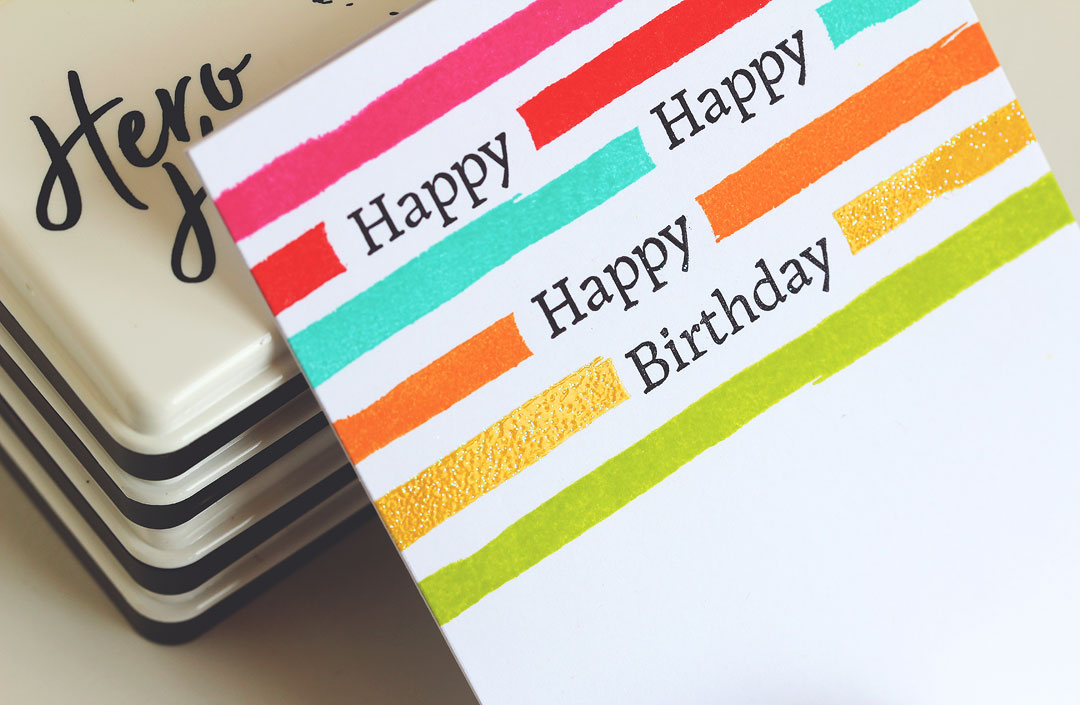 The one thing I did do? I embossed the lemon drop stripe with clear sparkle powder! Hope you can see it, this was super hard to photo, darn it!
This was so easy to do — I just stamped the "happy" from the Hero Greetings Occasions set on a post-it note for sizing, then stamped it on my card, put the stripe stamp in place on my trusty MISTI, popped the post-it in place and then stamped the stripe. What did we ever do before the MISTI?!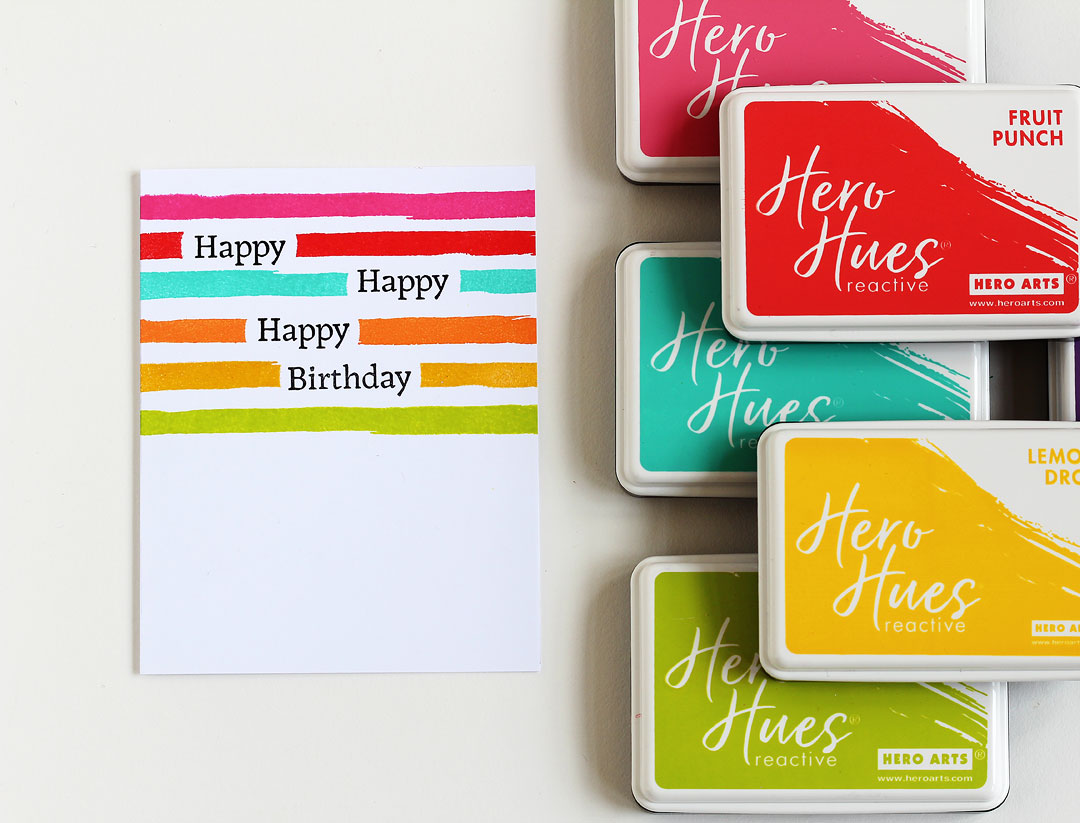 I thought I'd run you through the colors right quick — from the top, that's:
Oh, HELLO there!
Meet my new BFF: Sea Salt reactive ink!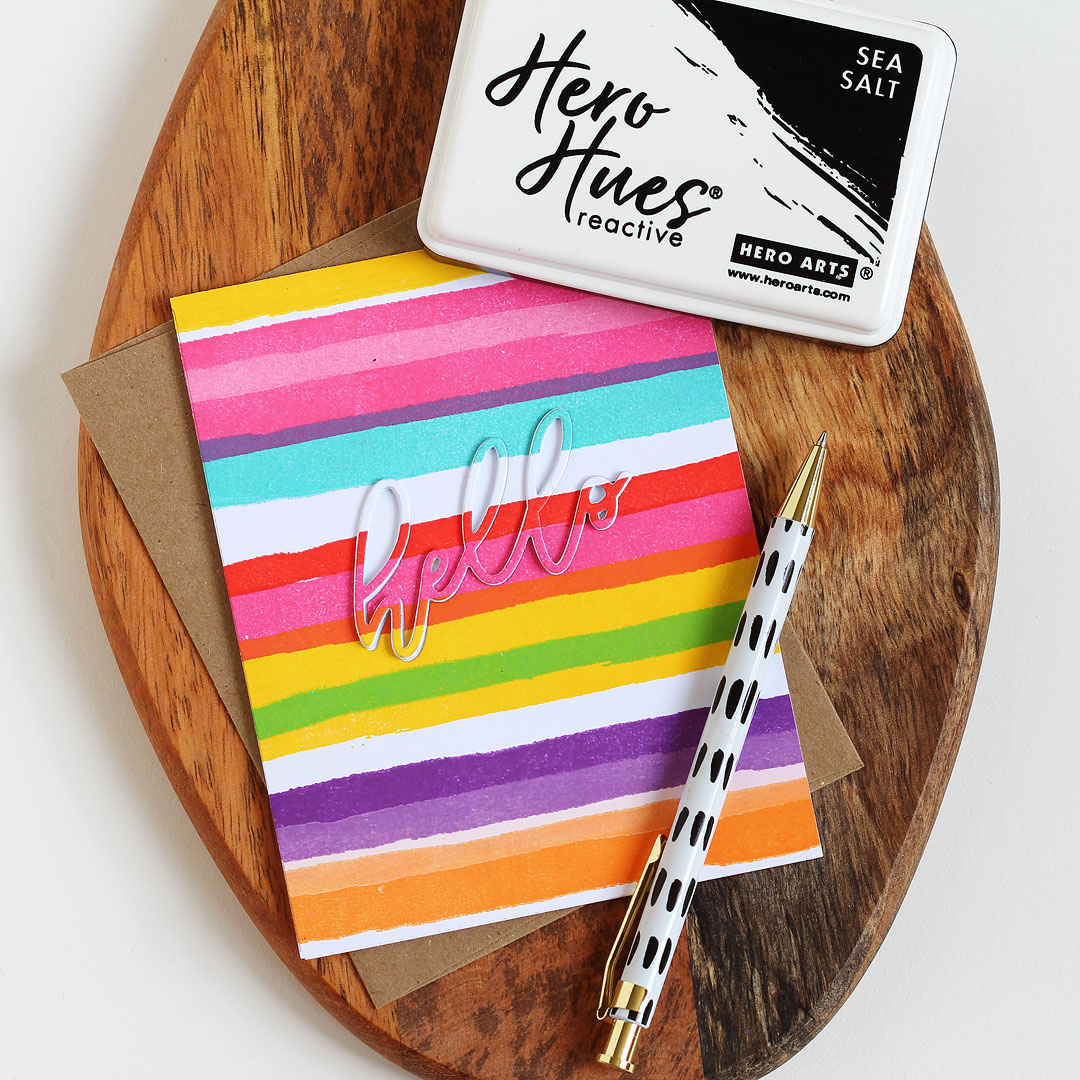 This ink is so cool you all — you can stamp it over any ink and turn it into a muted, soft pastel! For example, see that wide pink stripe at the top? That's taffy with sea salt stamped over it!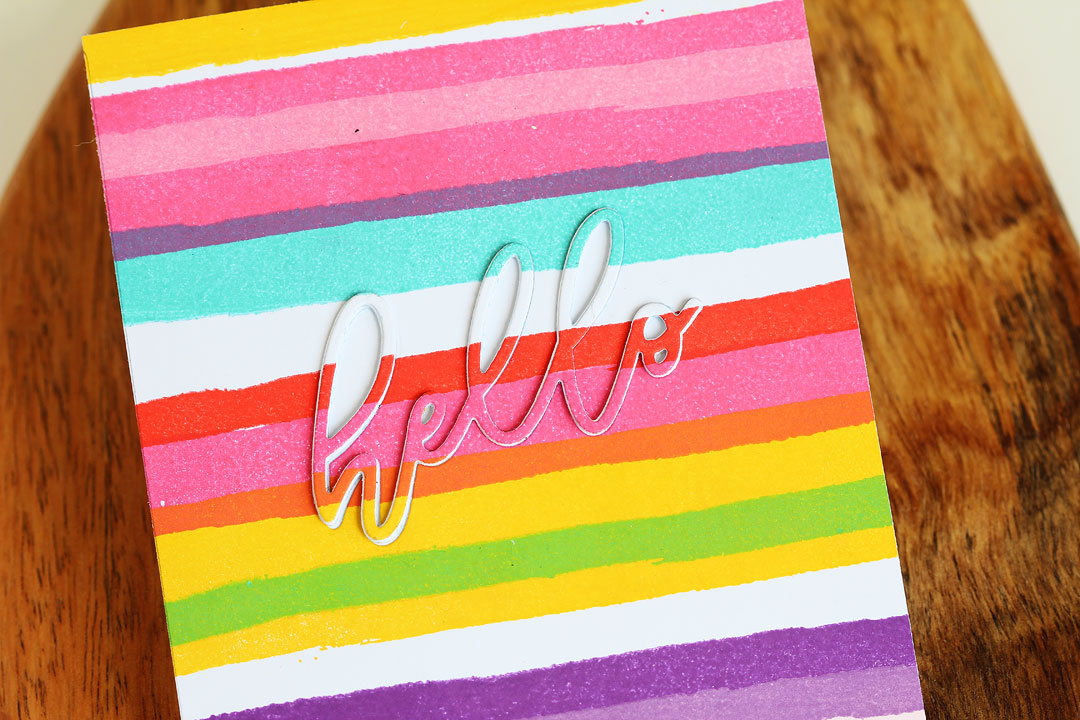 By the way, how do you like the hello die cut? That's from the Essentials by Ellen Big Scripty hello die set — I use this set alllll the time! For this card I die cut 3 hellos from white cardstock and layered them together to add dimension. I saved the inner die cut pieces and thought about doing a little inlay action but decided I liked it better like this.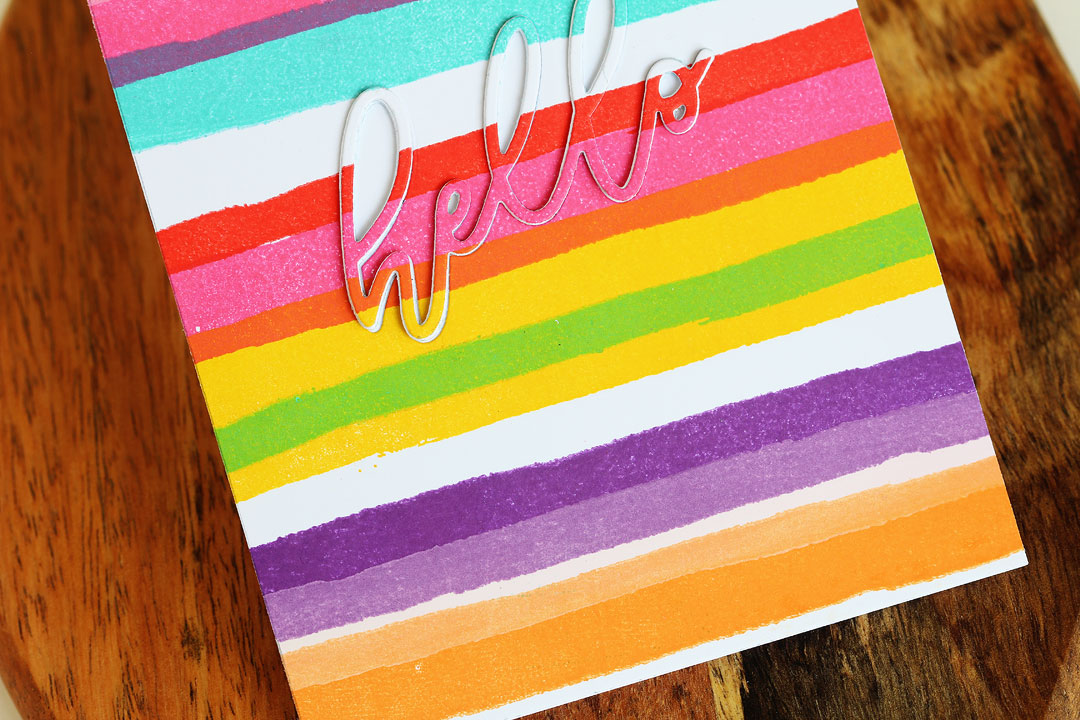 Then check out the bottom stripes — that's grape slush and creamsicle with a wide sea salt stripe over top!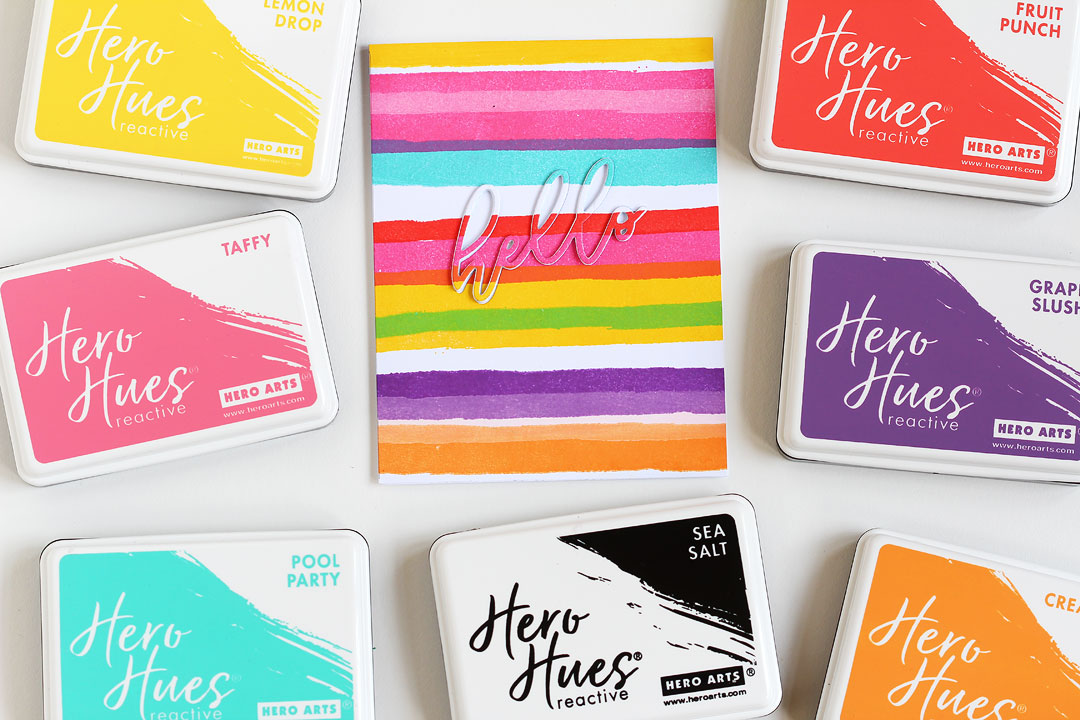 I thought I'd do a another color run-down for ya, but this one is a little more complicated — and some of it may surprise you! So taking it from the top we have:
Lemon drop
A wide taffy stripe with sea salt
Pool party — I overlapped it a bit with the taffy to make a purple stripe — love it when that happens!
White of the base cardstock
Fruit punch
Taffy
A wide lemon drop stripe — I overlapped it a bit with the taffy to make an orange!
Then I stamped a skinny pool party stripe in the middle of the lemon drop to get that green
White stripe from the base of the cardstock
Grape slush
White of the cardstock again
Creamsicle
And then I stamped a wide stripe with sea salt as noted above!
Once again I thought about adding a little bling and I couldn't bring myself to do it!
Oh and! I wanted to mention that Hero Arts reactive inks react with water — my original plan was to splatter water on there to make like a summer pool party kinda card, but I couldn't bring myself to do that either LOL!
One last tip before I go: I've found it's so much easier to stamp long stripes like this when you cut your paper larger than an A2 card, then trim it down when you're done. I plan to save these strips for future cards — they look kinda cool, right?
Well that's it for me! Let's talk PRIZES!
Prizes!
You can win one of three $25 gift certificates to the Ellen Hutson shop! Winners will be drawn from commenters along the blog hop so make sure to comment at each stop before Friday, June 28th at 11:59pm PST. Winners will be notified by email.
Hop On!
Your next stop on the hop is the super talented Julee Tilman — can't wait to see what she's made! Here's the full list in case you're just starting out or encounter a broken link:
Supplies
Note that these are my affiliate links so if you make a purchase by clicking the link below I'll receive a small commission at no charge to you — thank you!
I've listed the Hero Arts reactive inks that I used on my cards below — find the full line right HERE!
And here are the supplies I used on my cards: