Hello and welcome to my stop on Day 2 of the Technique Tuesday & WOW! Embossing Powder blog hop! I'm so glad you're here!
I have TWO projects to share with ya — here's a little peek — but first I had to mention that there are…
PRIZES!
No Blog hop is complete without a prize! Here's what's up for grabs:
WOW! Embossing Powders has 6 powders of your choosing along with a WOW carry case to store your powders safely in!
Technique Tuesday is giving away 2 x $20 gift certificate to their store!
The winners will be chosen at random from the comments left on ALL THE POSTS on both days. We encourage you to leave comments on both days — remember, the more comments you leave the more chances you have to win these fabulous prizes!
To join this GIVEAWAY you must leave a comment on each blog post to have a chance at getting your hands on the prize. This hop is open internationally.
Now then, on to my cards!
Stay Cool
First up I have this frosty little number with a cool technique to share — pun intended! :)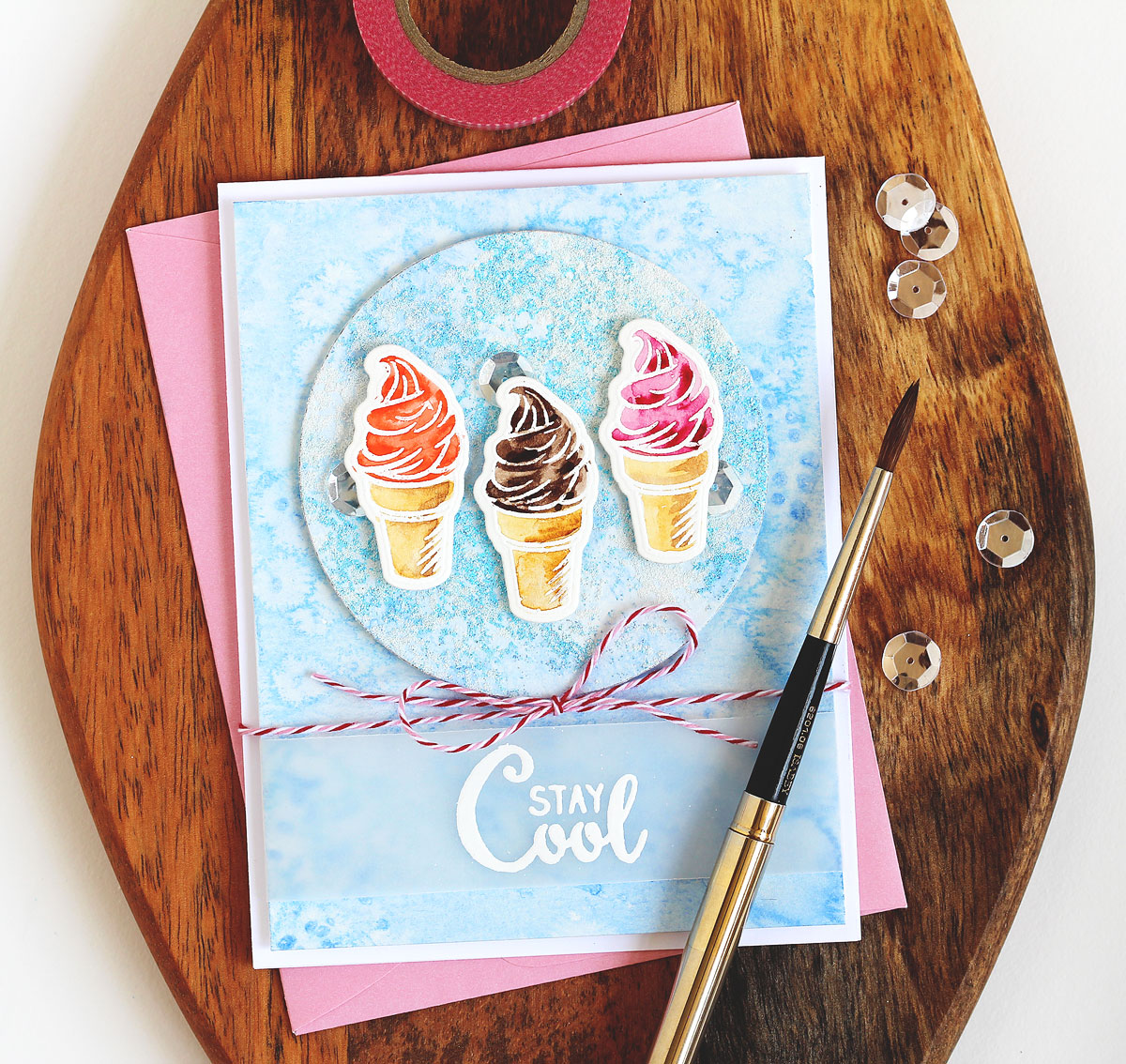 This is so easy to do — and fun too!
I started out by painting two pieces of watercolor paper with Daniel Smith cobalt blue watercolor — this color is so pretty and I love using it for painting in general, not just frost. It's such a pretty "true" blue. The great thing about this technique is that it doesn't matter if it's perfect or not since the next step is to sprinkle it with salt — so it makes it perfect for practicing your watercolor washes!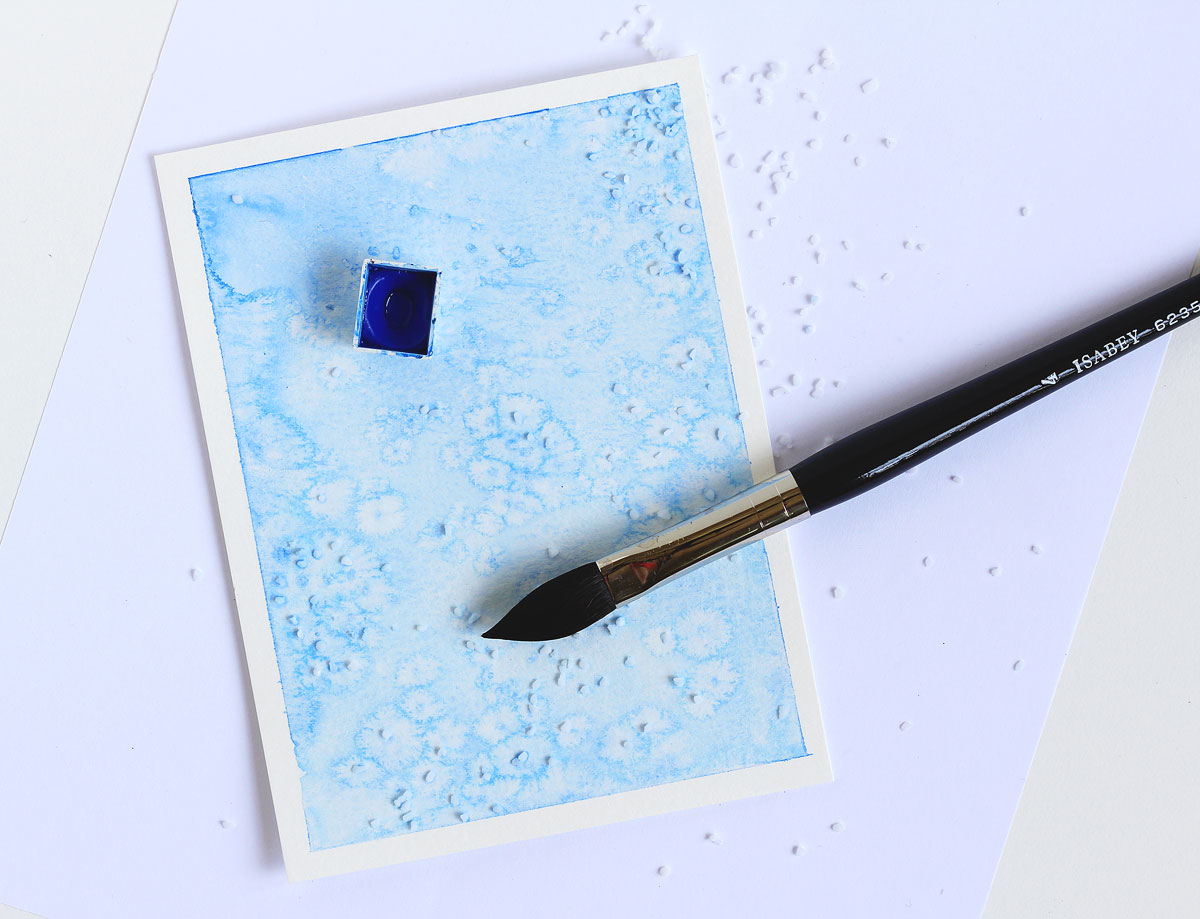 Just make sure you add the salt while the paper is still WET — it's dry here in the photo. :)
Once the paper is completely dry you can brush off the salt to reveal the most amazing texture — I think it looks like frost. I die cut one of the pieces into a circle before doing the next step…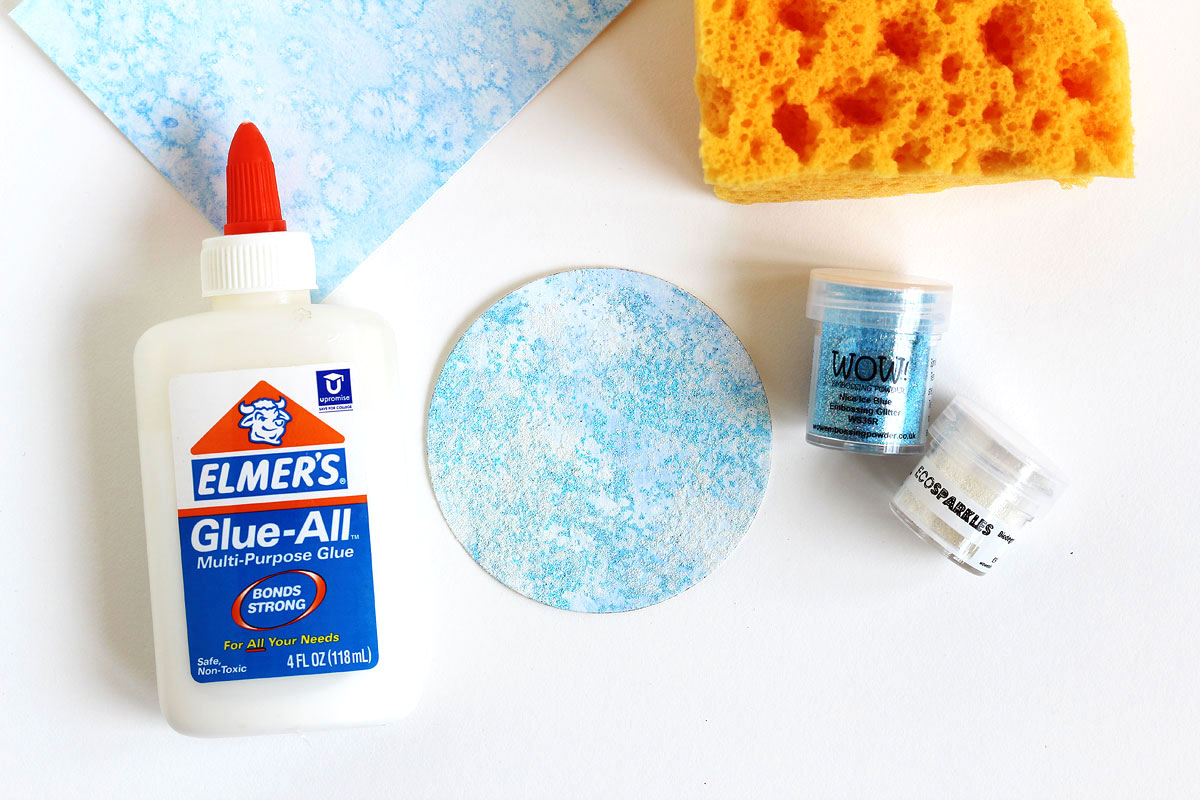 Grab a piece of a sponge and some white glue — my sponge came from the hardware store, I think it was a whole dollar for a giant sponge! Squeeze out some glue on to a scrap of paper or an old lid, then lightly tap the sponge into it. If you get too much glue on the sponge just tap some off on the scrap paper.
Tap the sponge on your painted piece and then sprinkle it with Nice Ice Blue embossing glitter. Go ahead and heat set the Nice Ice Blue, then apply more glue with the sponge and sprinkle on EcoSparkles Beluga. The Beluga is a beautiful opaque frosty white color — can't wait to use it on Christmas cards!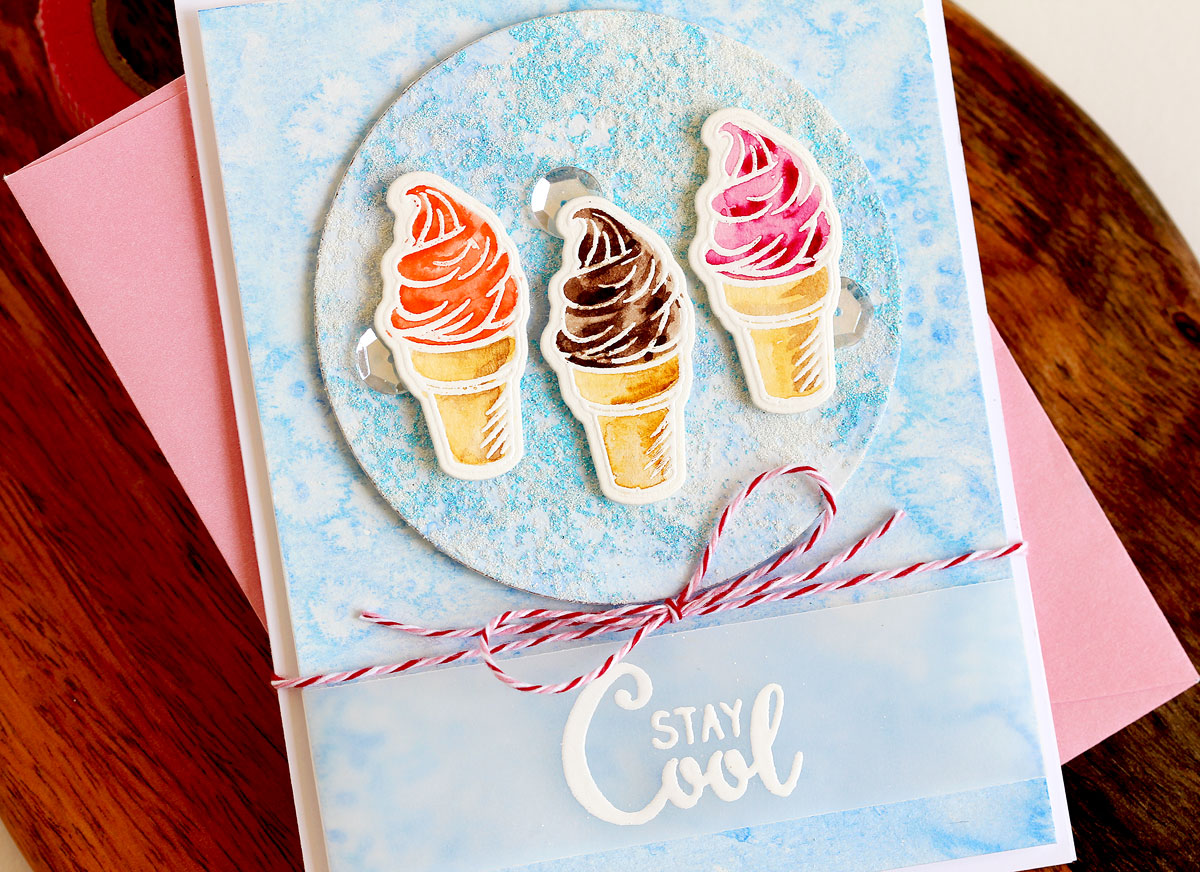 Once it's dry you'll have the most amazing texture!
The ice cream cones and sentiments are from the Technique Tuesday Sweet Summertime set — this set is so fun you all! It's been in the upper 90's already here in Texas and stamping these helps me keep cool LOL!
I stamped the cones with embossing ink on watercolor paper and then heat embossed them with WOW! Opaque Bright White powder, then colored away. Just have to say that this WOW! white powder is the whitest white powder I've found — the others that I've tried all have an off-white cast to them.
To finish off the card I stamped the "stay cool" with embossing ink on vellum and then white heat embossed it. I added a few sequins and some twine and that was that!
You Are So Cool
Who's ready for a fun little popsicle card!? I know I am!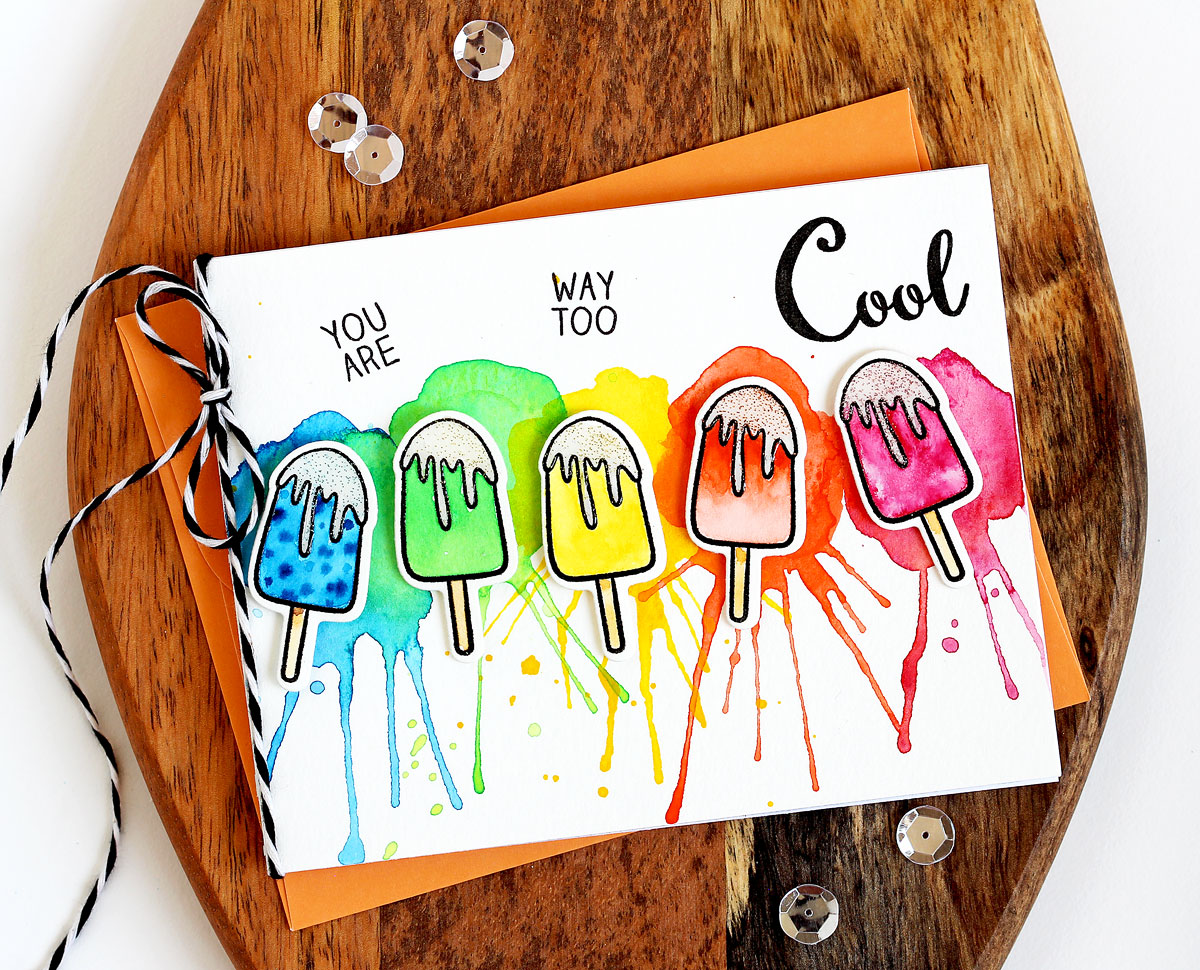 I had so much fun with this one — I used the "straw technique" — this is where you make a big puddle of watercolor and then blow on it with a straw. It creates these fun splatters!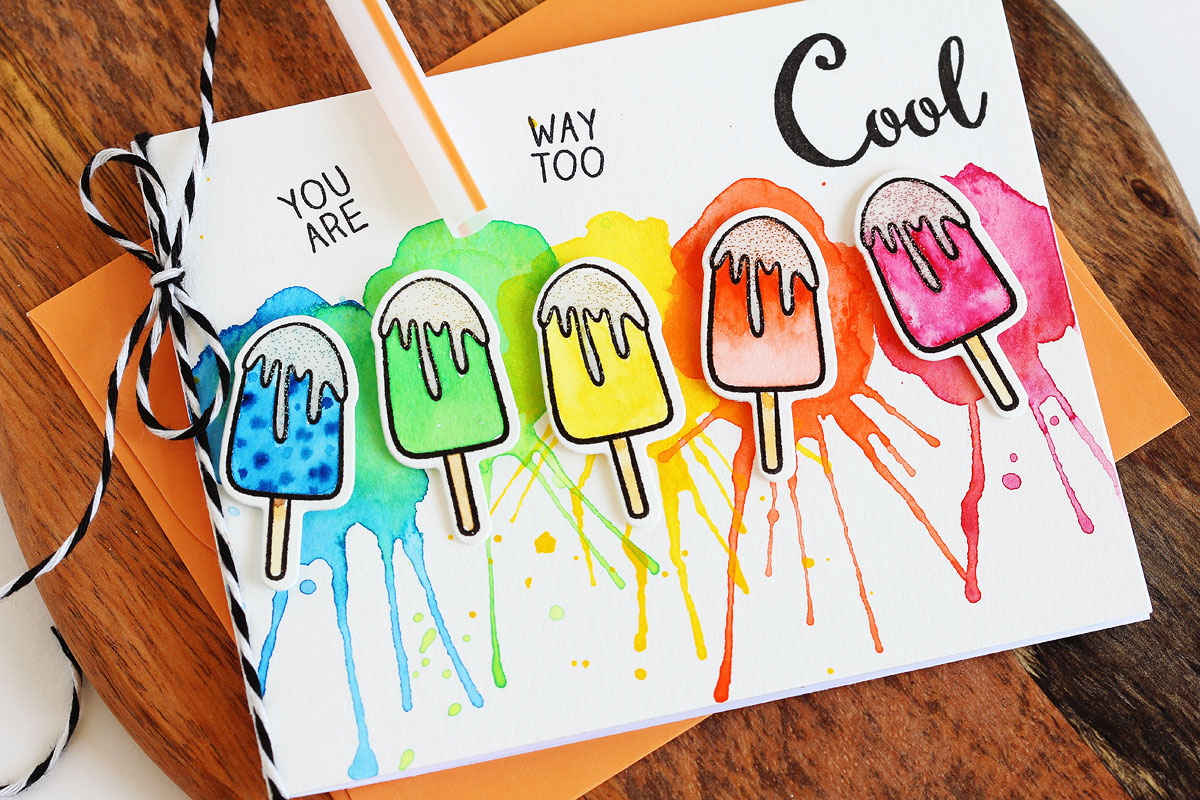 Then after I colored the popsicles I just had to add some glossy accents and GLITTER! Yep, had to be done!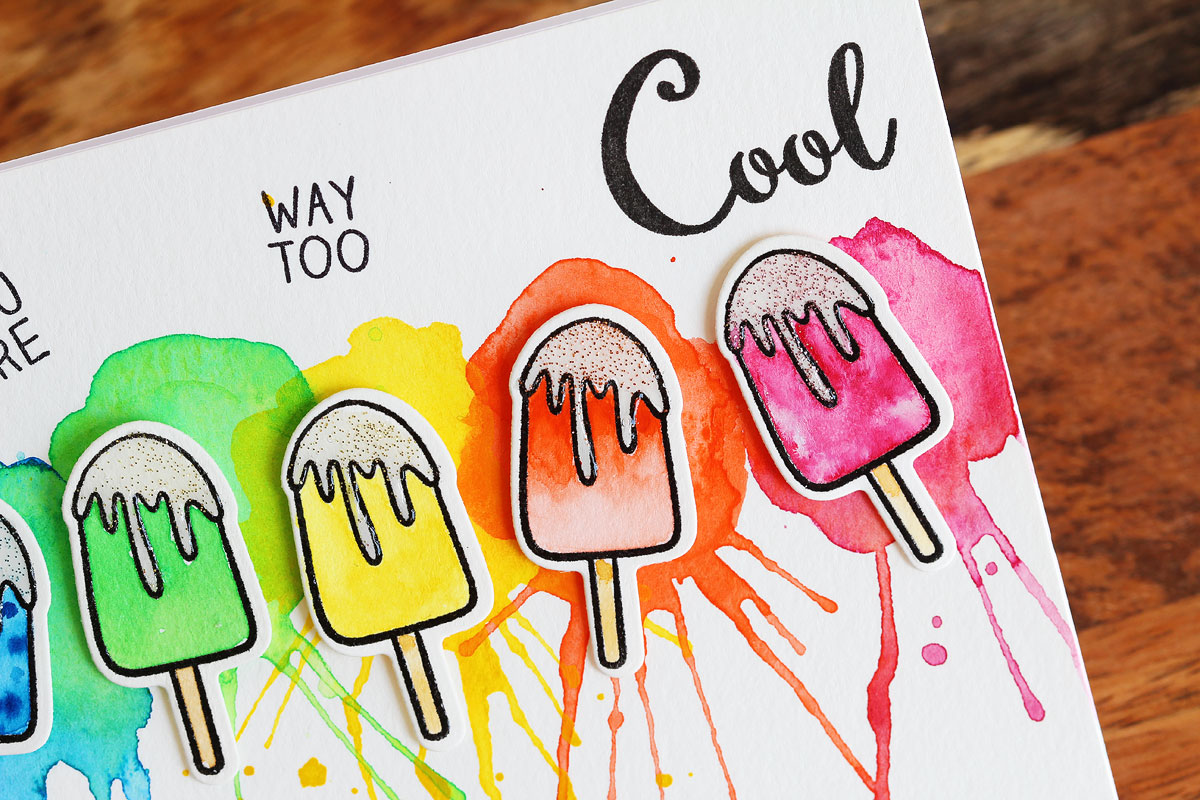 Pro tip: to get the glitter to look like sprinkles here's what I do: just grab a cheapo brush (dry!) and dip it directly in the jar of glitter. Hold the brush over your popsicle and then tap it as you would to make paint splatters. The glitter will fall off the brush into these little sprinkles.
If you tried to do this with your fingers you'd have a huge mess on your hands, lol! Oh and I should mention that it's handy to work over a scrap of printer paper too.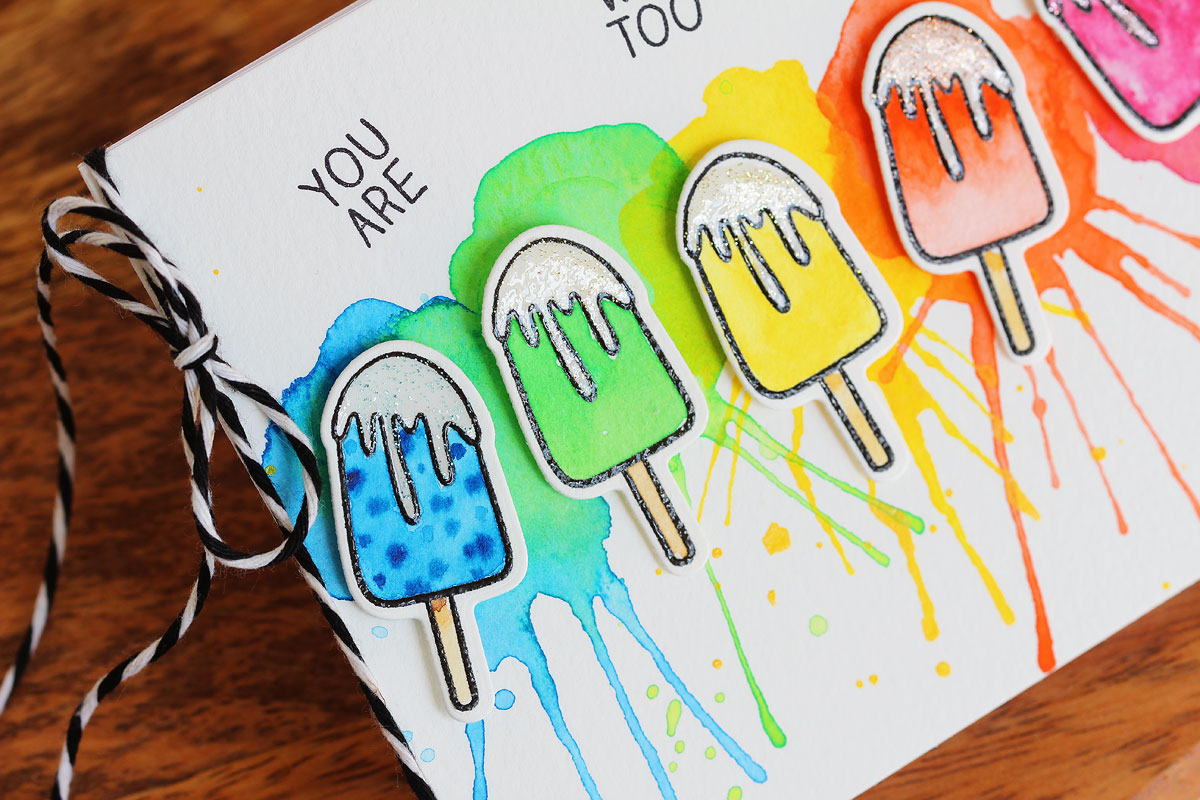 Here are the colors that I used from left to right:
The EcoSparkles line is biodegradable — that makes me feel so good!
Hop On!
Your next stop is Julie Chaddock — I can't wait to see what she's made! Here's the full hop list in case you encounter a broken link or are just getting started:
Don't forget to check out Day one, too!
Supplies
Find the full line of Technique Tuesday stamps and dies right HERE in their shop.
The full line of WOW! products is available HERE!
I've also added links to shop at Ellen Hutson in case you're shopping there this weekend. Note the following are my affiliate links so if you make a purchase by clicking the link I'll receive a small commission at no charge to you — thank you!
Thank you so much for joining me, and thanks to Technique Tuesday & WOW! for having me in the hop! xo