Hello there and welcome to Day 4 of The Greetery's June release week — I'm so glad you're here! I'm very honored to be a part of the release — when Betsy told me that she had some new stamps coming out that I might like and asked me if I'd like to join in I said oh heck yeah — sight unseen. Then when I opened up the package I was super excited — Betsy gets me as I'm a total plant nerd! It's like a jungle around here.
Today I'll be sharing cards with the new Pot-Pourri stamps and dies plus the Macra-Made for You standalone dies, so let's jump right in!
Thinking of You
My first card features the Macra-Made for You standalone dies — check it out: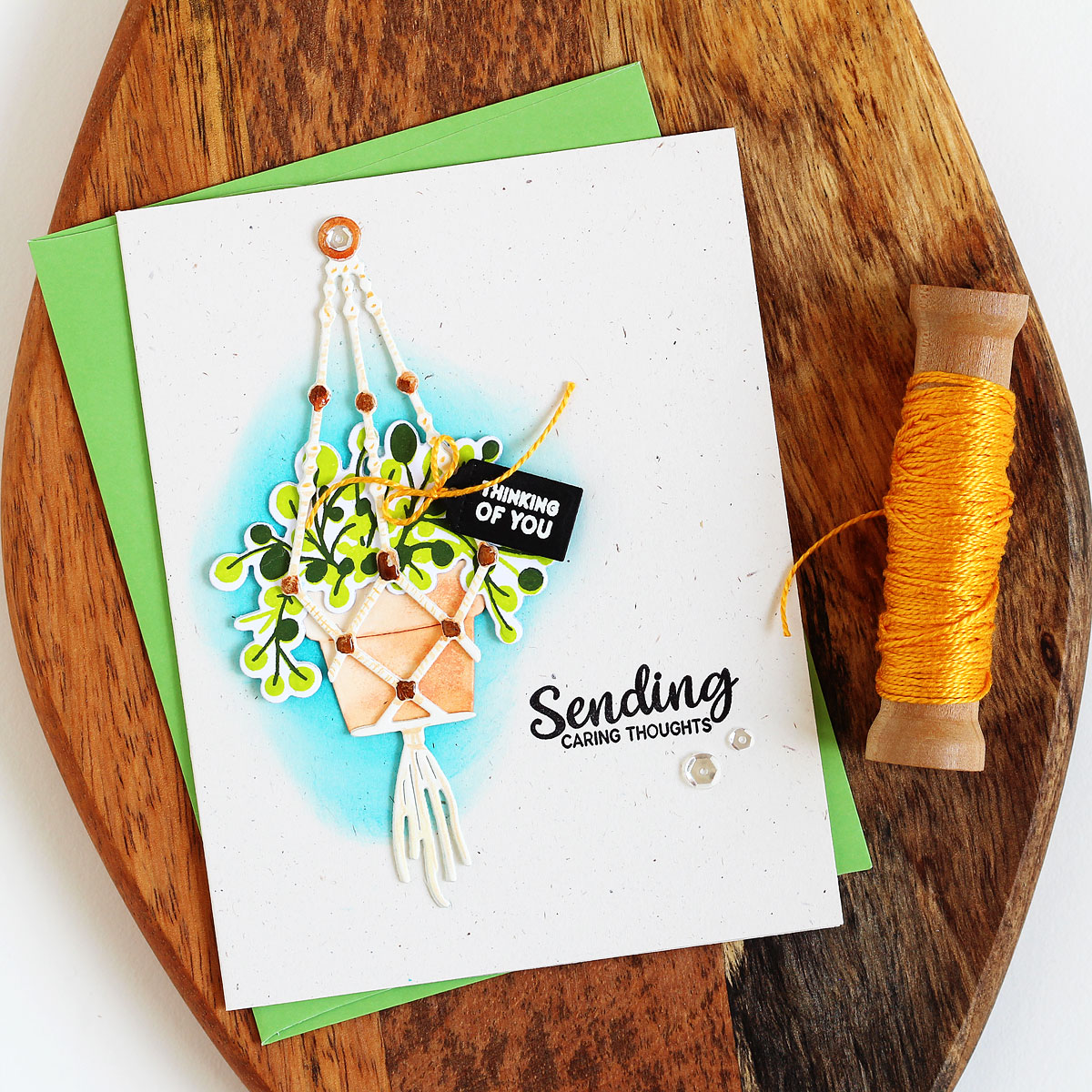 As soon as I saw this set it thought it would be fun to have a little tag hanging in there, as if it arrived fresh from the florist. So I grabbed the Sentiment Suite: Thinking of You stamps and coordinating Sentiment Suite Basics dies made the perfect little tag! I was grinning from ear to ear as I was cutting it out — I mean come on, how cute is this?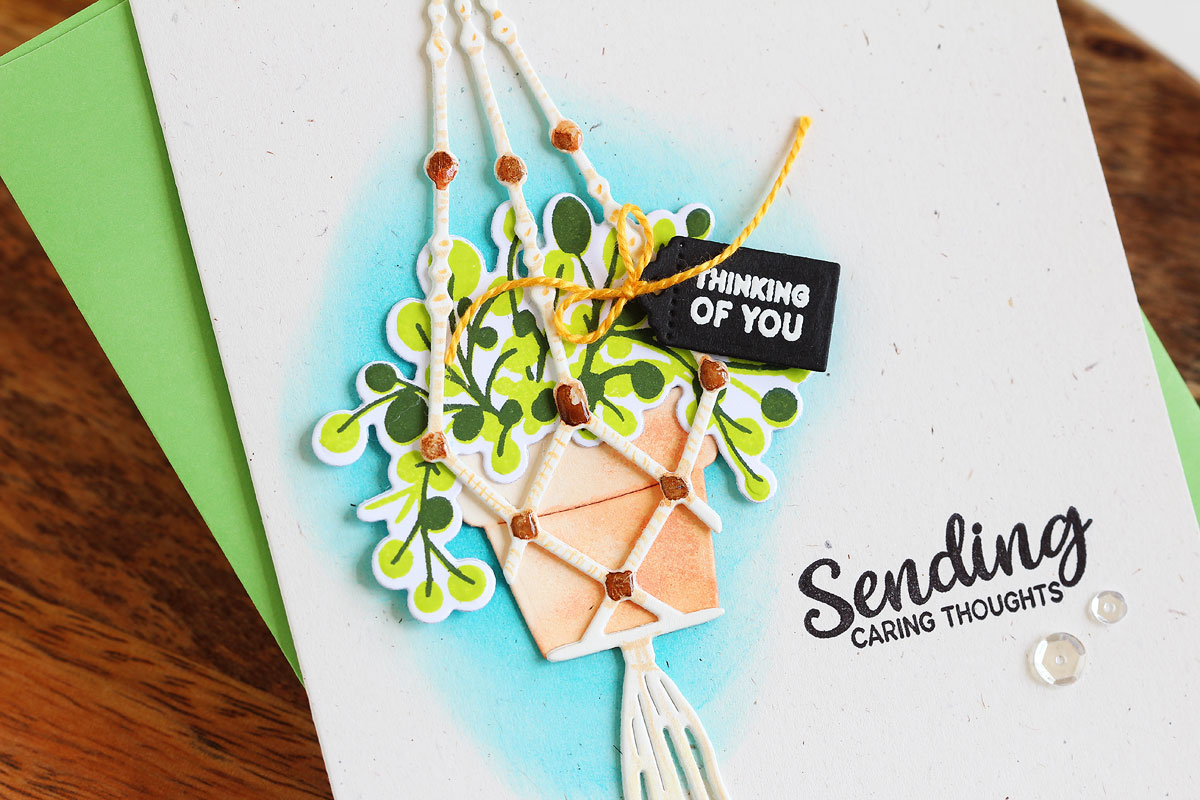 I wanted to share a few tips for the macrame hanger:
I die cut mine out of watercolor paper — it's nice and sturdy and easy to work with. I ended up cutting 2 and layering them together.
Then I grabbed a cream colored pencil to add little details to the macrame parts. I put the die cut on the foam pad in my MISTI and used a pretty sharp pencil and really pressed some of the dots in there to add dimension.
Keen-eyed readers may notice that there's a clear sequin in the center of the macrame hanger — love how it fits perfectly in there!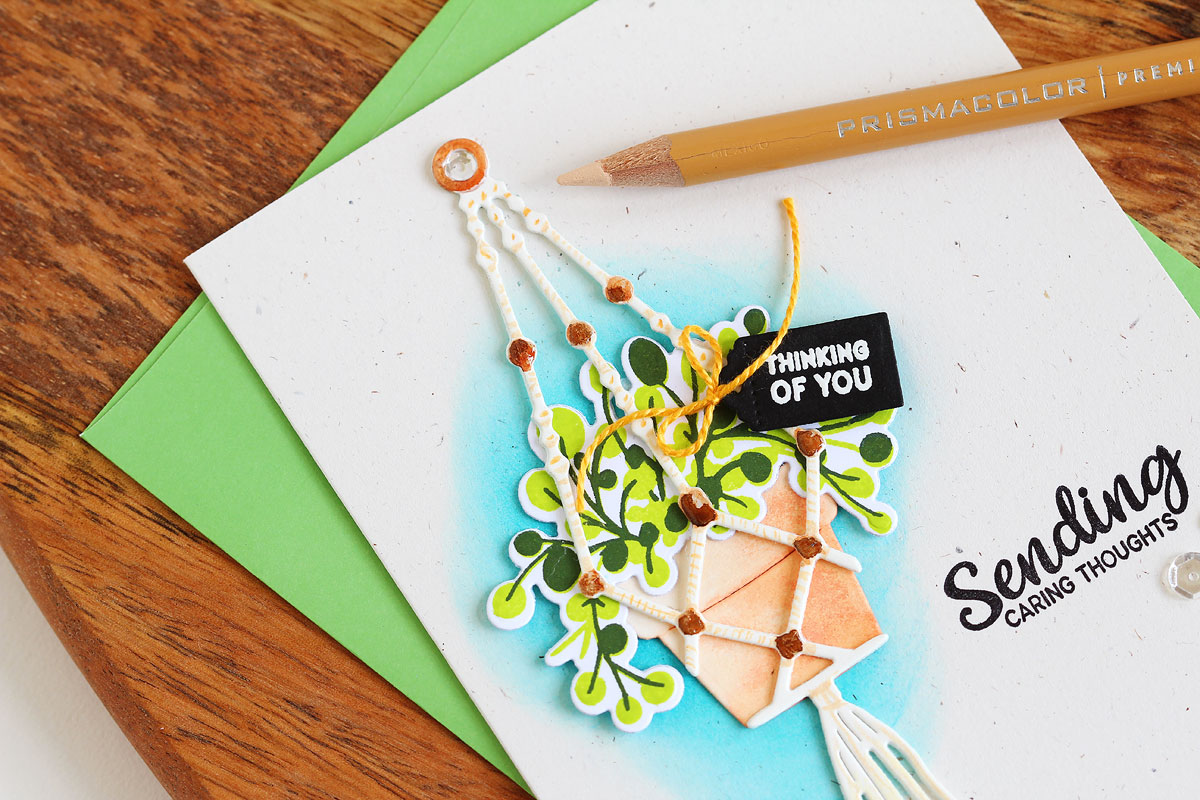 Then I used a #2 paintbrush and some watercolors to add wooden beads…
Last but not least, I went over the beads with glossy accents to add a little shine! Pro tip: I JUST got my hands on this fine tip applicator for my mini glossy a's — it has one of those nifty pins in the lid that slide into the nozzle to keep it from drying out, yes! I can't tell you how many bottles I've wasted because they dried out. (Note that you'll need this tip for the full size bottle.)
Before I forget I just had to tell ya that on the inside of this card I'm going to write "hang in there" — get it? :)
I'll cover how I did the pots and plants in my next card…
WARM Birthday Wishes
My second card features the new Pot-Pourri stamps and dies — oh my, this is so fun to play with! And so addicting! I sat down and made a ton of pots and plants — so relaxing. I have enough for more cards — next time I get crafter's block and I don't know what to do I'm going to sit down and play with this set!
I switched things up a little and this time I used the new Sentiment Suite Birthday set — I think it's a genius idea that these stamps also go with the Sentiment Suite Basics dies — genius I tell ya!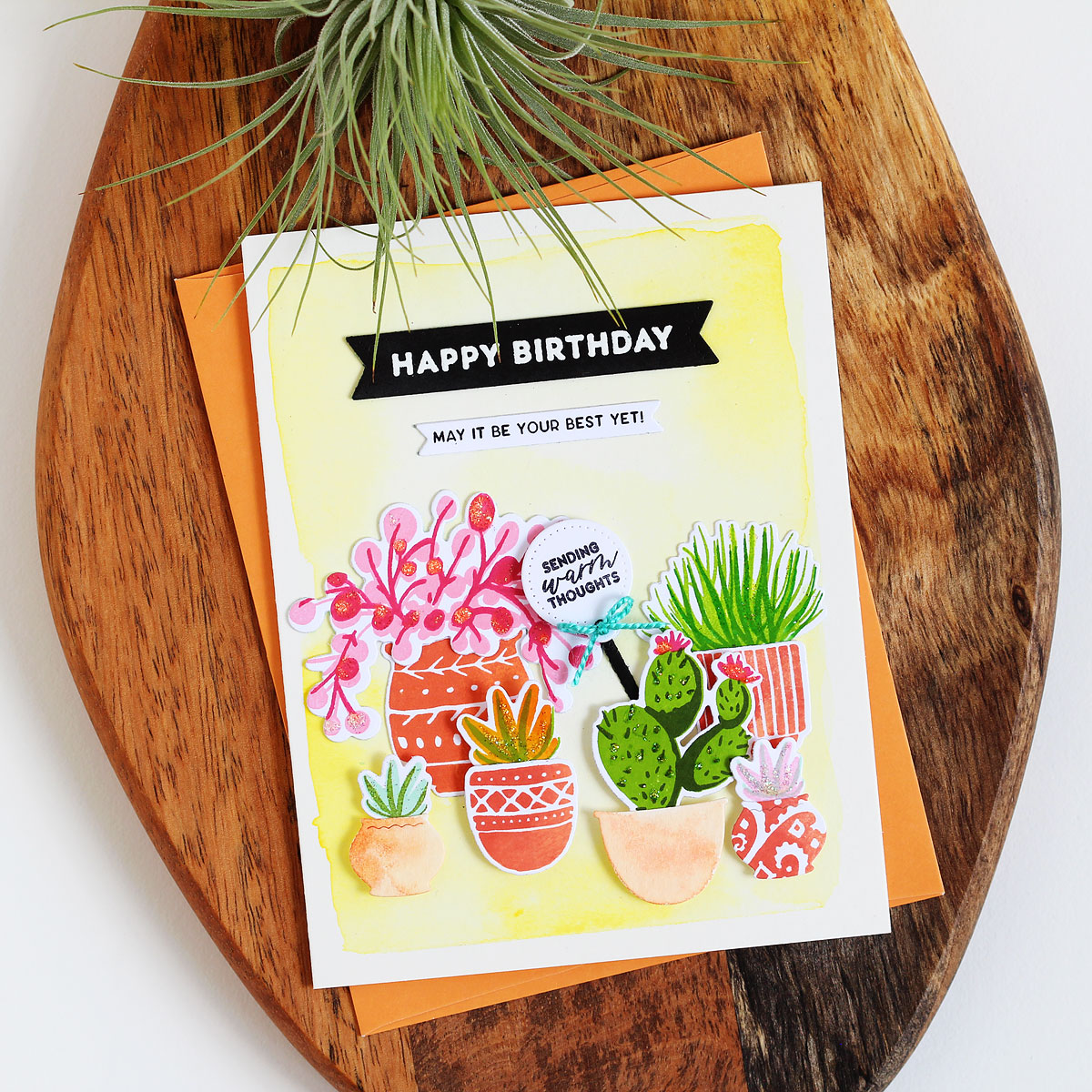 I was on a roll with the little tag idea, but this time I made a "plant pop" — it's like a lollipop but for a plant lol! I thought the "sending warm thoughts" (from the Sentiment Suite: Thinking of You stamps) went perfectly with that cactus! :) The "stick" is a die from the Macra-made for You set.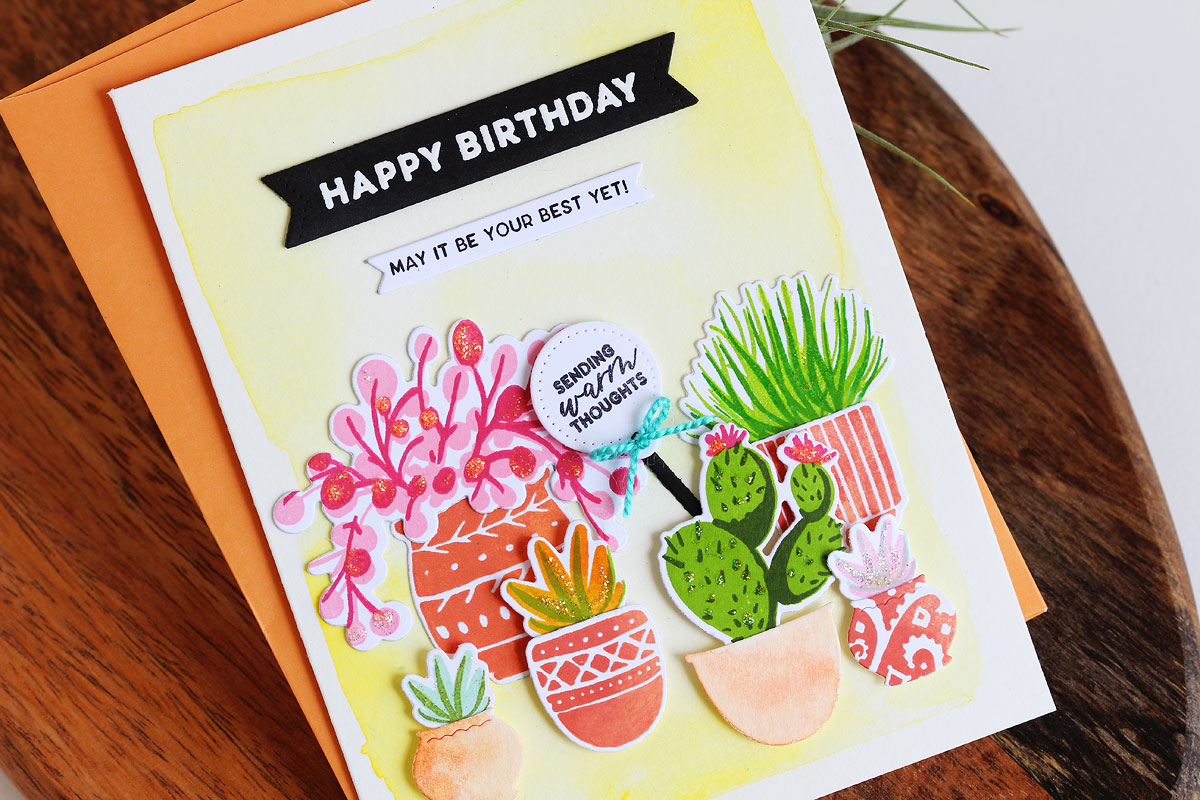 Then I just had to add a little glitter — of course!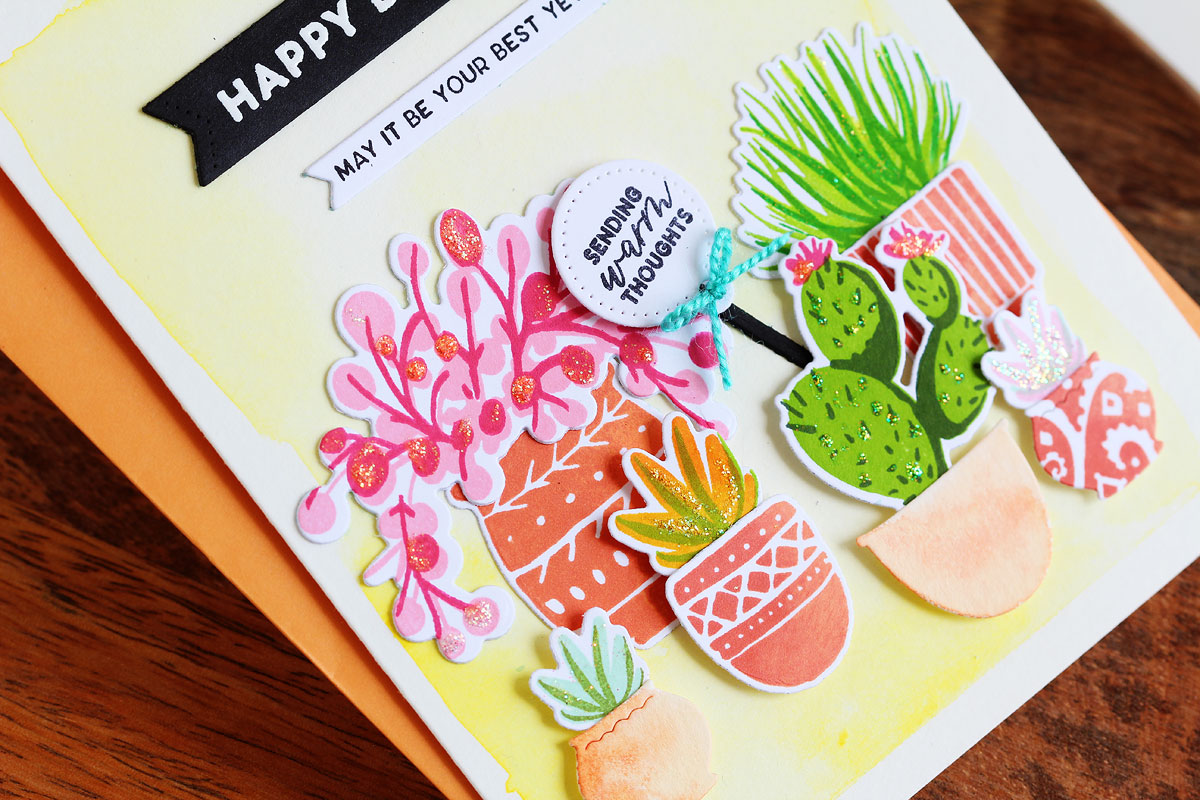 Here are some color combos for you:
And there you have it!
More Day 4 Designers + PRIZES!
Be sure to check out the rest of the Day 4 designers for more inspiration — and more chances to win prizes! Oh yes, prizes! By leaving comments on our blogs you'll be entered to win a $50 gift card — yay!
Supplies
The Greetery new release stamps and dies will be available on Friday, June 21st @ 10 am EDT — that's tomorrow! Yay!
Note that these are my affiliate links so if you make a purchase by clicking the link below I'll receive a small commission at no charge to you — thank you!
Thank you so much for joining me, and hope you have a great day! xo