I just finished setting up my backpacking palette and thought I'd share it here in case it helps someone — this is the tiniest palette ever and I can't wait to take it on adventures.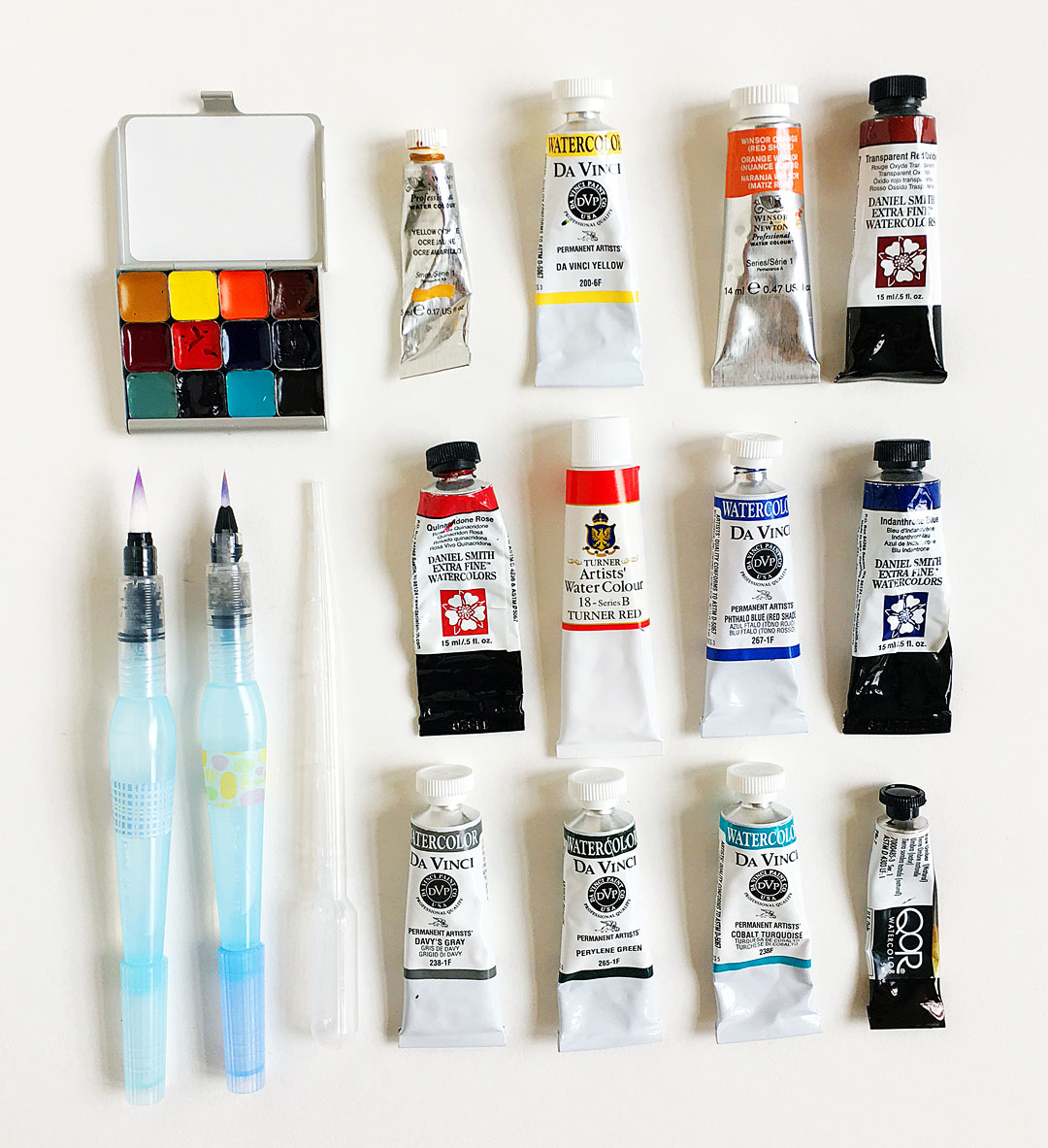 This little gem is the demi palette from Expeditionary Arts. It holds 12 colors, here they are plus the brands from top left:
First row: WN yellow ochre (PY43), Da Vinci Yellow (PY154), Winsor Orange (RS) (PO73) , DS transparent red oxide (PR101)
Second row: DS quinacridone rose (PV19), Turner red (PR188), DV phthalo blue (RS) (PB15), DS indanthrone blue (PB60)
Third row: DV Davy's gray (PW6, PBk6, PG7), DV perylene green (PBk31), DV cobalt turquoise (PB36), QoR raw umber (PBr7)
I'll be bringing along these two water brushes and a little mixing tray.
Here's a bit about each color and my thought process in case it helps you — I worked on this for almost a week, so hard to narrow things down!
I'm going backpacking in Big Bend National Park — it's an awe inspiring mix of desert, mountains and river — and I wanted this palette to be able to handle them all. I paint mostly botanicals and landscapes so it was important to be able to to
As you can see I'm not a brand specific kind of gal. I listed the pigment numbers for you as I've learned to always go by the number and not the color name.
I always have a quinacridone rose, a phthalo blue, transparent red oxide, yellow ochre or sienna, primary yellow on all of my palettes
Now for a bit about each color:
yellow ochre — this is great for sunsets and deserts alike; I have this or DS Monte Amiata Sienna in all my palettes
PY154 is a bright, clear yellow. I used to use Hansa yellow medium but switched over to this last year because I like how it handles better.
Winsor Orange red shade is a vibrant clear orange that's the prefect color for some of the mountain wildflowers; it's also great for rocks; haven't found another brand to compare
Transparent red oxide (PR101) – love mixing this with indanthrone blue for moody skies; it also makes some neat purples
DS quinacridone rose — this is the coolest PV19 I've worked with
Turner red — I picked this color up recently as I love Turner's brilliant red in their gouache so I wanted to give their watercolor a try! I'm doing a lightfast test on it and may end up swapping it out for Winsor Red (PR254) if it doesn't hold up. It cracked a little while drying but it still seems to rewet fine. We'll see!
Phthalo blue red shade — this color is pretty similar across brands; I plan to use it for clear blue skies. I'm not a fan of granulation in my skies unless it's a stormy one!
Indanthrone blue — I plan to use this for dusky skies, purples and more.
Davy's gray is the perfect shade for agaves and yuccas — it's so hard to mix in the field.
Perylene green is great for the deep green of pines and can also be mixed with Davy's gray for darker agave grays.
Cobalt turquoise is another one to mix with Davy's gray for yuccas and agaves; it also mixes with quinacridone rose for a beautiful granulating turquoise and phthalo blue for cooler skies.
Last but not least, raw umber — I specifically picked the QoR version here as it rewets so well. It's a useful color for toning other colors down/darkening them.
Let me know if you have any questions and I'll be happy to answer them!