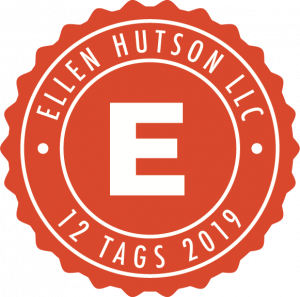 Hi there and welcome to Ellen Hutson's annual 12 Tags of Christmas party! I'm so glad you're here.
This year we're going to feature a different carol each day and I'll be playing along — yeah, I'm one of THOSE people who starts singing Christmas carols in November hahaha! We're kicking things off with one of my all-time favorites: Ruldolph the Red-nosed Reindeer!
As soon as I found out that this was the theme for Day 1 of course I had to bust out that super cute reindeer from the Holiday Characters set. And then! I had the idea to really give ole Rudy's nose a glow!
How'd I get that nose to glow? I'm glad you asked! I used these red droplets annnnd NEON yellow watercolor from Case For Making. This handmade watercolor is so rich and opaque you all! It's impossible for the camera to capture — you just gotta see it in real life.
I used my trusty Daniel Smith transparent red oxide to color him — I'll have more on that later, but by the end of the 12 Tags I hope to convince you that this is the perfect brown to have on hand for coloring critters. :)
I also hope to convince you that the Shipping Tags die is a must have — this baby cuts out 4 tags from a 4.25 x 5.5″ piece of cardstock. Pro tip: I like to store extra tags right in the sturdy pocket that it comes in!
Prizes!
Let's talk prizes — because there's some good ones!
There's a $25 gift card up for grabs! Just leave comments on the participating blogs from now through December 16th and you'll be automatically entered to win! Yeah!
Play along with us and you could win $150 gift card!!! Link up your creations right HERE on the Ellen Hutson blog.
Find all the deets plus participating artists HERE!
Supplies
Note that these are my affiliate links so if you make a purchase by clicking the link below I'll receive a small commission at no charge to you — thank you!
Thanks so much for joining me today, and hope to see you tomorrow for Day 2! Meanwhile, be sure to head over to the Ellen Hutson blog for more tags — and more and fun! xo