Hi there and welcome back to Ellen Hutson's 12 Tags of Christmas! Today I'm joining Emily with our Midnight Clear theme. I just love this song, it always makes me feel all peaceful inside.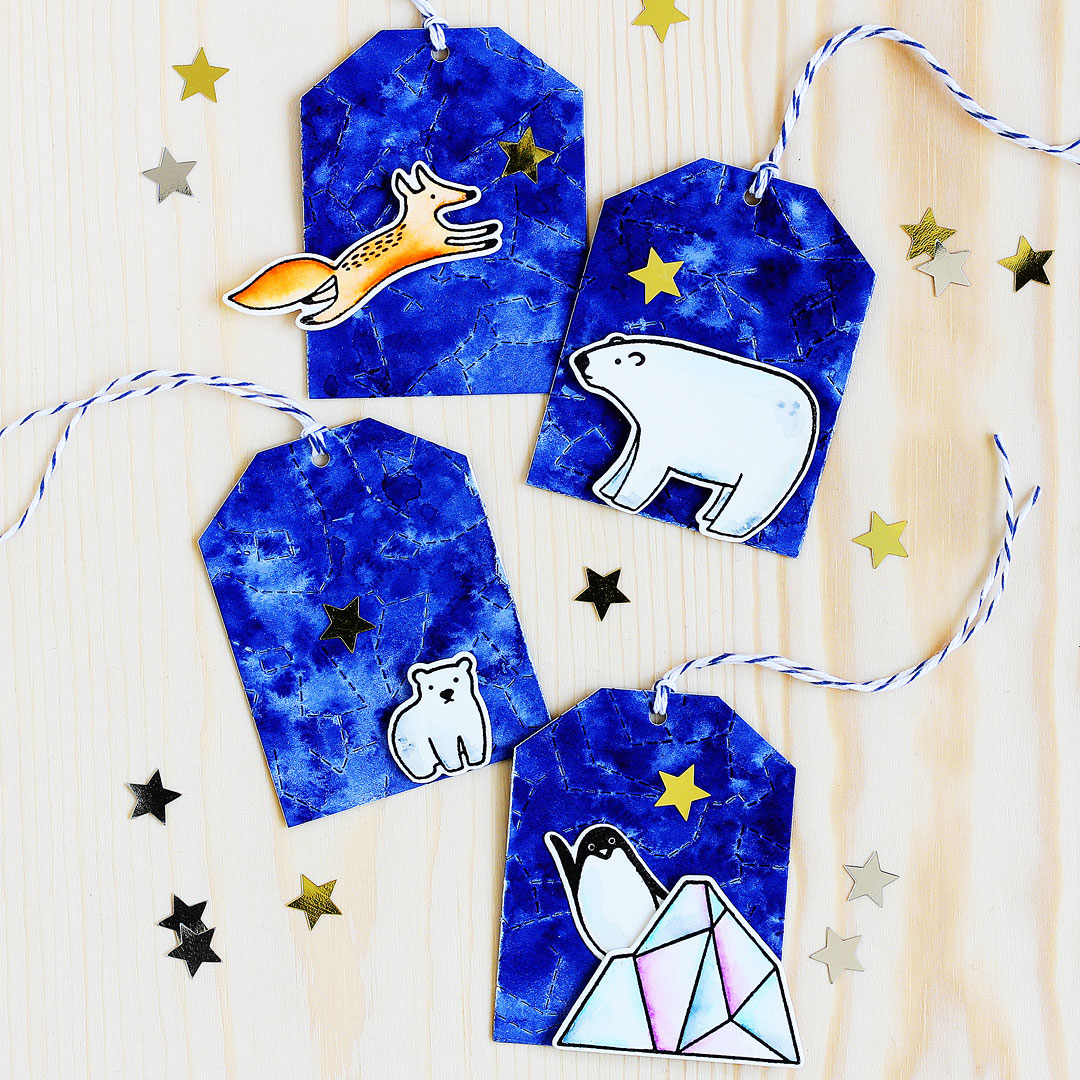 As soon as I found out the theme for today's tag I just *knew* I'd be making a background with Daniel Smith indanthrone blue! (Be sure to check out THIS post where I talk about my love for "indie blue" — it even has a video!)
I started out by embossing some watercolor paper with the Constellation Background and then watercolored all over it with indie blue. By embossing it first the color will settle down in in those star trails and look awesome! While it was still wet I splattered it with clean water to get it to bloom — I think it makes it look like the Milky Way.
Then I cut out the tags with my trusty Shipping Tags die — I keep reaching for this, so handy to have in your toolbox! Also, it will flatten out your paper in case it gets warped from the watercolors — bonus!
As I was hunting though my stamps to see what to use with it I spied the Arctic Pals set and I did a happy dance right there in the office!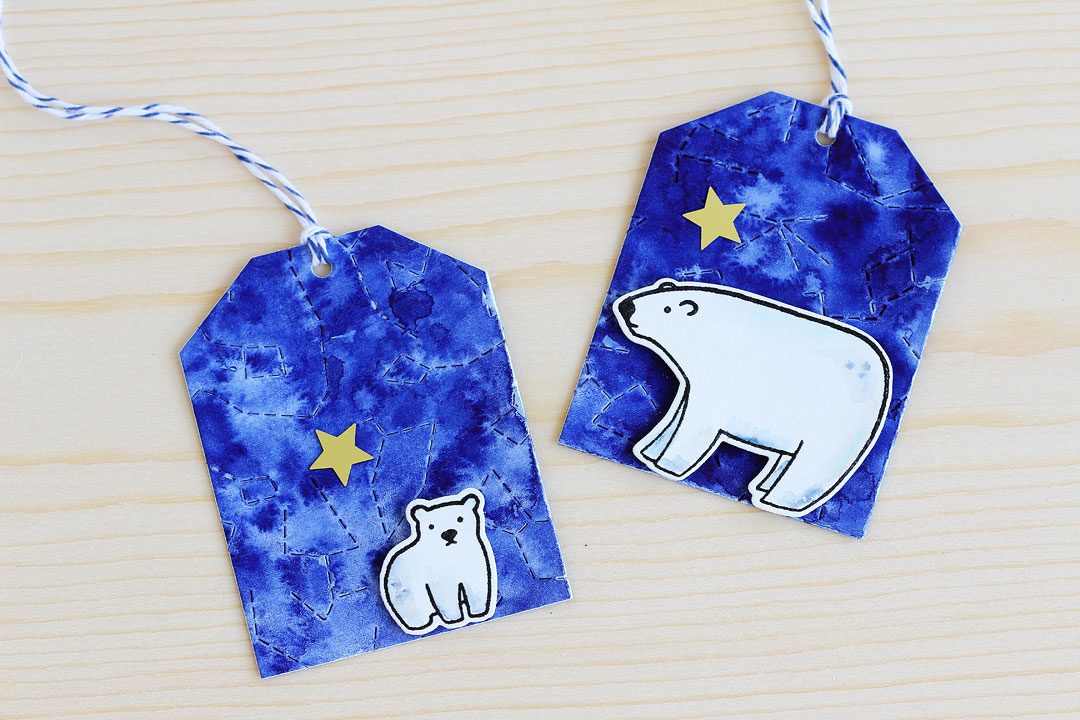 This set has so many fun characters! I mean, how can you go wrong with polar bears? And white critters are the easiest ever to color, amiright? I just swiped a bit of cool gray and warm gray Zig markers along parts of the edges and that was that! Yeah I like to mix cool and warm gray — I think it looks more natural this way. You could get away with just one or the other, tho!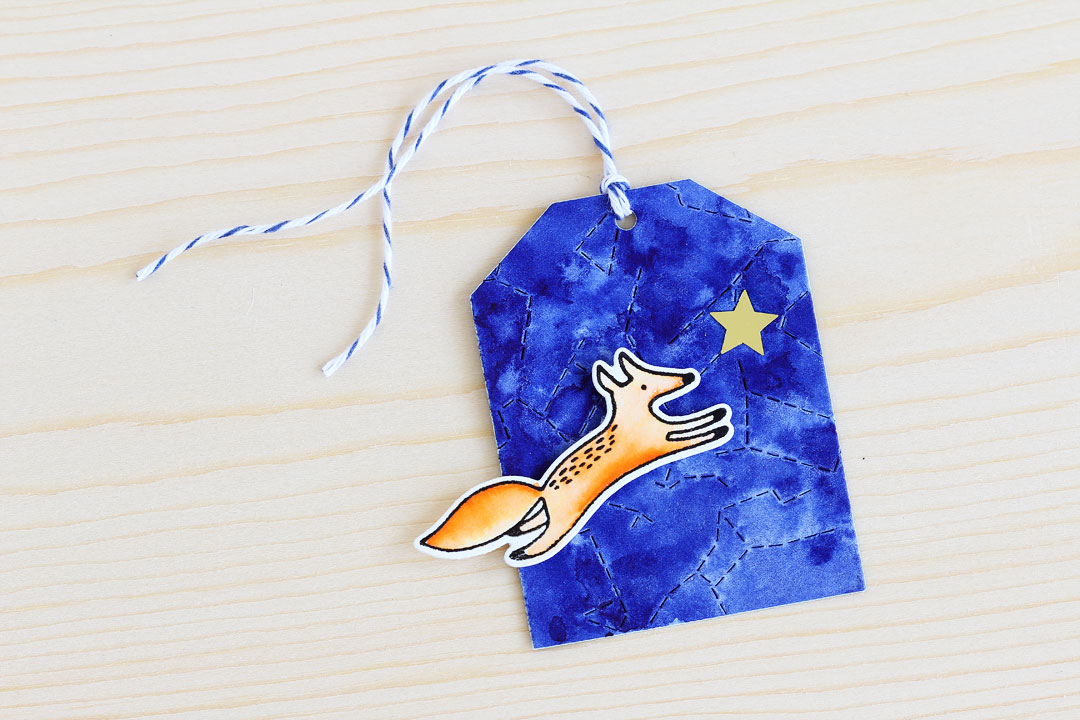 Then there's this fox! Yeah I know he's an arctic fox but I couldn't resist making him orange :)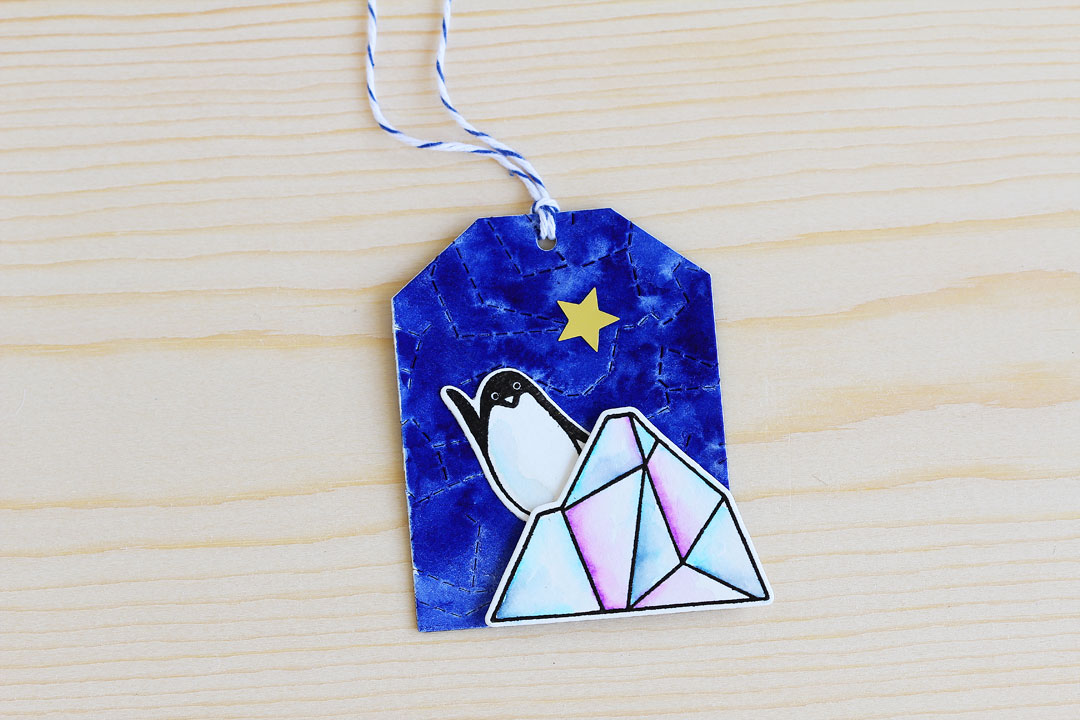 Last but not least, this little penguin pal wavin' at ya! And that iceberg was totally fun to color!
IN CASE YOU MISSED THEM
Find my previous day's tags here:
And don't forget, we've got PRIZE PRESENTS for ya! Because what would a Christmas party be without presents, right?!
There's a $25 gift card up for grabs! Just leave comments on the participating blogs from now through December 16th and you'll be automatically entered to win! Yeah!
Play along with us and you could win $150 gift card!!! Link up your creations right HERE on the Ellen Hutson blog.
Find all the deets plus participating artists HERE!
Supplies
Note that these are my affiliate links so if you make a purchase by clicking the link below I'll receive a small commission at no charge to you — thank you!
Thank you so much for joining me today, and hope you can find a moment of peace amid all the holiday hustle. xo