Thanks so much to everyone who joined May, Lydia and me for our first ever Instagram live session on Saturday! It was so fun! I had some questions about the palettes and paints I was using so I thought I'd do a post for you — here goes!
Both palettes are by Art Toolkit and you can find them here on their website. The "big" palette is called the Pocket Palette and it's the size of a business card. The cute mini is a Demi Palette — why do things in smaller sizes always look so cute?!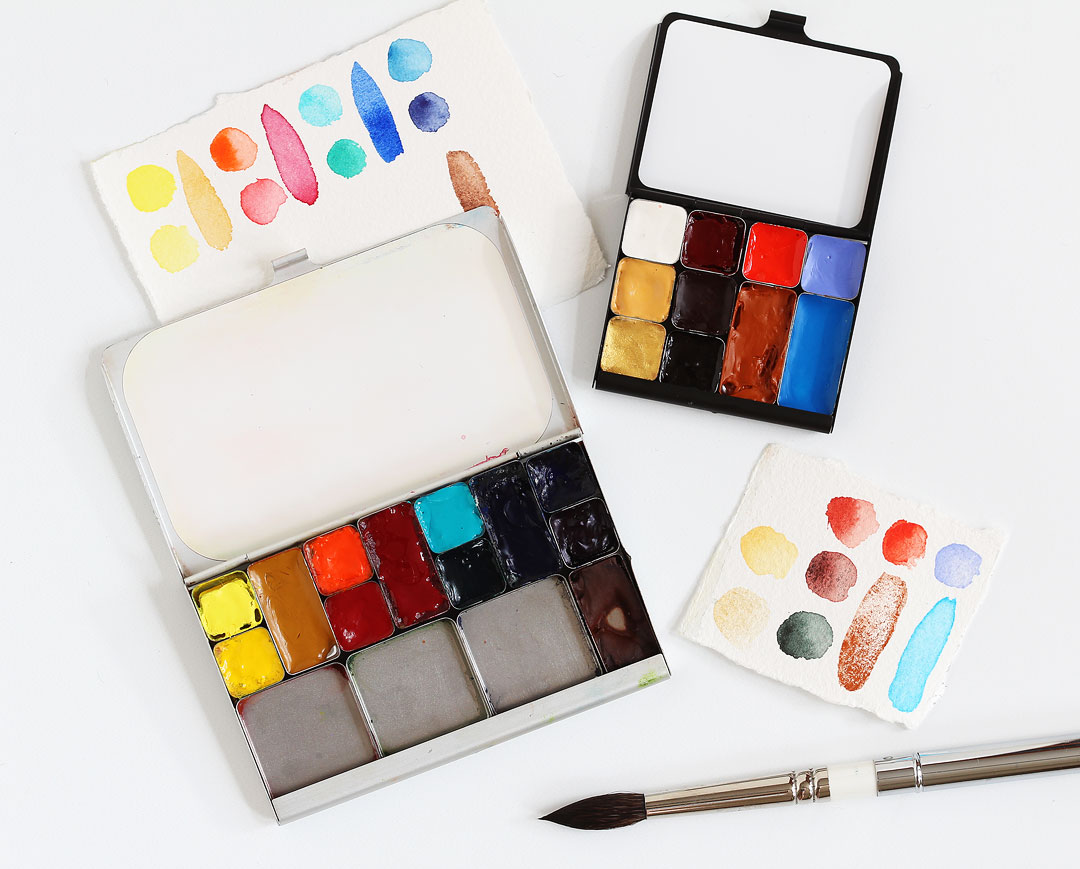 I've been using a Pocket Palette for several years and I have really come to appreciate it. I've taken it on so many adventures and I love that it doesn't take up room in my pack, I can hold it in my hand for a quick sketch, and it weighs next to nothing — important for long backpacking trips. I even use it for quick sketching on planes and around the neighborhood. Heck, sometimes I even use it at my desk!
I have the "big" palette setup to be my workhorse/do everything palette — it has a more traditional setup — I've listed the Daniel Smith names for the colors unless otherwise noted:
Yellows: Bismuth Vanadate, a cool opaque yellow, DaVinci yellow (PY154, azo yellow) (I used to have Hansa yellow medium here but I found the DaVinci yellow to hold up better in our extreme Texas weather), Winsor & Newton yellow ochre (I prefer WN's yellow ochre as it almost seems to glow!)
Reds: Winsor Orange (red shade) (P073, DS pyrrol orange), DS quinacridone coral (PR209), DS quinacridone rose (PV19)
Greens: DaVinci cobalt turquoise (this is Cerulean Blue chromium in the Daniel Smith line, but I find the DaVinci version has less granulation, which I prefer for skies) , phthalo green (blue shade)
Blues: ultramarine blue, phthalo blue (red shade), indanthrone blue
Brown: transparent red oxide (handmade by me!)
I recently got the Demi palette to bring on trips to Big Bend National Park so that I could have even more colors — I found myself wishing for a few specialty colors to use there so I put together this little palette — I'll list these by columns:
Chinese white, Naples Yellow, iridescent gold
Deep scarlet, piemontite genuine, perylene green
DaVinci cadmium red light, lunar earth
Lavender, Winsor & Newton manganese blue hue
It might be interesting to do a painting with just this little palette and see what happens.
Now for my brushes!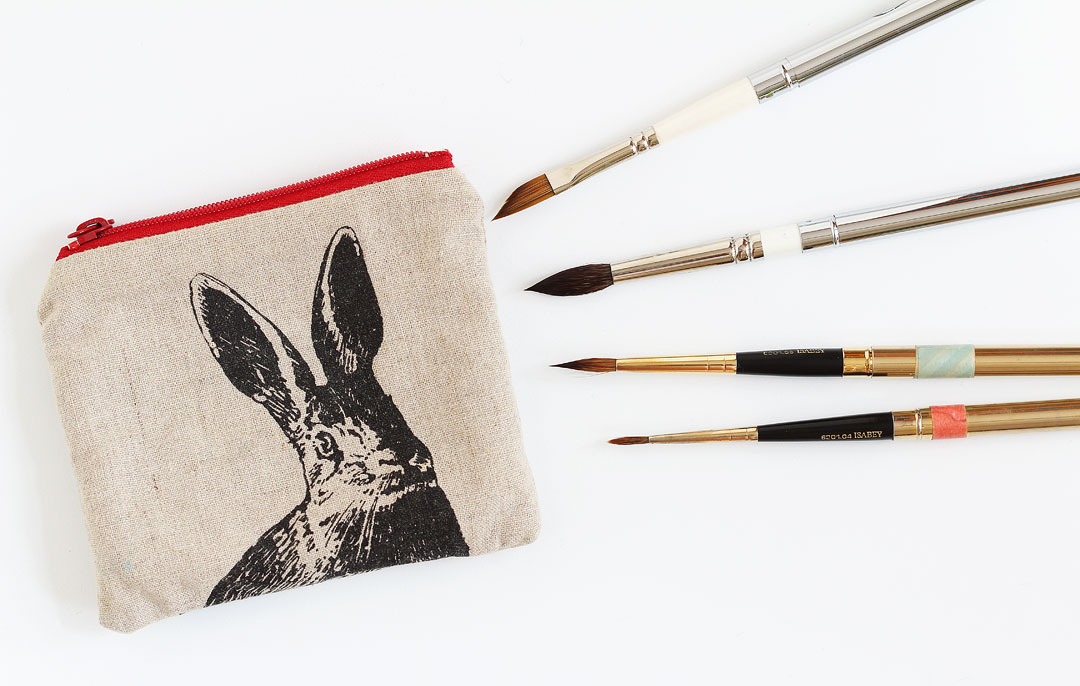 These are the travel brushes that I carry in my pack with me, from top to bottom:
Rosemary & Co R12 dagger
Rosemary & Co R9 medium squirrel (I purchased both of the Rosemary brushes from Art Toolkit)
Isabey size 6 (purchased from Case for Making)
Isabey size 4, I rarely use the size 4 — I mostly carry it for making spines on cacti or when I do a really tiny painting.
I plan to do a fuller brush writeup soon, so stay tuned!
Just let me know if you have any more questions!