The Summer of Stamping at Ellen Hutson continues this week with another new release, and today we're celebrating with a hop over on instagram — with PRIZES! YEAH!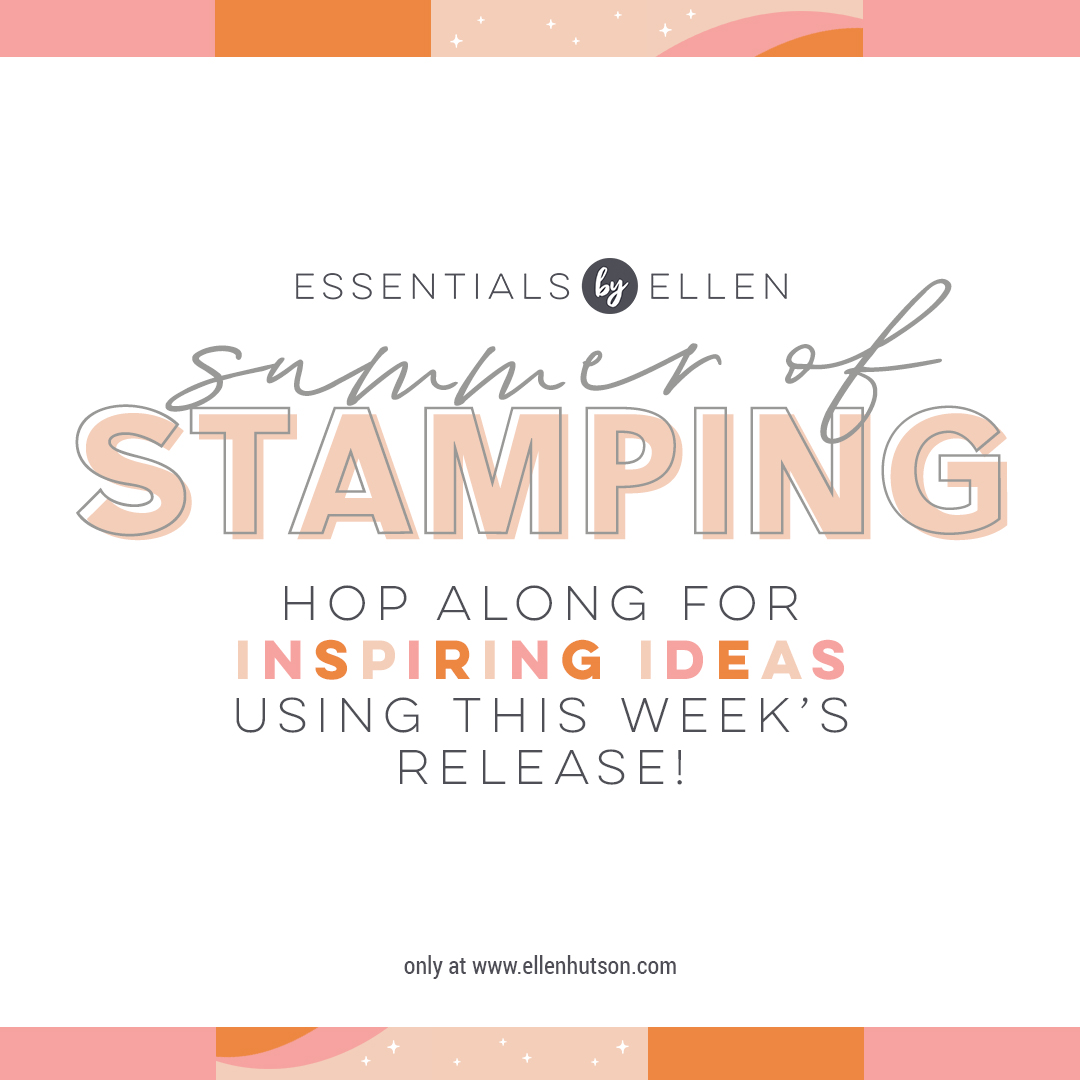 I wanted to go a little more in-depth on my cards than would fit over on insta and give you a few tips and tricks for using the new EBE It's a Jungle set!
I ended up making two cards with these, one clean and simple and one where I just went WILD stamping alllll the things! Check 'em out: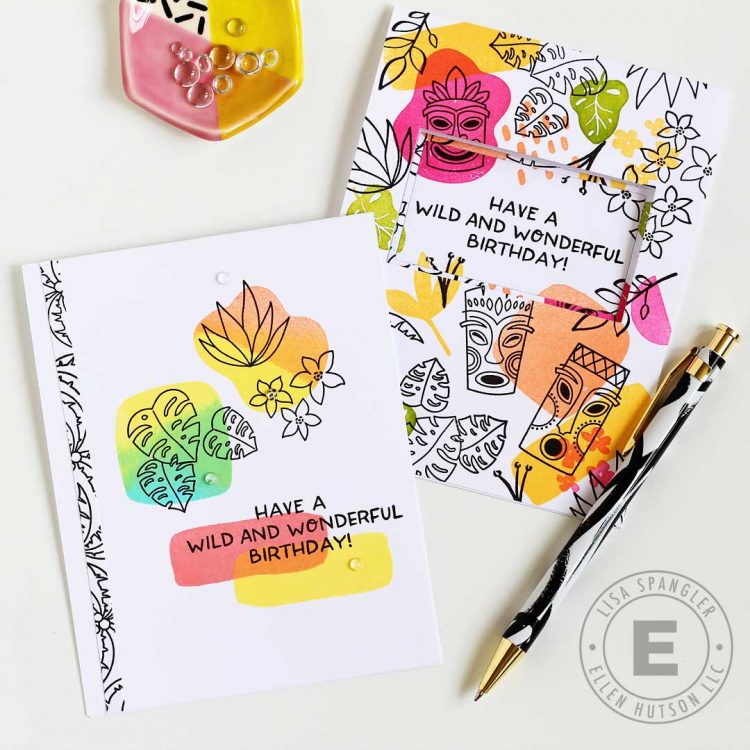 I think either one would be perfect for masculine birthdays!
Here's a closer look at clean and simple version: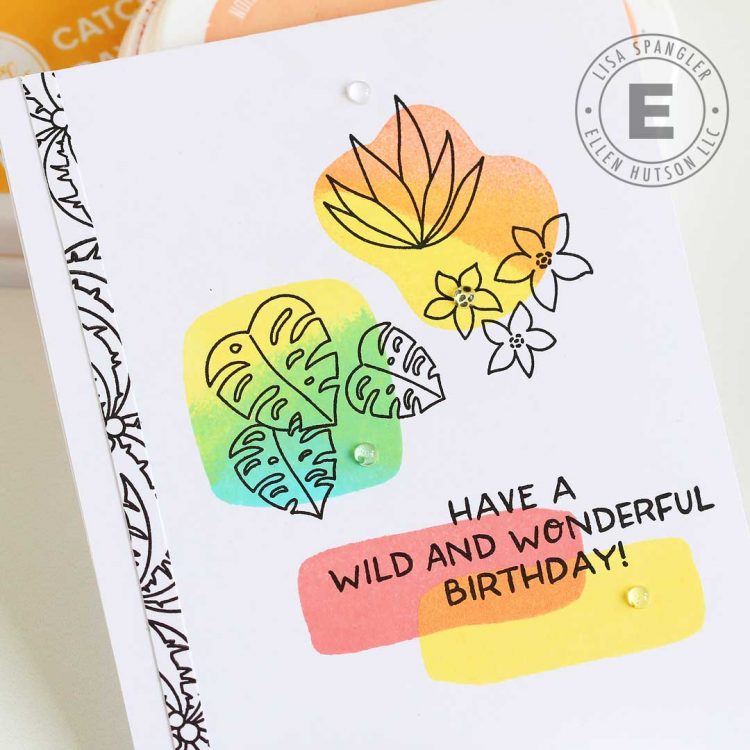 And here's some tips and tricks:
I used EBE Organic Elements to ground the stamping — note that I didn't use a single green ink on here, the green was just from overlapping chiffon and cummerbund! Love that.
My favorite part of the card? That patterned strip on the left! That was made by repeat stamping the palm tree!
Last but not least — I didn't want to take away from the card too much but felt like it needed a little something extra — so enter these clear droplets!
And that was that!
Now on to the wild child: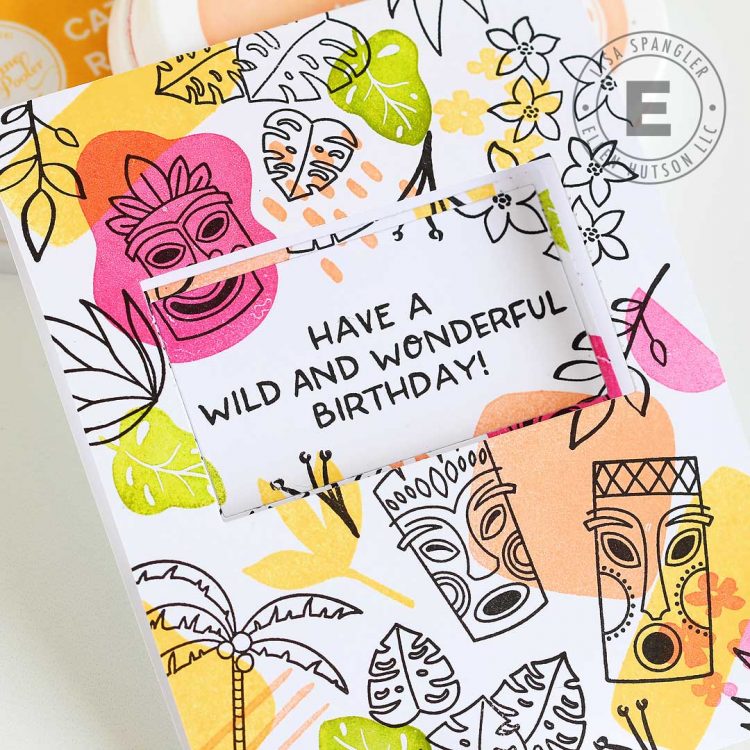 I had a blast stamping this one! Here are some tips:
I started out by stamping the sentiment first to help with positioning.
Then I stamped the rest of the elements from It's a Jungle, and then I stamped the Organic Elements shapes over top. I kinda think of this as "coloring" with stamps! Keepin' it simple for summer!
After the card was finished, I thought it needed a little extra touch and grabbed my trusty EBE Essential rectangles and cut out that sentiment. Then I mounted it on the inside of the card — and for an added twist, I added the rectangle frame upside-down! Love how this turned out!
So which is your favorite? The wild child or the clean and simple version? I'd love to hear!
Supplies
Note that these are my affiliate links so if you make a purchase by clicking the link below I'll receive a small commission at no charge to you — thank you!
Here are the supplies I used on these cards:
Don't forget to enter giveway on instagram! I'll be back tomorrow with another card — see ya then! — Lisa