The Ellen Hutson Winter/Christmas is here! Grab a cuppa hot chocolate, put on some Christmas carols and come see what I've made — so far! More to come!
A Shadow Box Card Full of Cheer
First up, a card that would be super fun to make in multiples!
It came together so fast, thanks to the Shadow Box die! I had never made a shadow box card before this — and the die made it super easy! Just cut it, stamp and color the All Wrapped Up image, fold it on the score lines and use some adhesive tape to add it to the card. Super simple!
Here are the Zig Clean Color Real Brush markers I used on All Wrapped Up — this doesn't require much coloring at all, so you could totally make a bunch of these! And the Zig markers are perfect for getting in those lil spaces. I might try stamping them on printer paper to see how that works out too!
Now how about some tags…
Tag, You're It!
Once I get started making tags I just can't stop!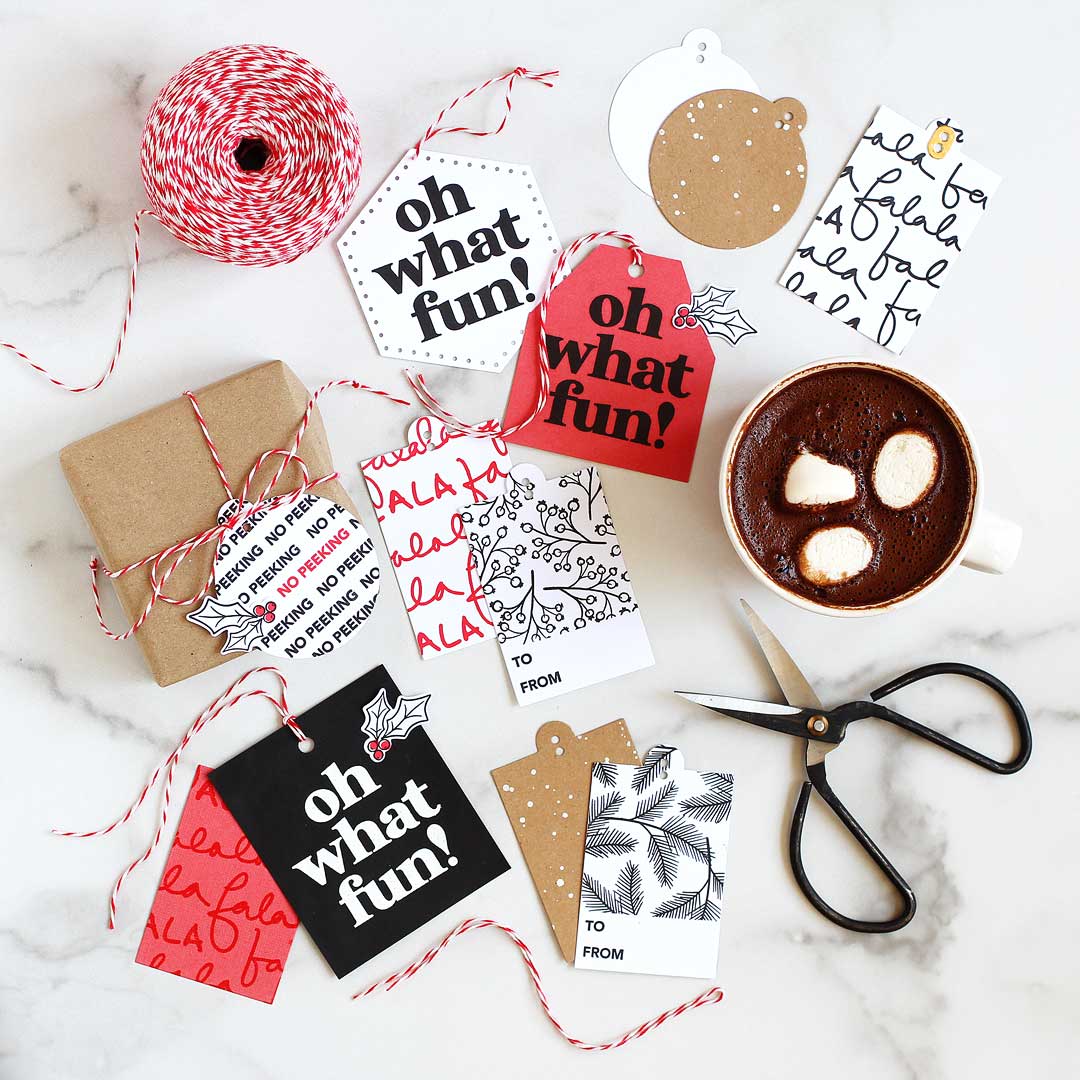 I used a huge variety of stamps on these — love having a bunch on hand, and if I have any left over they're perfect for making quick cards.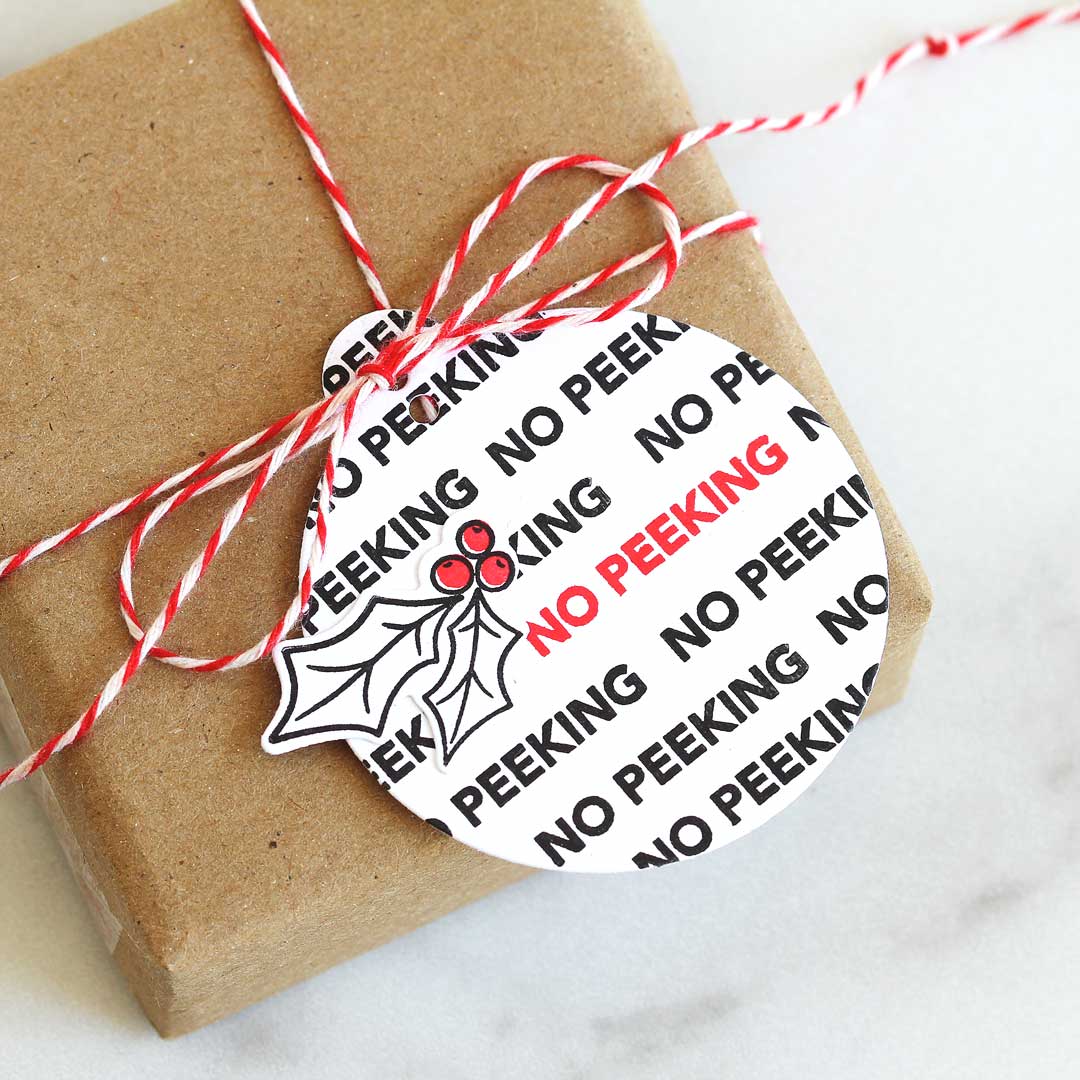 This one is going on J's package! :)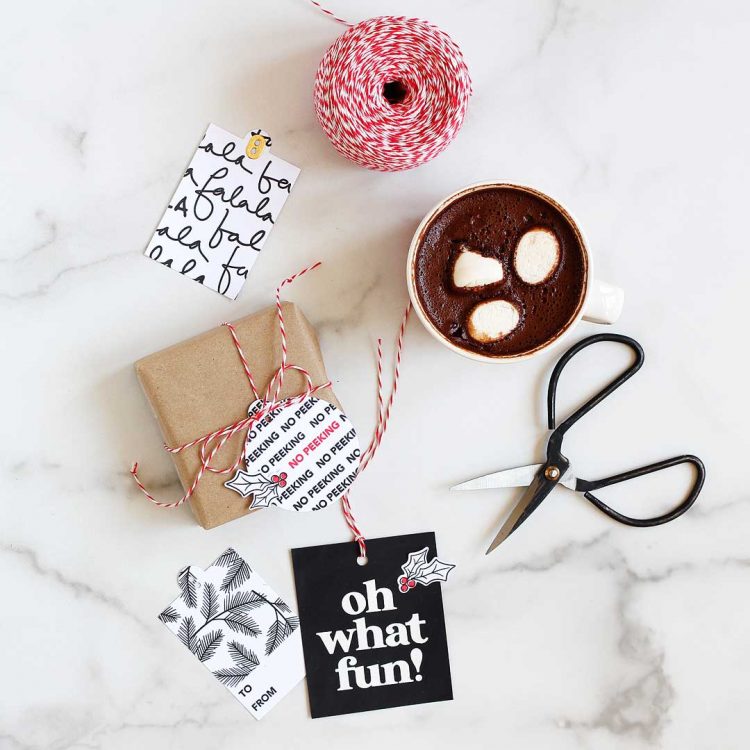 Now for a coupla fun techniques…
Bring on the Peppermint
I was playing around with Daniel Smith permanent alizarin crimson and noticed that it really reacts with water — and looks like peppermint! WOO!
So I made a bunch of backgrounds one afternoon, it really was mesmerizing watching paint dry. :)
Here's what to do:
Wet your paper with clean water
While the paper is still really damp, use a big brush to paint random stripes. Don't get fussy with the brush — just paint a stripe and let it go.
Tilt the paper left and right if you like to make it flow even more!
Then I turned all those backgrounds into cards:
Another fun tip: use Daniel Smith watercolor ground to make icing! Here I die cut some trees from Holly Jolly Christmas out of craft paper, then painted some with phthalo green when it was dry. I added sprinkles and glitter to others — so fun you all!
While we're talking about permanent alizarin crimson…I think this is my favorite card of the release: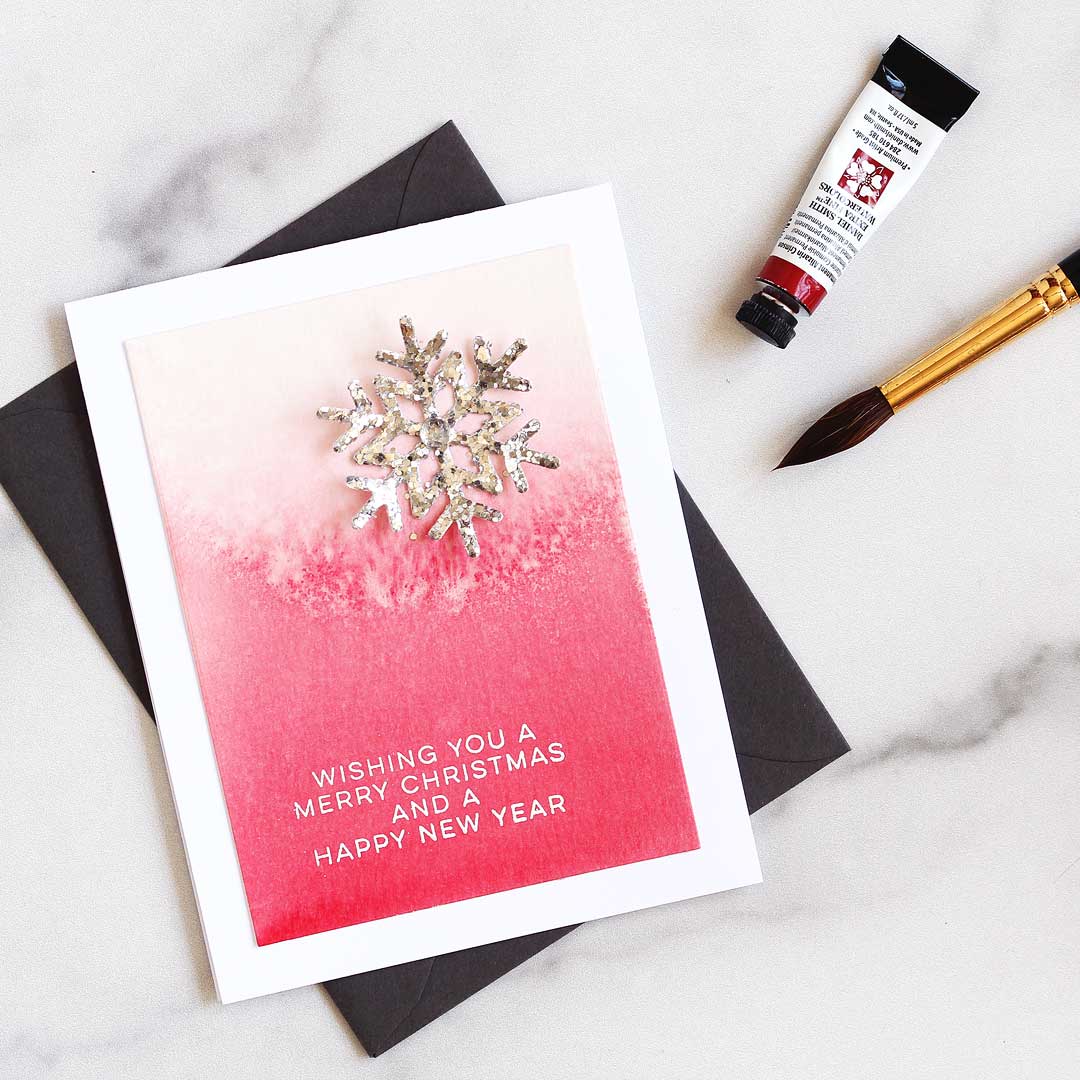 It was just a happy accident — I was painting an ombre background with permanent alizarin crimson and when I rinsed my brush I splashed some water up at the top. I let it dry and look what happened! Magic! It created the perfect spot to add a glittery snowflake.
Gettin' Inky!
Now let's talk inks.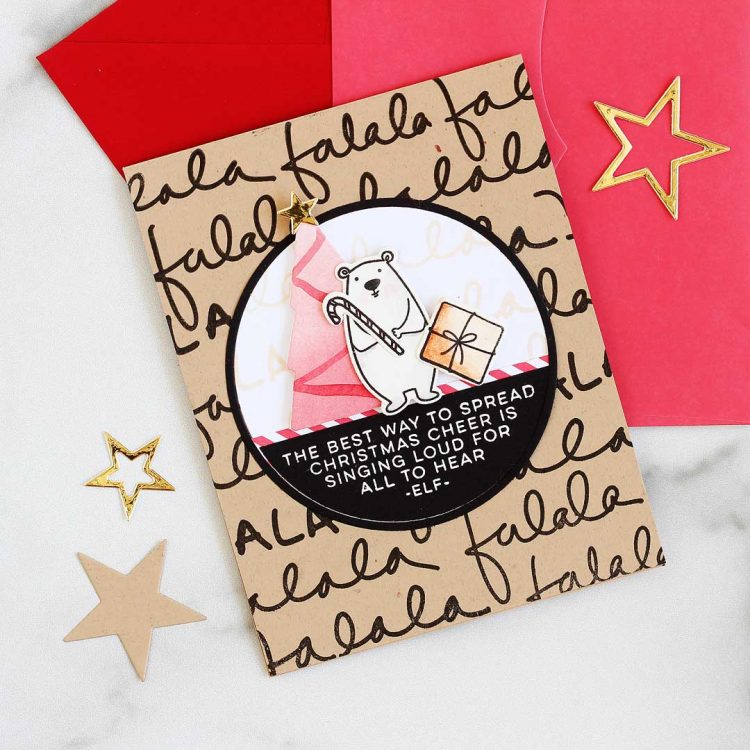 This release I played around with a basic palette of colors: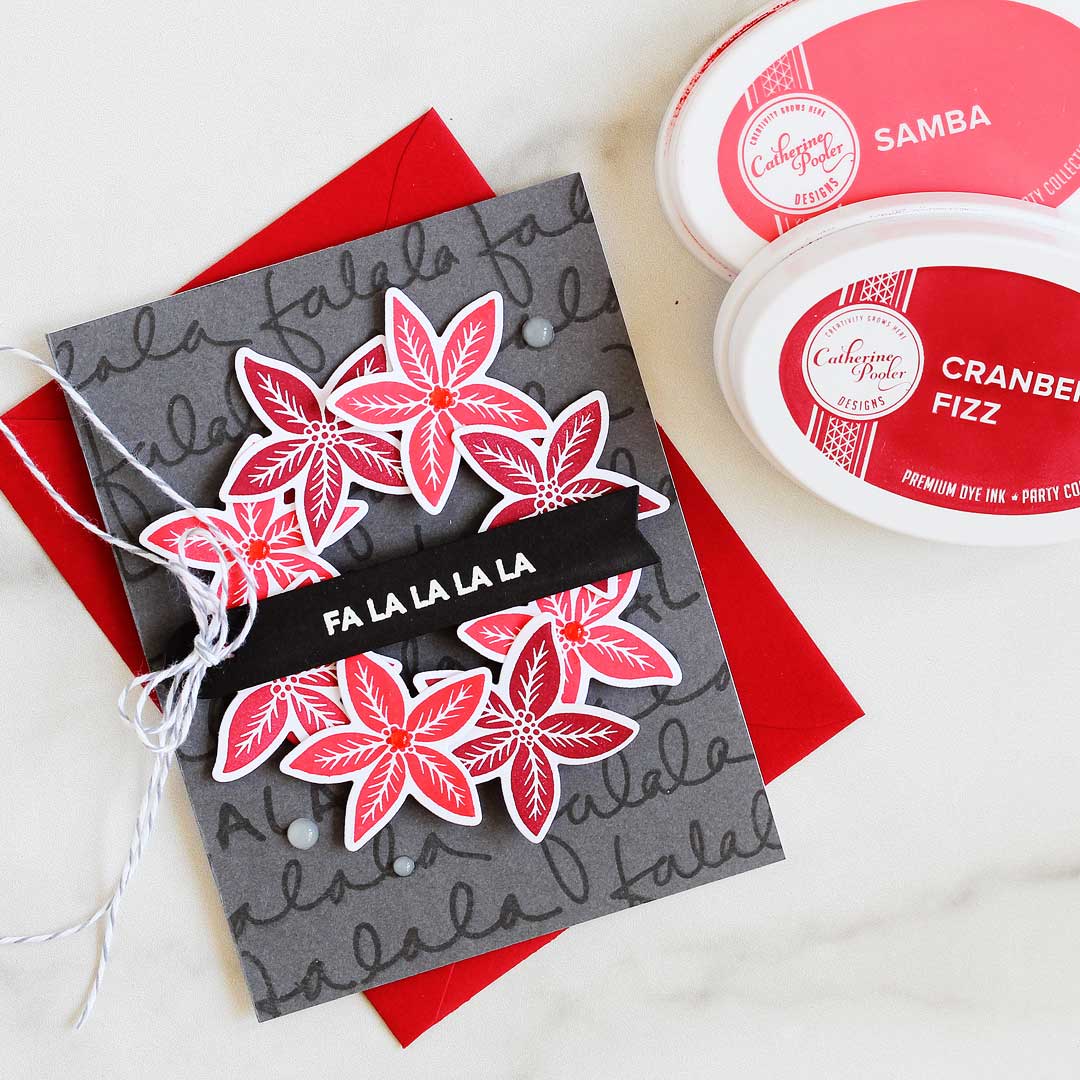 So, which card is your favorite? I'd love to hear!
Before you go, don't forget to enter the giveaway over on Instagram!
Supplies
Note that these are my affiliate links so if you make a purchase by clicking the link below I'll receive a small commission at no charge to you — thank you!
>>> Shop the new Winter/Christmas Release right HERE! <<<
Here are the new goodies I used on my projects:
Now for the oldies but still goodies:
Hope you have a magical holiday season! — Lisa