Hello and welcome to my stop on the Altenew 4th Anniversary Blog Hop! We're so glad you're here! I have a super fun card and a video to share with you, so let's hop to it!
As soon as I was invited to join in the hop I just knew what stamp to use — the Stunning Cosmos set! It has such pretty flowers and a beautiful Happy Anniversary message, too! It's a 6×8″ set of stamping goodness — check it out: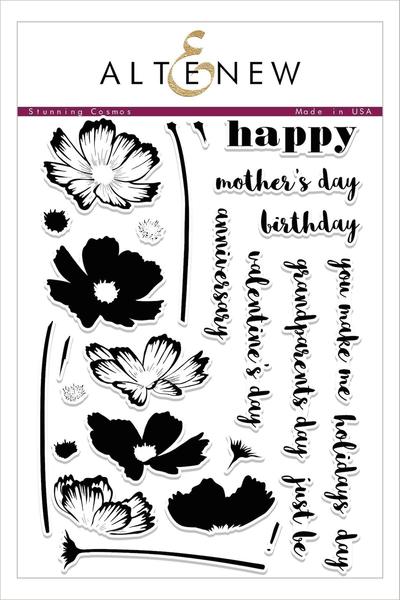 I paired it with Altenew's Happy Blooms set and I used their new watercolors directly on the stamp to "ink" them up. I just may have gotten a little carried away making flowers — I was having way too much fun! :)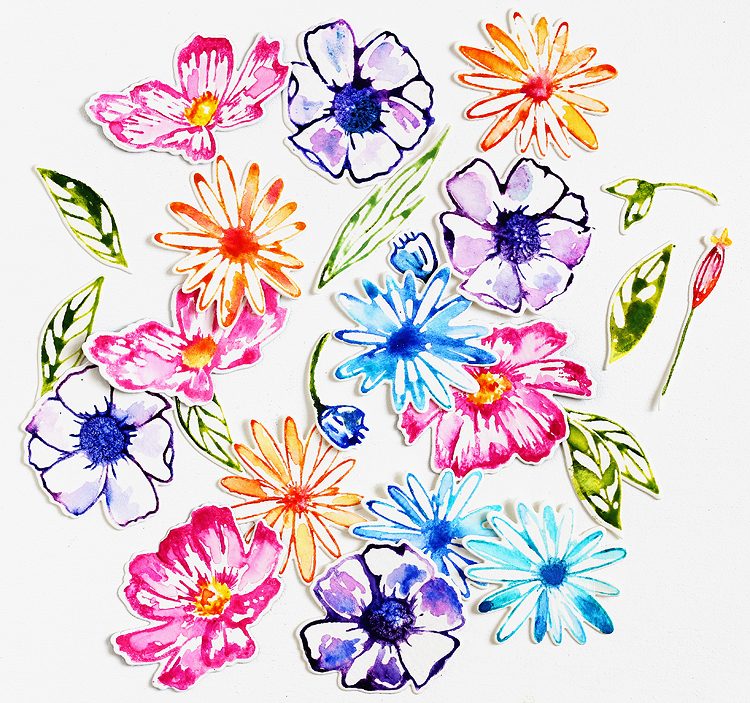 Here's a quick video so you can see how it's done — I just love this soft watercolor look! Watch below or over on YouTube.
Here are the key tips:
Mist your watercolors about 10 minutes before you use them for this technique. They'll form a thick paint so that you can apply them with your brush and they won't be too wet. I used Altenew's new watercolor set which will be coming soon, but any pan watercolors should work just fine. I've tried this technique with a set from the craft store and many others.
Then as soon as you've stamped it, go over a few petals with a damp brush to pull some of the color out.
Be sure to leave a little white space so that the flowers sparkle!
Annnnd here's my finished card!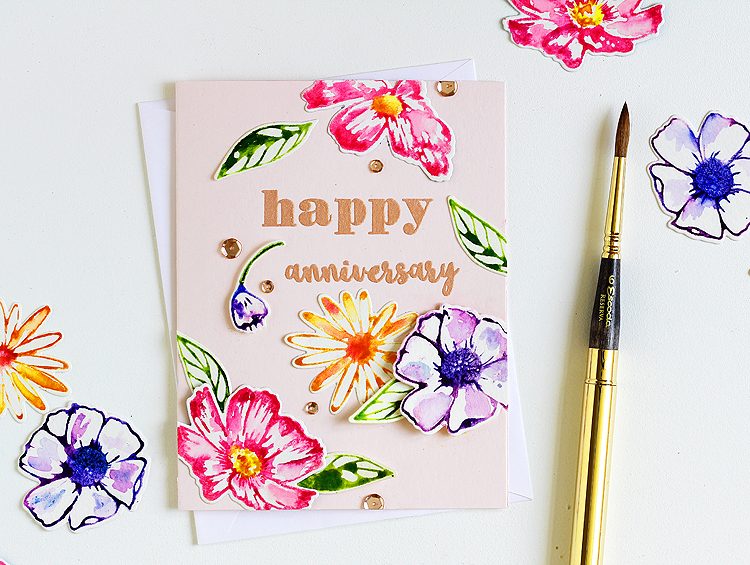 I used a pale pink cardstock to make my base card and then heat embossed the sentiment with rose gold — love that tone-on-tone look! To get the proper positioning I used my trusty MISTI tool like so: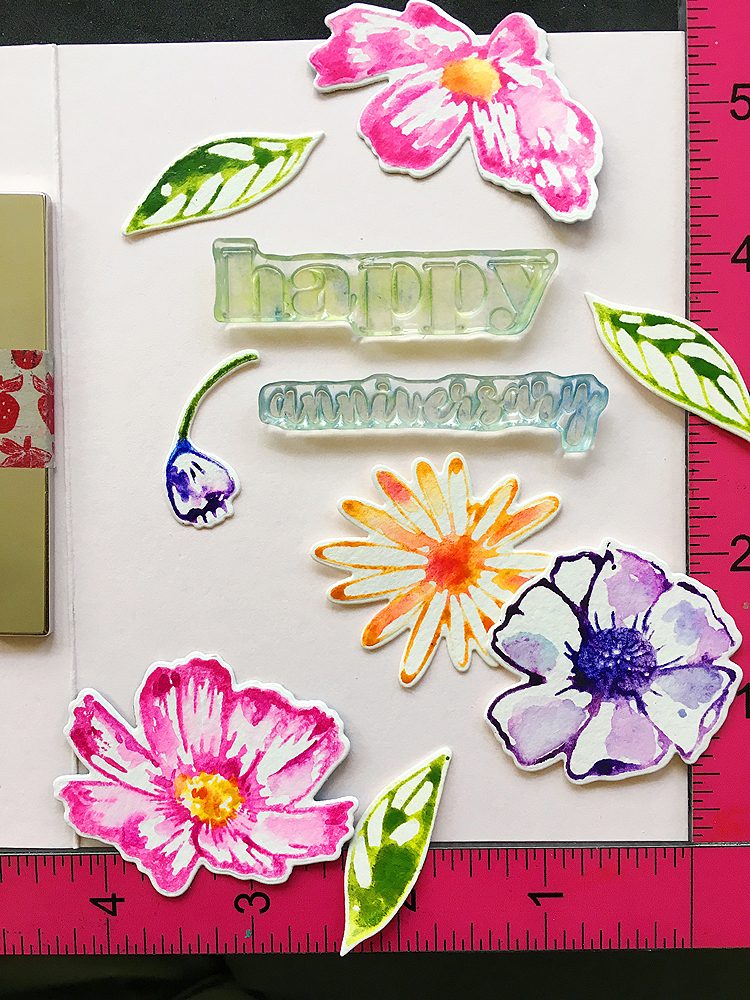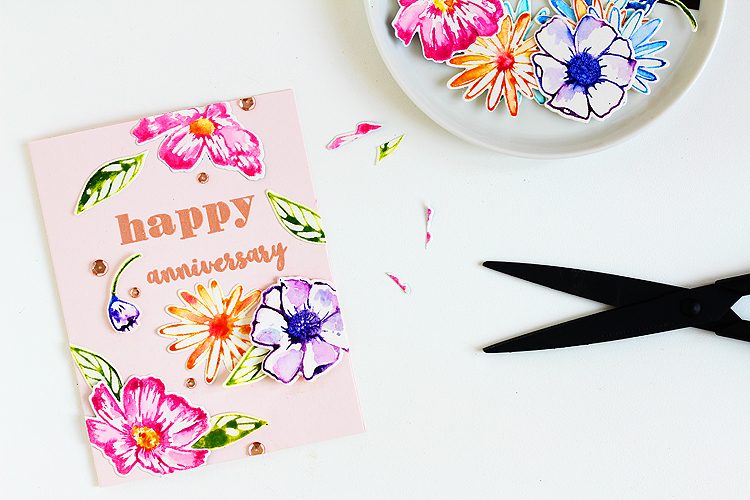 Did you notice my fancy cutting? I trimmed off little bits of the petals and even the sequins for an unexpected touch.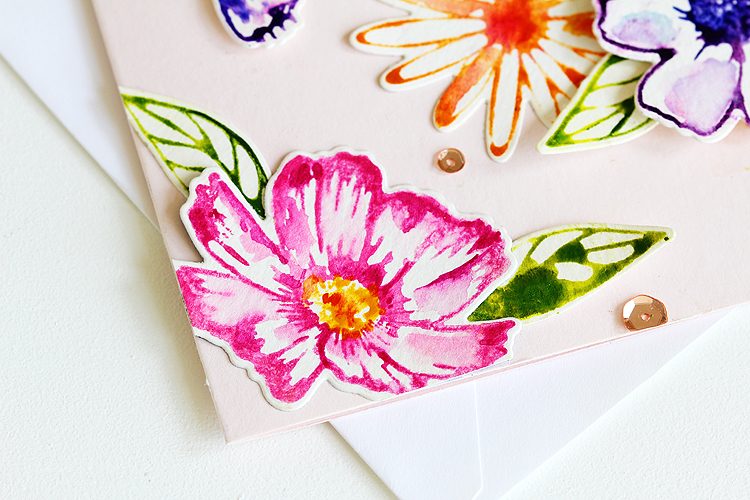 Can't wait to make another card with all those leftover flowers — I'm thinking I'll get a head start on Mother's Day since the Stunning Cosmos set has a sentiment for that too!
Special Offers & Prizes!
You can get FREE U.S. shipping with code HAPPY4TH or $5 OFF international shipping with code ANNIV at checkout. Offer valid from April 3rd until April 8th at 11:59 pm EDT. Not valid on prior purchases. Cannot be combined with other promo codes.
And that's not all! 
Altenew is giving away a $50 gift certificate to 5 lucky winners and one Altenew Academy class to 5 lucky winners. There are also 13 awesome companies/crafty friends who are celebrating with us, and they are offering so many awesome prizes! See the list at Altenew!
Hop On!
Your next stop on the hop is Galina Filippenko's blog — just wait until you see what she's made. Here's the full list if you encounter a broken link or are just now joining us:
Happy, happy anniversary, Altenew!! Here's to many more! xoxo
Supplies
Note: [AN] links to the Altenew Shop and [EH] links to Ellen Hutson. These are my affiliate links so if you make a purchase by clicking the link I'll receive a small commission at no charge to you!