Hi there and welcome to my stop on the Ellen Hutson March Release blog hop! I'm so glad you're here!
This release has SO MUCH good stuff y'all! I thought I'd start off by sharing my favorite parts — all the succulents! OH YES I said succulents! Starting with…
Mondo Succulent
There's a new Mondo stamp in town! Say HELLO to the Mondo Succulent!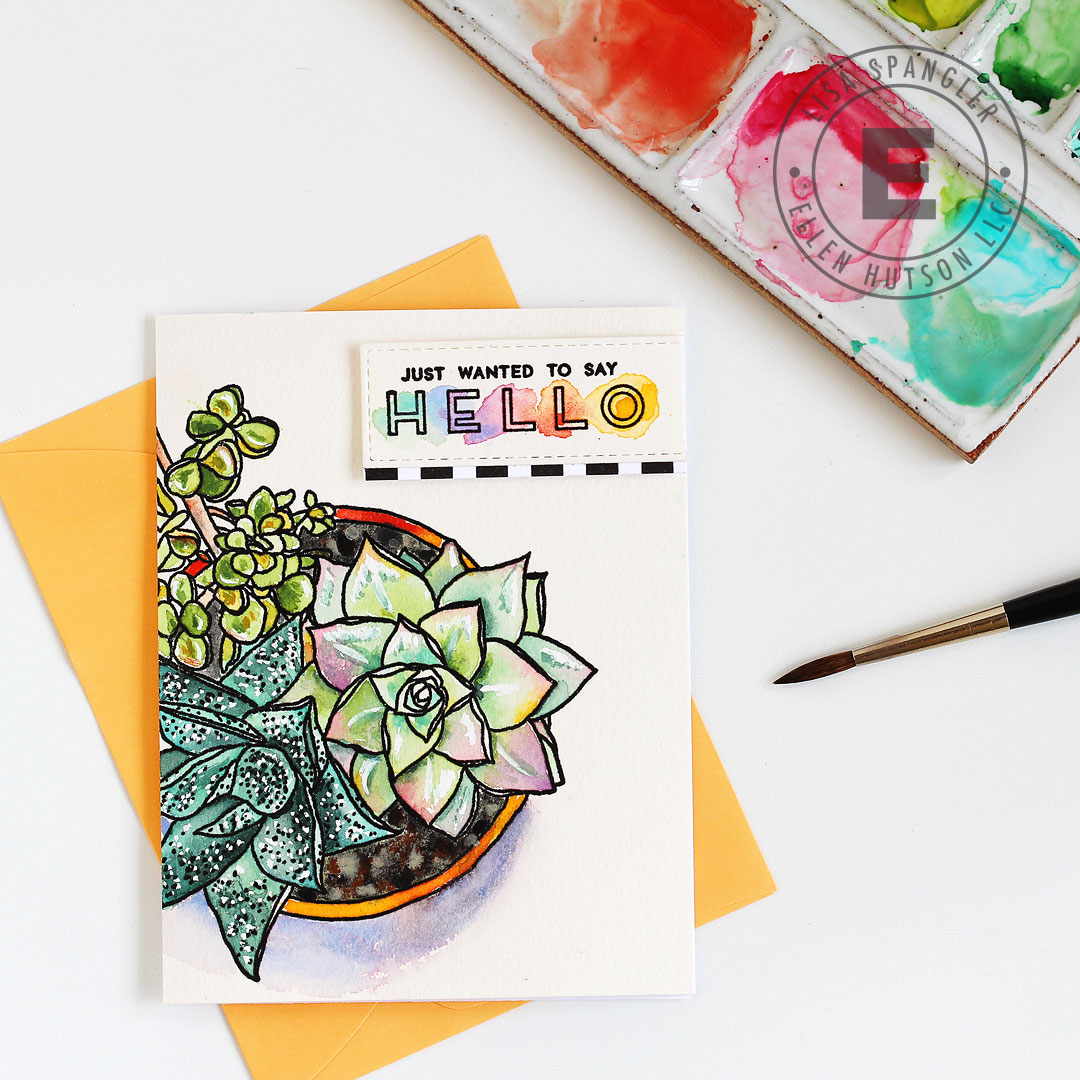 This stamp is so much fun to color you all!
I've listed the colors I used below for ya below. Let me know if you'd be interested in seeing a video on this in the comments below — I forgot to film it as I was coloring but can totally make a new one — it really is fun to color!
Before I get into the watercolors that I used I just had to point out that banner up top. It's from the Two-In-One-Box set, and I underlined it with a snippet of some leftover paper that I'd stamped with the new Stripe Background.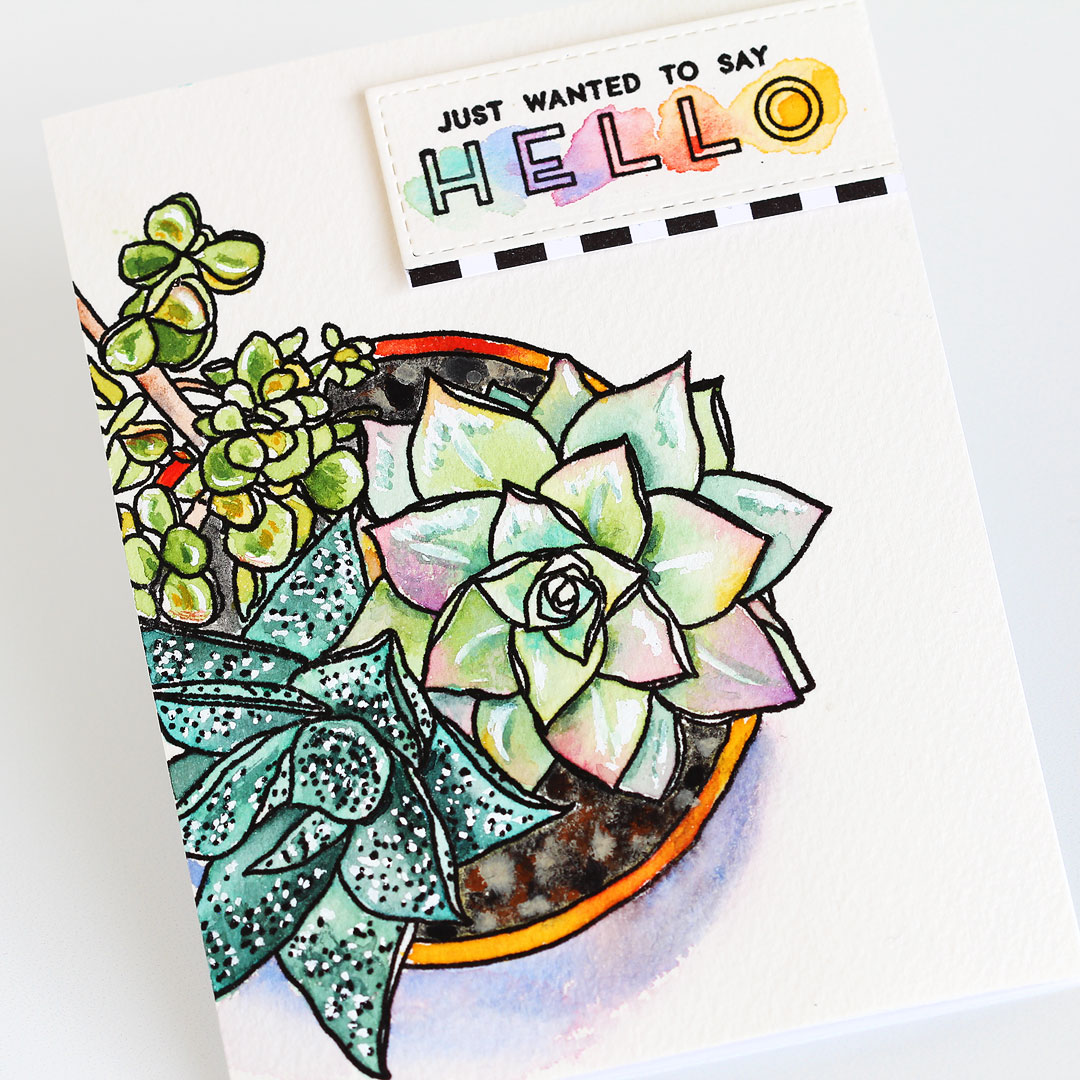 A few coloring tips:
Now on to the next card…
Modern Succulents
This next card features a mix of several new sets: Modern Succulents, Succulent Sentiments and my new favorite background: Stripe Background! This classy stamp will never go out of style.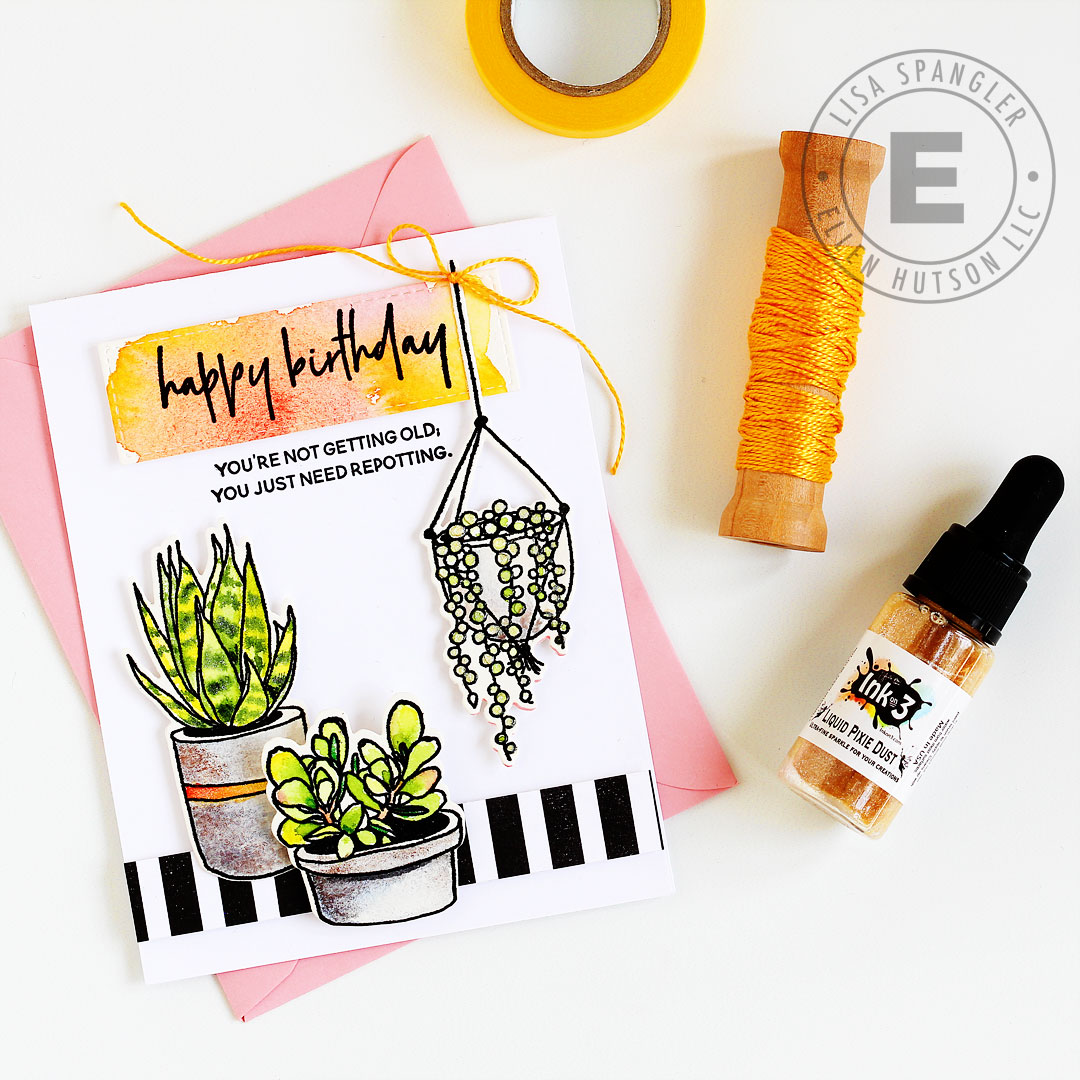 I used the same colors as above for those succulents — and I tried to make the pots look like cement. Dig it? One little tip — I added this liquid pixie dust to these succulents and love that subtle shimmer!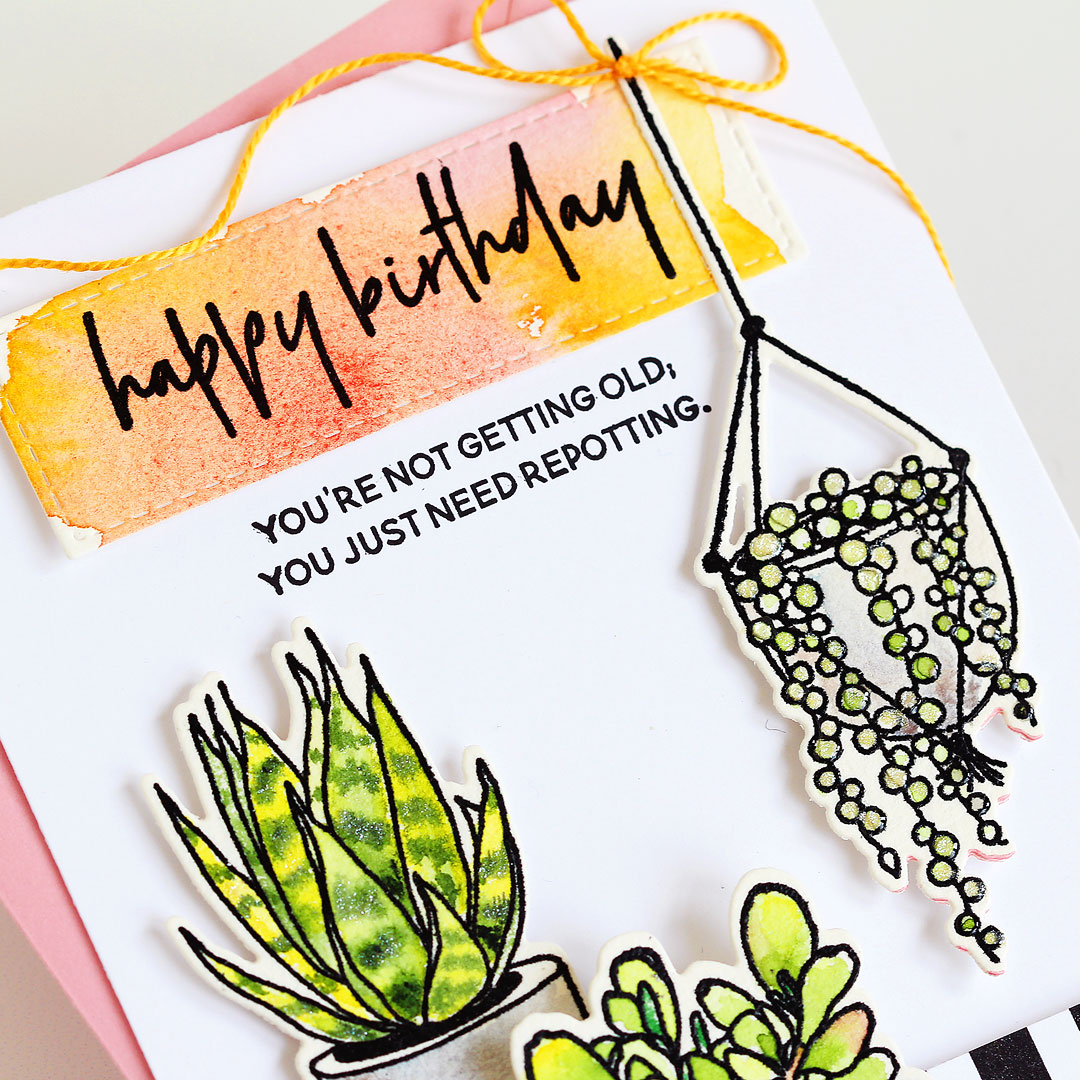 Oh and before I forget — that banner up top was cut from a die that's part of the Two-In-One-Box — I've got an actual box project to share with that later. :)
Now for my last card of the day…
Hey Friend!
For this last card I just had to bring two more new dies out to play: Hex Frames and Essential Rectangles. Both of these truly are essential! I keep finding new ways to use 'em.
The Essential Rectangles and all of the new Essential shapes are unique on the market in that they're frames — and you get TWO full sheets of dies in the set so there's bound to be the perfect size for your project. GENIUS!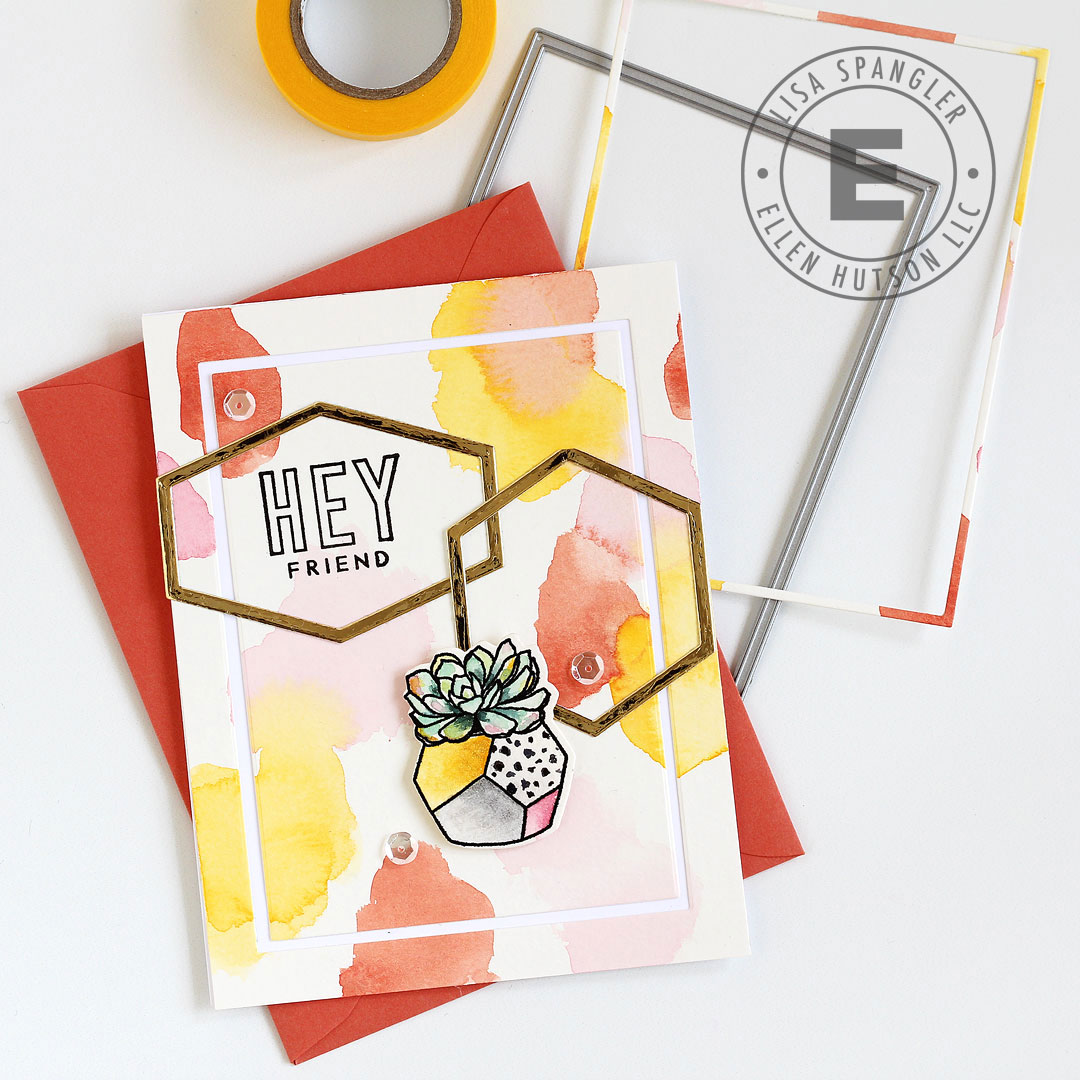 I also couldn't resist adding in that "hey friend" from Succulent Sentiments here!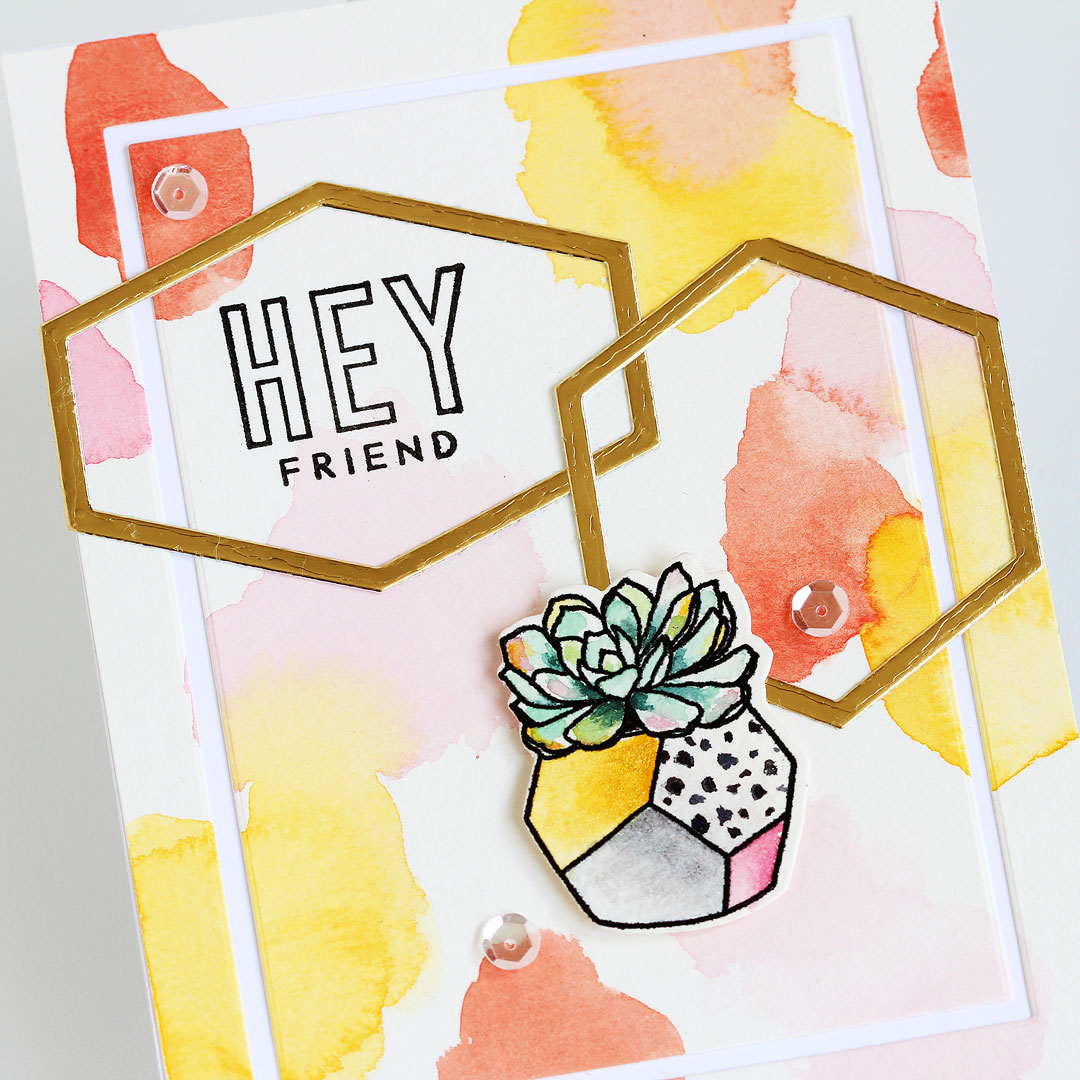 And I love how the Hex Frames look cut out of this gold metallic paper! I don't have a foil machine (yet!) so this gets me the look with the tools I already have. YES!
Prizes!
We've got super fun prizes! One random & lucky commenter will win $25 to the EH shop and one will win the WHOLE dang March Essentials by Ellen release! Oh yeah!
To enter for a chance to win, be sure to leave comments at each stop along the hop! Comment before Thursday, March 12th at 11:59pm PST. Winners will be notified by email.
Hop On
Your next stop on the hop is the one and only Michele! Take it away…!
Here's the full hop if you're just joining the fun — I'm so happy to be hopping with my amazing teamies!
Supplies
Note that these are my affiliate links so if you make a purchase by clicking the link below I'll receive a small commission at no charge to you — thank you!
March Essentials By Ellen
First off, the March Essentials by Ellen Release! You can find the whole enchilada right HERE — and these are the new products that I used in THIS post :)